Taipei donates 50 YouBikes to St. Kitts and Nevis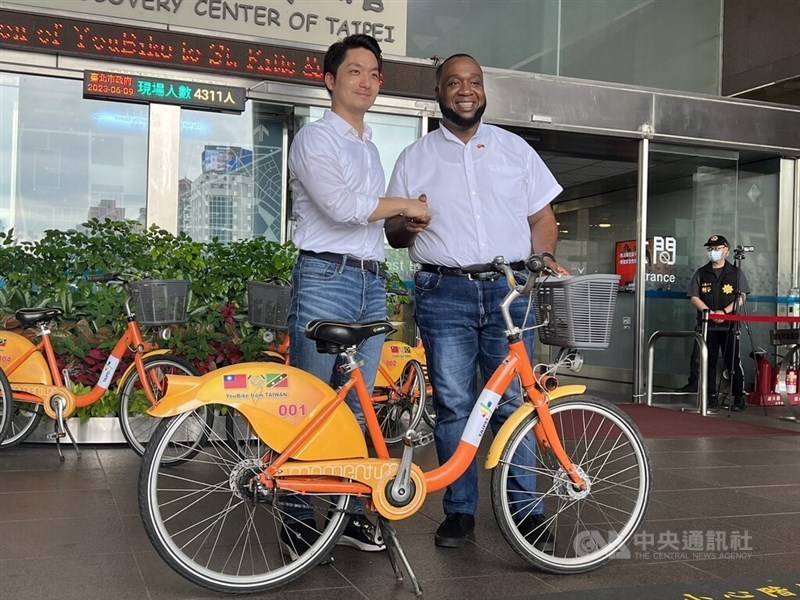 Taipei, June 9 (CNA) The Taipei City government on Friday announced the donation of 50 first-generation YouBikes that are no longer in use in Taiwan to Saint Christopher and Nevis.
At a ceremony at Taipei City Hall, Taipei Mayor Chiang Wan-an (蔣萬安) said that the donation symbolized the firm friendship between Taiwan and St. Christopher and Nevis, which has always spoken up for Taiwan in the international community and is a valuable diplomatic ally of Taiwan.
Noting that cycling can not only help people stay healthy but also help reduce carbon emissions, Chiang said the Taipei City government is scheduled to launch a program allowing people who use the YouBike bicycle-sharing system to ride for free for the first 30 minutes.
This will help Taiwan achieve its goal to become carbon neutral by 2050 as it is expected to cut 7,000 metric tons of carbon emissions annually, Chiang said.
St. Christopher and Nevis Ambassador Donya Francis said he was "excited" about the donation, which was indicative of the "strong and admirable friendship" between the two countries.
The bicycles being donated will not only aid St. Christopher and Nevis' efforts to become a sustainable island state but also encourage physical activity among its people, Francis said.
The YouBikes will be used as part of the St. Kitts and Nevis Ministry of Health's SKN Moves initiative, which is designed to create a healthy lifestyle culture centered on healthy eating practices, consistent physical activity and regular health checks and screenings, the ambassador said.
Additionally, the donation will support the Ministry of Youth Empowerment, other government ministries and nongovernmental organizations' Youth Bike excursions, the ambassador said.
He thanked Chiang and his administration on behalf of his country and its people and said he looked forward to opportunities for collaboration between the Embassy of St. Christopher and Nevis in Taipei and the Taipei City government.
The Taipei City government said in a statement that to ensure that public bicycles are used in a sustainable manner, it has been donating first-generation YouBikes in good working condition since a program to upgrade the shared bicycles system was completed at the end of last year.
The donation to St. Kitts and Nevis was the first one made to another country, according to the city government.