U.S. defense chief says no signs of 'imminent invasion' of Taiwan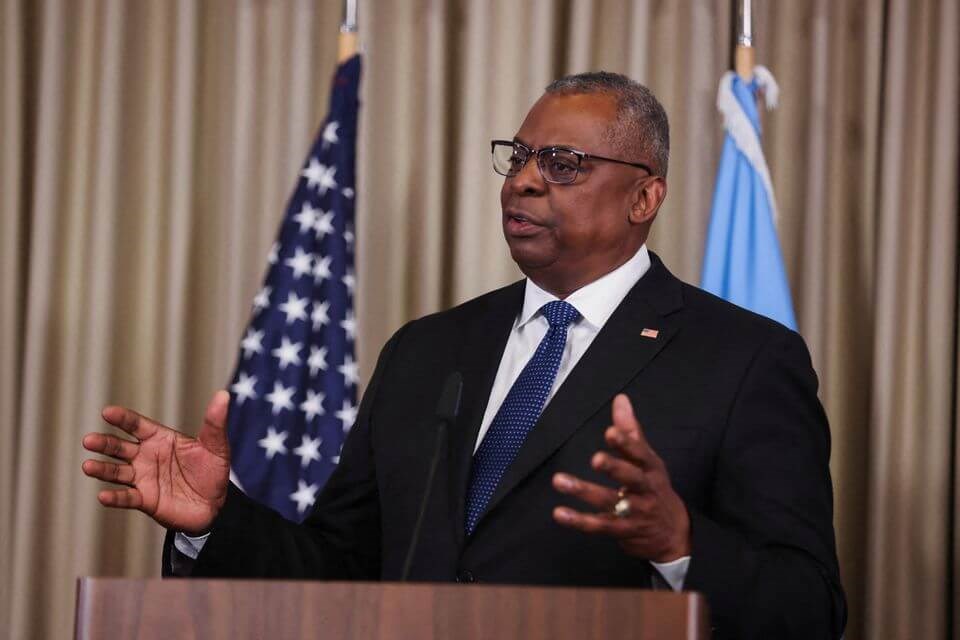 Washington, Oct. 2 (CNA) United States Defense Secretary Lloyd Austin has said he does not "see an imminent invasion" of Taiwan by China, and that he believed Beijing used House Speaker Nancy Pelosi's visit to Taiwan in August as an opportunity to "begin to try to create a new normal."
In an interview with CNN's "Fareed Zakaria GPS" that aired on Sunday, Austin did not directly endorse President Joe Biden's remarks last month that the U.S. military would defend Taiwan if China invaded, but reiterated that America's priority is helping Taiwan protect itself.
"In accordance with the Taiwan Relations Act, we're committed to helping Taiwan develop the capability to defend itself. And that work has gone on over time and will continue into the future," Austin said.
"I think the president was clear in providing his answers as he responded to a hypothetical question. But, again, we continue to work to make sure that we have the right capabilities in the right places to ensure that we help our allies maintain a free and open Indo-Pacific," he added.
Austin's comments were made after the host pressed him if the American military was prepared to protect Taiwan in case of a Chinese invasion, as pledged by President Biden.
In a pre-recorded interview with CBS' "60 Minutes" program that aired on Sept. 18, Biden told host Scott Pelley that the U.S. would defend Taiwan "if in fact there was an unprecedented attack."
"So unlike Ukraine, to be clear, sir, U.S. forces -- U.S. men and women -- would defend Taiwan in the event of a Chinese invasion?" Pelley asked. "Yes," Biden replied.
After the interview, a White House official declared that U.S. policy on Taiwan had not changed, according to "60 Minutes."
Meanwhile, Austin said in the CNN interview that while he did not "see an imminent invasion" of Taiwan by China, he believed that Chinese President Xi Jinping (習近平) used Pelosi's Aug. 2-3 visit to Taiwan as an opportunity to "begin to try to create a new normal" in the Taiwan Strait and around the island.
After Pelosi became the first sitting U.S. House speaker to visit Taiwan in 25 years, China, which sees Taiwan as part of its territory, responded by launching several days of military exercises in the seas and airspace around the island.
"We saw a number of centerline crossings of the Taiwan Strait by their aircraft, and that number has increased over time. We've seen more activity with their surface vessels in the waters in and around Taiwan," Austin said.
He said he had spoken to his Chinese counterpart, Defense Minister Wei Fenghe (魏鳳和), "on the phone and in person," but the communication channel between them is "not open" right now.
"We'll do everything we can to continue to signal that we want those channels open, and I would hope that China would begin to lean forward a bit more and work with us," Austin said.
Over the past few decades, the U.S. has intentionally maintained a stance characterized as "strategic ambiguity" regarding whether it would come to Taiwan's defense in the event of an attack by China.
Under this stance, Washington is deliberately vague about whether the U.S. would do more than just provide Taiwan with weapons based on the Taiwan Relations Act and actually send troops to help Taiwan fight China.
Since taking office in January 2021, however, Biden has repeatedly used language that appeared to diverge from this longstanding policy, with his remarks in the Sept. 18 interview being the clearest message he has made on the issue so far.
On each of those occasions, administration officials later walked back the comments and signaled that Washington's Taiwan policy had not changed, which also happened after his interview on Sept. 18.