Approaching weather front forecast to bring rain Monday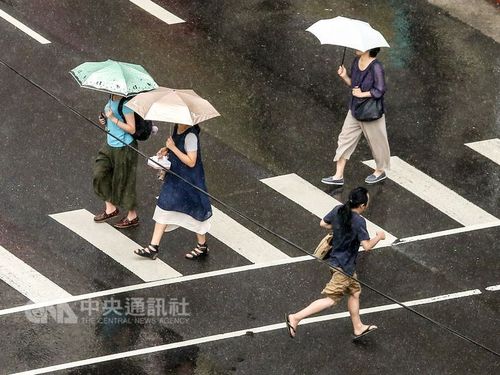 Taipei, May 27 (CNA) As a new weather front approaches, Taiwan is forecast to see rainfall in western parts of the country Monday, according to the Central Weather Bureau (CWB).
The CWB issued a heavy rain warning for Pingtung County and outlying Kinmen County. On the bureau's colored rain warning system, heavy rain means accumulated rainfall of more than 80mm in 24 hours or more than 40mm of rainfall in one hour.
Elsewhere in Taiwan, the CWB said, thunderstorms are likely in mountainous areas, in particular in the afternoon.
Due to the rainfall, daytime temperatures around Taiwan are expected to fall one to two degrees Celsius from a day earlier Monday with the mercury forecast to reach 30 degrees in northern Taiwan, 31 degrees in central and southern areas, and 29 degrees in the east, the bureau said.
Foggy conditions are likely in outlying Kinmen and Matsu islands, which will cause low visibility, and the CWB urged those traveling to keep a close eye on possible disruption to transportation schedules.
The weather front is expected to arrive in Taiwan early Tuesday morning when rainfall will intensify, sending temperatures even lower, the CWB said.
Meanwhile, the Environmental Protection Administration (EPA) said the air quality was good in Yilan, Hualien and Taitung in the east, and the outlying island of Penghu on Monday.
Fair air quality was seen in some parts of northern and central Taiwan, Yunlin, Chiayi, Tainan, Kaohsiung and Pingtung in the south as well as Kinmen and Matsu islands, according to the EPA's Air Quality Index (AQI).