Visit to Taiwan a form of 'deterrence': European Parliament VP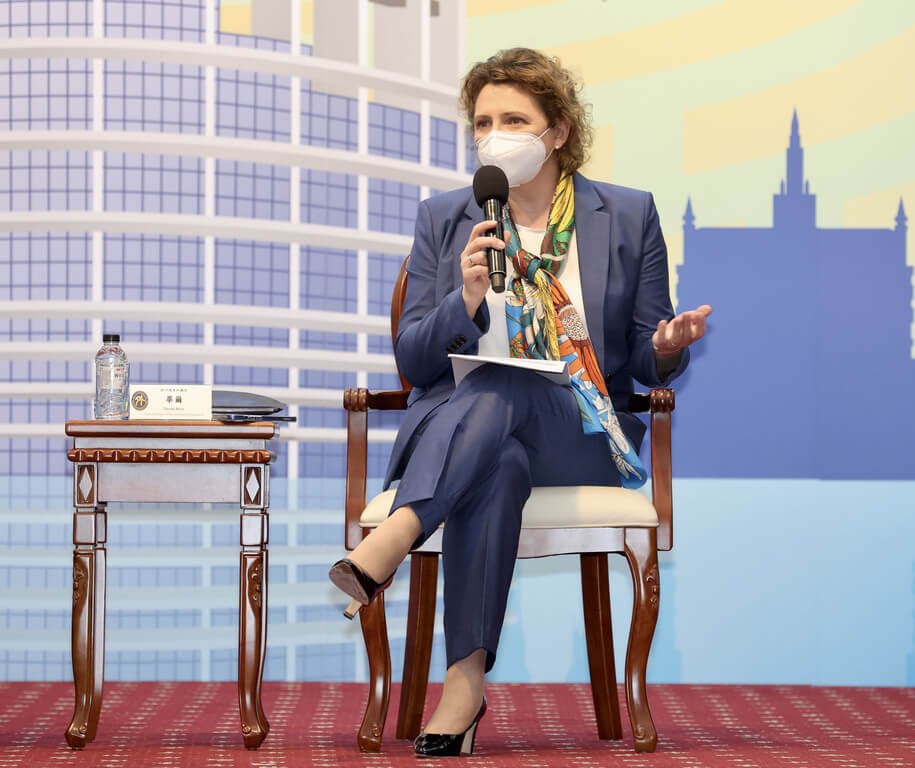 Taipei, July 21 (CNA) Visiting European Parliament Vice President Nicola Beer's ongoing visit to Taiwan in her official capacity is meant to act as a deterrence to Beijing, which Taipei has come under increasing pressure from, Beer told a press conference in Taipei on Thursday.
Beer described her trip to Taiwan in her capacity as a vice president of the European Union advisory body as "a sort of deterrence" amid rising tensions in the Taiwan Strait, which she said could result in a great impact on Europe.
Beer, a German politician who has been a member of the European Parliament since 2019, said Europe opposed any attempts to change the status quo [in cross-strait relations] unilaterally and would stand for freedom and democracy in Taiwan.
European nations "have to take our lesson" about how China has failed to fulfil its promise to Hong Kong and "not be naïve in the case of Taiwan," Beer said at the press conference in Taipei, which she co-hosted with Foreign Minister Joseph Wu (吳釗燮).
She was most likely referring to the Sino-British Joint Declaration, in which China pledged to grant Hong Kong a high degree of autonomy under the "one country, two systems" political formula for 50 years after the former British colony was handed over to Beijing in 1997.
The EU, the United States, and other Western governments have expressed concern over what they described as deteriorating civil freedoms and human rights situation in Hong Kong following the imposition of the sweeping National Security Law in June 2020.
Beer added that the EU remains committed to maintaining good relations with China but would not shy away from speaking up for freedom and democracy.
At the same time, the vice president said the EU hopes to further develop its relations with Taiwan and that the European Parliament would continue supporting negotiations for a bilateral investment agreement (BIA).
"We see that talks [between the two sides] are ongoing, which is a good sign," Beer said, adding she is "optimistic" that Taiwan and the EU would find "a good solution" on the issue.
Meanwhile, Wu said Beer's visit to Taiwan "reflects the ever-thriving relations between Taiwan and Europe."
"Taiwan is under threat from Chinese authoritarianism, but with strong support from Europe, we are confident in meeting the challenges," Wu said.
Asked why he has not visited Berlin after taking up his current post in February 2018, Wu said he would "be very happy" to do so if he is invited to make a speech or take part in other events in the city.
"I haven't been able to visit Berlin in the years I've served as minister of foreign affairs not because I don't want to, but because the visits need to be agreed upon mutually [by both sides]," he said.
Wu visited Slovakia, the Czech Republic, and Belgium in October 2021, during which he met with officials, lawmakers, and think tank representatives in the Central European nations as well as EU officials in Brussels.