Solomon Islands' foreign minister to visit Taiwan: diplomatic sources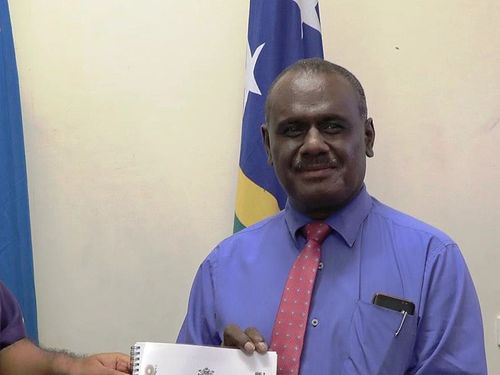 Taipei, Sept. 5 (CNA) Ministry of Foreign Affairs (MOFA) spokeswoman Joanne Ou (歐江安) would neither deny nor confirm Thursday an upcoming visit by Solomon Islands' Foreign Minister Jeremiah Manele, which would be seen as an important indicator of Taiwan-Solomon Islands diplomatic relations amid speculation of a possible switch of relations by Honiara to Beijing.
Manele is planning to visit Taipei Sept. 8, an official with knowledge of the plan told CNA, speaking on condition of anonymity. He added that if the trip actually takes place, it will send a signal that ties between Taipei and Honaira remain strong.
Another diplomatic source confirmed the disclosure and said Manele will be in Taipei for five to six days. He also said the Solomon Islands is hoping for Taiwan's assistance in developing major transportation infrastructure projects.
"Our interactions with the Solomon Islands remain normal. Arrangements for Solomon dignitaries' Taiwan visits have been going on regularly," Ou said, adding that MOFA will announce such visits at an appropriate time.
MOFA's deputy head of the Department of East Asian and Pacific Affairs Chang Chun-yu (張均宇) said on Tuesday that MOFA is inviting "significant" Solomon Islands officials to visit Taiwan to discuss issues of mutual concern.
Speculation on a possible switch of Honaira's diplomatic allegiance from Taipei to Beijing has been under the spotlight after the Pacific state's new government declared a review of its relations with Taiwan and China following its general election in April.
A Solomon Islands task force that toured several Pacific nations allied to China will submit an assessment on the viability of establishing official relation with Beijing to Solomon Islands Prime Minister Manasseh Sogavare and to Parliament's Foreign Relations Committee this week, according to a recent Reuters report.
However, Chang reaffirmed Taipei-Honaira relations, citing the close interactions between high-level government officials from both sides.
Solomon Islands Parliament Speaker Patteson Oti led a delegation to Taiwan for the Asia-Pacific Parliamentarians' Union (APPU) annual gathering in August. Less than two weeks later, Taiwan's Foreign Minister Joseph Wu (吳釗燮) signed a visa waiver agreement with Manele in Tuvalu on the sidelines of the Pacific Islands Forum, with Sogavare as witness, Chang said.