KMT to protest Sunday against lifting ban on Japanese food products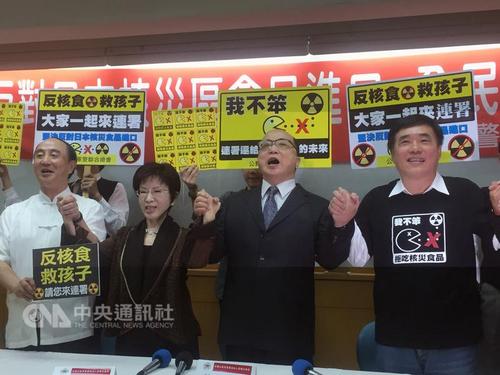 Taipei, Dec. 24 (CNA) The opposition Kuomintang (KMT) is scheduled to hold two waves of demonstrations Sunday against a proposed lifting of the ban on food products from radiation-affected areas of Japan.
In the morning, the KMT will gather around 500 protesters in New Taipei's Xindian District in front of the venue of a central government-held public hearing on imports of controversial Japanese food products, according to a plan released by the party Saturday.
Later in the day, the party will mobilize around 10,000 people to march from Taipei's Chiang Kai-shek Memorial Hall to the Ministry of Finance building, the KMT said.
Senior KMT officials, led by Chairwoman Hung Hsiu-chu (洪秀柱), will also take part in the march.
Also that day, the Taipei City Police Department said that traffic controls will be imposed on some road sections from noon until 3:30 p.m. Sunday to accommodate the event.
The affected areas are Aiguo East Road, Zhongshan South Road, Kaitakelan Boulevard, Gongyuan Road and Aiguo West Road, all near the Chiang Kai-shek Memorial Hall.
The Taipei City Public Transportation Office, meanwhile, said that 26 bus lines will have to change their routes Sunday in response to the traffic controls, and they urged people to use the metro system if they want to travel to the affected areas.
Taiwan banned food imports from the Japanese prefectures of Fukushima, Ibaraki, Tochigi, Gunma and Chiba in the wake of the Fukushima Daiichi nuclear power plant meltdown following a massive earthquake and tsunami in on March 11, 2011.
The Democratic Progressive Party government is now considering lifting the ban on food from all the prefectures except for Fukushima, but this has run into virulent opposition.
(By Hsieh Chia-chen, Liu Chien-pang and Y.F. Low)ENDITEM/J