2015 Su'ao Cold Spring Festival opens on Friday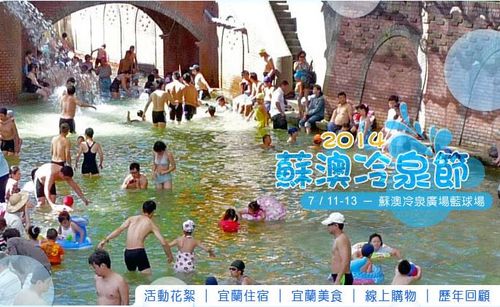 Taipei, July 16 (CNA) 2015 Su'ao Cold Spring Festival, a three-day event held at Su'ao township, in Taiwan's northeastern county of Yilan, starts on July 17, according to the town's mayor Chen Chin-lin (陳金麟).
The Su'ao Cold Spring Festival has been held since 2002, a special promotional event launched by the township administration, attracting visitors to engage in a sightseeing tour of the town.
The main five promotions of the festival this year will be the cold spring, sea food, beautiful seascapes, ten distinctive souvenirs and the worship of Mazu, goddess of the sea, Chen said.
The highlight of this festival must be the water splashing event held at the square in front of the Su'ao train station on the second day. Visitors beat the summer heat while dousing each other with water.
There will be plenty musical performances during the festival. Famous singers like Shelly Yu (于台煙) and Genie Chou (卓文萱) will engage in evening concerts. Meanwhile, elementary and high school students will also deliver various talent acts, such as orchestral performances and belly dancing, according to the official website.
The Su'ao cold spring is a rare natural spring in the world, which apart from Taiwan can only be seen in Italy, with a frigid water temperature of 22 degrees below Celsius. The spring is located at northern Su'ao town, about 300 meters in front of the Su'ao train station.