Departing Canadian envoy to Taiwan honored with friendship medal
Taipei, Aug. 12 (CNA) The Taiwan government on Friday conferred the Friendship Medal of Diplomacy on outgoing Canadian representative Jordan Reeves, in recognition of his contribution to improving ties between the two countries during his four years of service in Taipei.
As executive director of the Canadian Trade Office in Taipei (CTOT), Reeves has been very active in promoting and strengthening bilateral trade, investment, culture, and also in building ties in areas related to Indigenous issues, Foreign Minister Joseph Wu (吳釗燮) said at the presentation ceremony.
For instance, Taiwan signed a joint statement last year on bilingual education cooperation with Canada, and the two sides also recently completed exploratory discussions on a foreign investment promotion and protection arrangement (FIPA), Wu said.
"Over the past few years, Canada's support for Taiwan's meaningful participation in international organizations has become stronger and stronger," he said.
Wu also expressed thanks to Canadian Prime Minister Justin Trudeau for his public statements of support for Taiwan.
That was due in large part to Reeves' hard work in Taiwan as head of the CTOT, which handles exchanges between the two countries in the absence of diplomatic ties, according to Wu.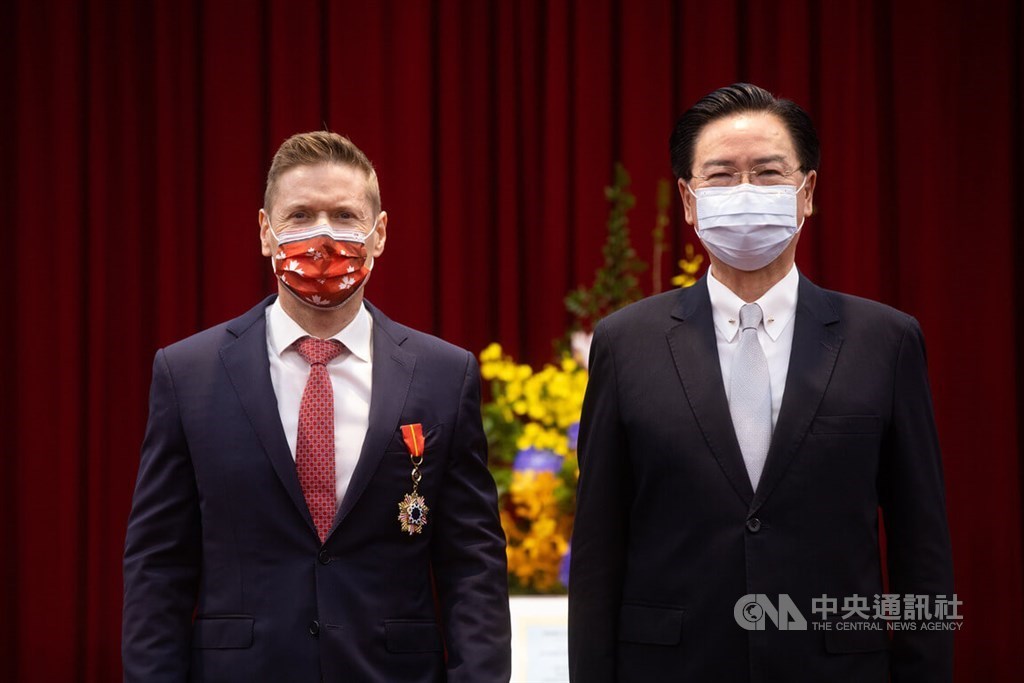 In Reeves' acceptance speech after he received the Friendship Medal of Diplomacy, he praised Taiwan's democracy and expressed admiration for the efforts of Wu and the Taiwan people to deal with current challenges.
They "work tirelessly to defend the freedoms that Taiwan enjoys today, often in the face of relentless pressure and progressive actions taken by others," he said. "I hope if I've done my job well over the past four years, Canada and the Canadian government have also learned much from Taiwan's example in this part of the world, and we continue to learn, as well."
Canada stands with Taiwan "as a great friend and will continue to do so," said Reeves, who is wrapping up his second stint at the CTOT, having served as deputy director 2002-2006 and as executive director since 2018.