Ma hopes both sides will continue to cut animosity, deepen exchanges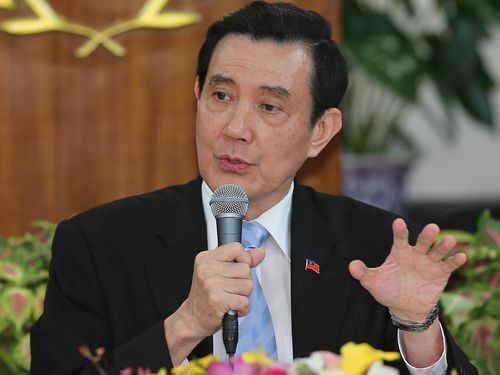 Taipei, Nov. 5 (CNA) President Ma Ying-jeou (馬英九) said Thursday that the two sides of the Taiwan Strait should continue to mitigate their animosity, avoid deviating from the "right path" and expand exchanges and cooperation.
Taiwan's continued pursuit of cross-strait peace and prosperity, promotion of regional stability, and enhancement of the welfare of the people on both sides of the Taiwan Strait, will remain the unchanged goal of its cross-strait policy, the president said.
He made the remarks at an international news conference on his upcoming meeting with Chinese President Xi Jinping (習近平) in Singapore Nov. 7, the first between the leaders on each side after 66 years of separate rule.
He also said that his meeting with Xi is not aimed at boosting his personal legacy after he steps down in May 2016, nor is it intended to salvage the flagging ruling Kuomintang campaign in the runnup to the Jan. 16 presidential election, but is designed entirely "for the good of the next generation."
He noted that the two sides have signed 23 agreements over the past seven-and-a-half years since his first term in May 2008, creating huge peace dividends and bringing about the most peaceful and stable cross-strait period over the past 66 years.
(By Lu Hsin-hui and Lilian Wu)ENDITEM/J
Related:●President hopes cross-strait leaders' meeting will become regular●Ma-Xi meeting aimed at welfare of next generation: president●U.S. has no role in Ma-Xi meeting: president●First lady will not accompany president to Singapore●Ma-Xi meeting has five characteristics: president●Ma does not rule out Taiwan visit by Chinese leaders●President mum on whether he will address human rights in Xi meet●Ma says talks with Xi will not touch on South China Sea issue●Ma-Xi meet to explore higher-level cross-strait communication channel●Ma says meeting with Xi aimed at securing cross-strait peace