Taiwan shares end higher on grace period for Huawei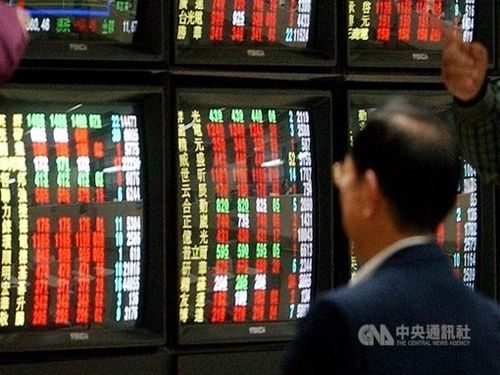 Taipei, Aug. 20 (CNA) Shares in Taiwan closed higher Tuesday as buying was triggered by a move by the administration of U.S. President Donald Trump to give another 90 days to Chinese telecom equipment supplier Huawei Technologies Co. before a full business ban takes effect amid trade tension with China, dealers said.
The grace period for Huawei gave a boost to U.S. chip stocks overnight, and in turn stimulated their counterparts on the local main board, led by contract chipmaker Taiwan Semiconductor Manufacturing Co. (TSMC), Tuesday, the dealers said.
However, turnover remained moderate, with many investors staying on the sidelines, watching closely how the United States and China will resolve their trade dispute even after the grace period was given to Huawei, the dealers added.
The weighted index on the Taiwan Stock Exchange (TWSE), or Taiex, closed up 33.75 points, or 0.32 percent at 10,522.50, after moving between 10,497.13 and 10,538.12 on turnover of NT$119.996 billion (US$3.82 billion).
The market opened up 0.19 percent on the back of a 0.96 percent increase posted by the Dow Jones Industrial Average and a 1.35 percent rise enjoyed by the tech-heavy Nasdaq index overnight, the dealers said.
Buying continued as semiconductor stocks served as an anchor to the upturn on the broader market as investors took cues from a 1.87 percent increase generated by the Philadelphia Semiconductor Index in the U.S., as the grace period for Huawei prompted investors to buy select integrated circuit firms from which the Chinese company bought chips, they said.
"It was no surprise that the local semiconductor sector followed the Philadelphia Semiconductor Index to move higher, since Huawei is also one of the major clients of some Taiwanese companies such as TSMC," Dayu International Securities Investment Consultant analyst Chang Chih-cheng said.
"Today's gains were capped, since a possible grace period for Huawei had been circulated in the previous sessions, and the positive lead had largely been factored in," Chang said. Before Tuesday's upturn, the local main board rose 1.57 percent over the previous two sessions.
The local semiconductor sub-index closed up 0.74 percent and the bellwether electronics sector ended up 0.54 percent after TSMC, the most heavily weighted stock in the local market, gained 0.99 percent to close at NT$254.50 with 19.91 million shares changing hands.
"Turnover remained moderate as many investors preferred to stay on the sidelines, which did not give a strong boost to the entire electronics sector and the broader market after the Taiex breached the 10,500-point mark today," Chang said.
Also in the tech sector, Largan Precision Co., a supplier of smartphone camera lenses to Apple Inc., rose 1.60 percent to close at NT$3,800.00, while iPhone assembler Hon Hai Precision Industry Co. ended unchanged at NT$72.40 and IC designer MediaTek Inc. lost 0.57 percent to close at NT$351.00.
"Investors remained cautious despite the latest news about Huawei, since few have anticipated that the Washington-Beijing trade dispute will be resolved any time soon," Chang said. "It is possible that new negative leads will emerge from the issue later in the day to send the Dow lower."
"In addition, foreign institutional investors' attitudes still bothered investors, since they have been on the sell side in recent sessions," Chang said.
According to the TWSE, despite the gains in the Taiex, foreign institutional investors sold a net NT$3.48 billion-worth of shares on the main board Tuesday after a net sell of NT$3.70 billion Monday.
Among the mixed old economy stocks, Formosa Plastics Corp. rose 1.20 percent to close at NT$93.10, while China Steel Corp., the largest steelmaker in Taiwan, ended unchanged at NT$23.05 and Hotai Motor Co., the local sales agent for Japan's Toyota Motor Corp., shed 1.72 percent to close at NT$429.50.
"It remains to be seen whether the Taiex will be able to maintain its strength well above the 10,500-point mark at a time when more volatility in the global financial markets is possible," Chang said. "Even if the main board is able to sustain its strength above that level, it will face stiff technical resistance ahead of the 20-day moving average of 10,612 points."