OLYMPICS
/
For Taiwan's golden badminton duo, an improbable journey to the top
Taipei, Aug. 3 (CNA) As Taiwan badminton duo Lee Yang (李洋) and Wang Chi-lin (王齊麟) steamrolled their way to victory in the Olympic men's doubles with dominant performances in their final two matches, a gold medal almost seemed inevitable.
In fact, in the days, weeks and months leading up to those final clashes, it was anything but.
The first-time Olympians, who only began playing together in 2019, were drawn in the toughest preliminary round group in Tokyo, and after losing their opening match, their chances of making the final eight appeared bleak.
Wang, usually playful and animated in interviews, was described as "ashen" by reporters following the match. He would later admit that he broke down crying after returning to the hotel.
"Everyone thought we were done for, even us," he said.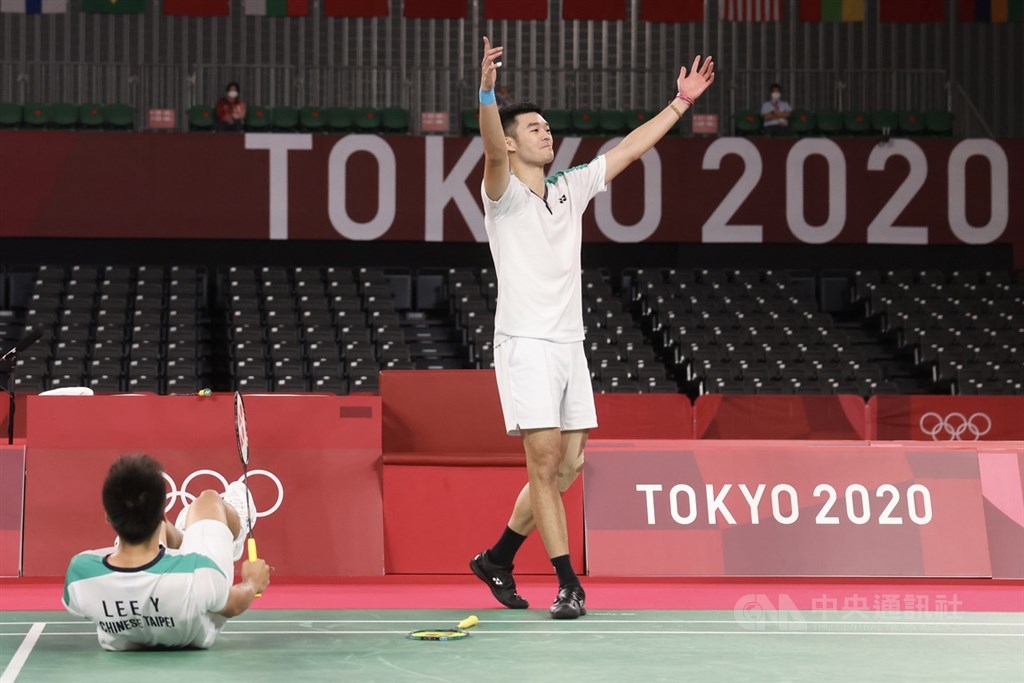 The pair managed to turn the tide, however, easing past Ben Lane and Sean Vendy of Britain and beating world No. 1 Indonesian duo Marcus Fernaldi Gideon and Kevin Sanjaya Sukamuljo in a tense three-game tussle for the first time to secure a spot in the quarterfinals.
They then overwhelmed Japan's Hiroyuki Endo and Yuta Watanabe in the quarterfinals, world No. 2 Mohammad Ahsan and Hendra Setiawan of Indonesia in the semifinals, and Liu Yuchen (劉雨辰) and Li Junhui (李俊慧) of China in the final, all in straight games, to win Taiwan's first Olympic badminton gold medal.
Wang admitted after taking gold that following the loss in their Olympic opener, his attention had already turned to the next Summer Games in Paris in 2024, telling Lee they would do better there.
"I couldn't have imagined that we would rise to the top of the podium after hitting rock bottom," he said.
The duo's win is even more impressive given that they only paired up in 2019, after Wang's doubles partner at the time -- Chen Hung-ling (陳宏麟), who is now the duo's coach -- decided to retire.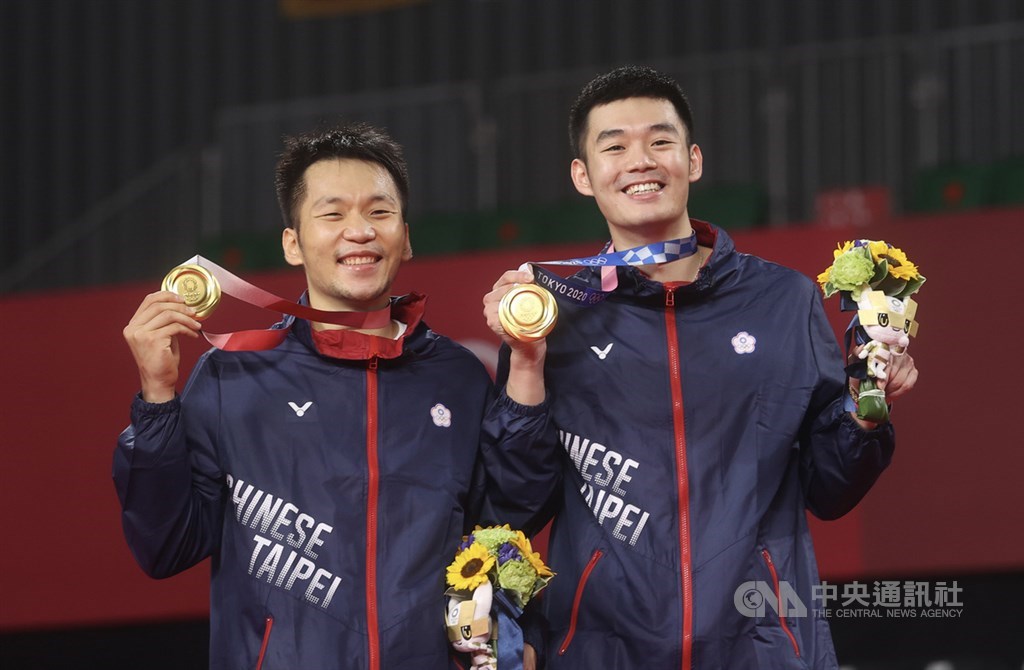 Lee had to leave behind his own doubles partner, Lee Jhe-huei (李哲輝), and his sponsor, the Taiwan Cooperative Bank, to join Wang at the Land Bank of Taiwan.
"It was a gamble," Lee said of the decision in an interview in 2020. "There's no guarantee that one plus one will equal two, or equal more than two. All you can do is take that risk."
From the start, the gamble paid off. At their first international competition, the Barcelona Spain Masters 2019, Lee and Wang won the title, and then went on to win three more tournaments that year, eventually reaching the semifinals in the BWF World Tour Finals.
"The results we had were very surprising, as it was our first year competing together," Wang said in the same interview in 2020.
It served as an encouragement for them as they continued to work on communicating better on the court and responding in sync to opponent shots, Lee said.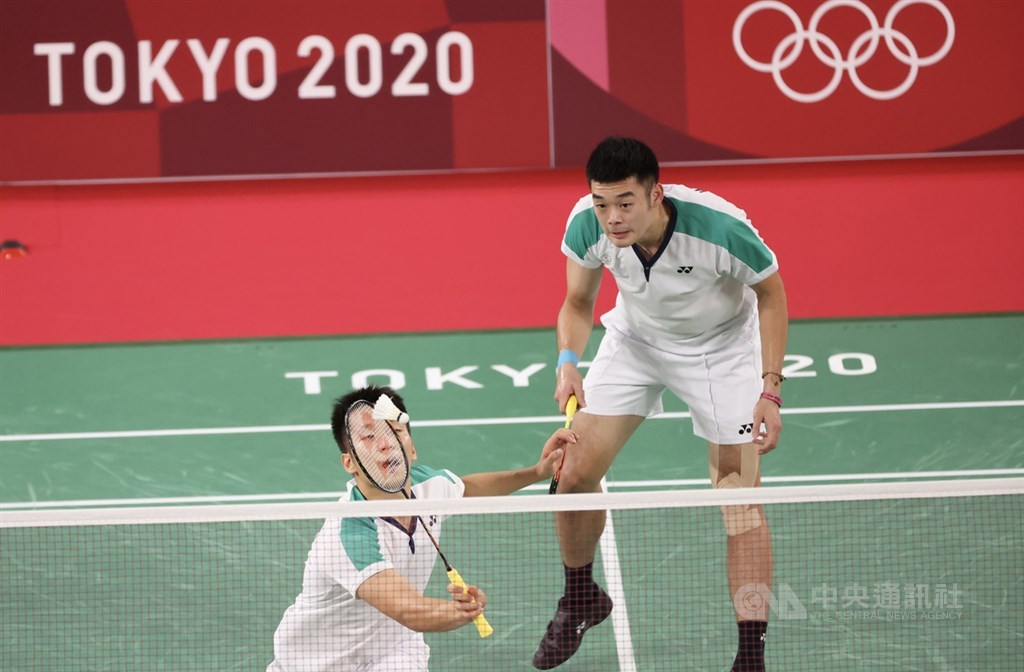 That cohesion was on display in Tokyo, Lee's deft touch and quick reflexes around the net perfectly complementing the taller Wang's penchant for smashing anything in his wheelhouse as many times as necessary to win a point, making them hard to beat.
Long before pairing up, the two had admired each other's skills, starting as classmates at Taipei Zhongshan Junior High School. When they met at age 14, Lee was a relative newcomer to the sport while Wang was already a rising star in national competitions.
"I thought he was out of my league," Lee said of Wang in an interview in 2019. "At the time, the possibility of competing as a duo with him never crossed my mind."
Wang, on the other hand, thought Lee was versatile and had a unique style of play, and had faith that despite being a late bloomer, he would come into his own.
Looking ahead, both Lee and Wang agree that taking a break is on the top of their to-do list.
Training for the Olympics last year was really tough, Wang said in a livestream on Monday evening, as there was a lot of uncertainty over whether the games would take place or not.
"We were very tense, all the time," he said.
After COVID-19 cases surged in mid-May, Wang and Lee stayed in the National Training Center in Kaohsiung and were unable to see their families, so they both plan to take some time off after returning to Taiwan.
When they do get back on the court, Lee said the important thing is to remain humble and do their duty as athletes rather than think about their exploits.
"The focus should be on each shuttlecock, on each competition," Wang said, "just keeping the same attitude we've had since we started playing this sport."
"As an athlete, the one thing we shouldn't forget is that the sport should bring us joy, not stress," Lee said, and that belief is something they want to hold on to into the future.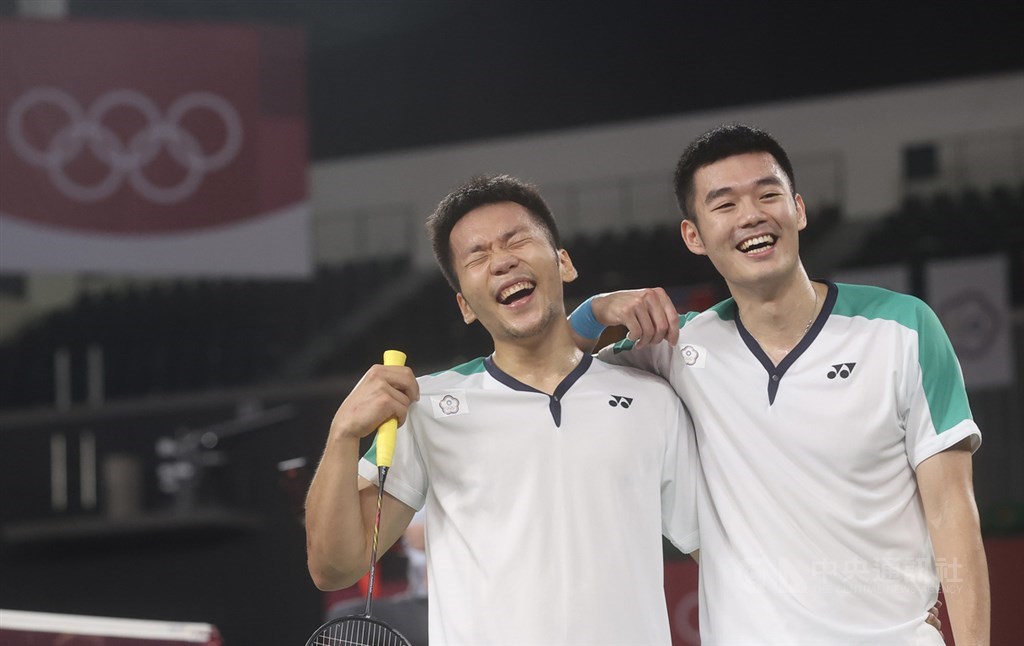 View All