OLYMPICS
/
Rest of Olympic team members to fly business class to Tokyo: Premier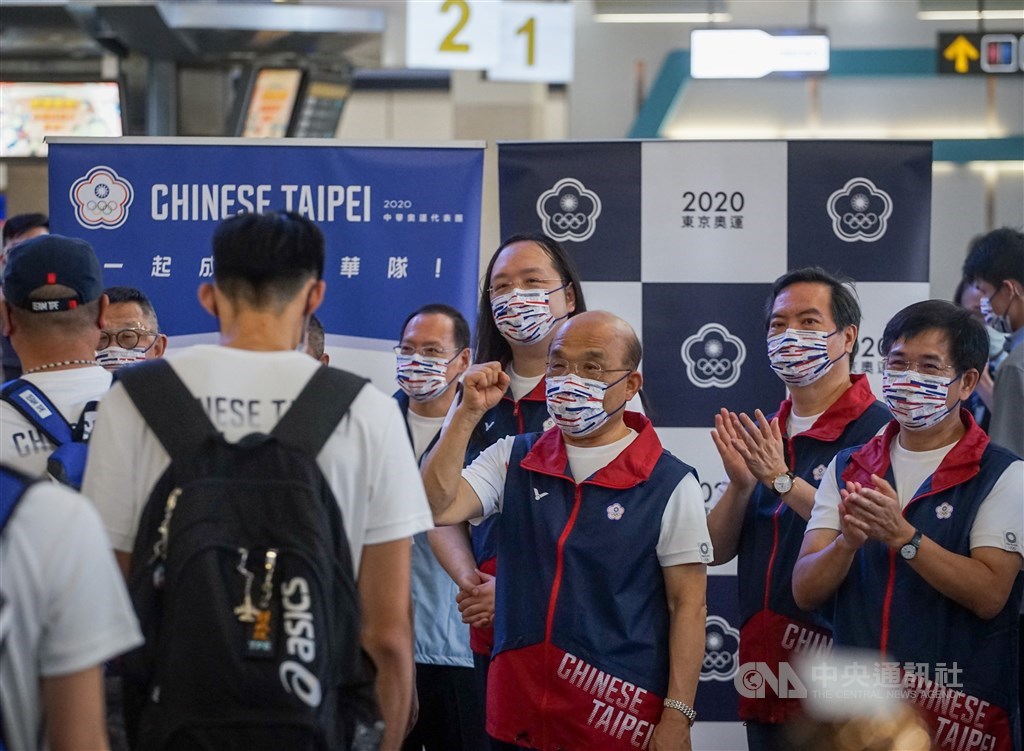 Taipei, July 21 (CNA) All remaining Taiwanese Olympic athletes who have yet to go to Tokyo for the upcoming games and their coaches will fly business class while government sports officials will travel in economy class, Premier Su Tseng-chang (蘇貞昌) said Wednesday.
In a Facebook post, Su said the government has made sure that athletes competing in tennis, golf, equestrian events, track and field, karate, and boxing and their coaches will fly to Tokyo in business class in the coming days to complete in the Summer Olympics, which are slated to begin on July 23.
Meanwhile, the remaining members of the Sports Administration who plan to attend the Olympic Games will fly economy class to Tokyo, Su said, though there were only two officials in that category, and they traveled to Japan on Wednesday.
Su's pledge came after the flight arrangements for Taiwan's Tokyo Olympics delegation became an issue when world No. 1 badminton player Tai Tzu-ying (戴資穎) complained about them.
She posted an Instagram photo of herself sitting in economy class on the China Airlines (CAL) charter flight to Tokyo arranged for the Olympic team on Monday, instead of in business class as promised by government officials.
The CAL charter had 50 athletes and 84 officials, coaches and support staff on board, accounting for a large part of Taiwan's contingent to the games.
Taiwan will have 68 athletes competing in Japan, meaning 18 have yet to go.
Tai's post drew an apology from President Tsai Ing-wen (蔡英文), who had pledged previously that during her term in office, all Taiwanese athletes and coaches competing in major international sports events would travel business class to overseas venues.
In its defense, the Sports Administration said it would have been impossible to put all the athletes and their coaches in business class as the A330 aircraft had only 36 business class seats.
Instead, each athlete was seated in the front economy class cabin with no one sitting beside, in front of and behind them to maintain social distancing as a COVID-19 preventive measure, it said.
Those who sat in business class were Taiwanese Olympic committee members, sports officials, head coaches and team doctors.
The arrangement drew harsh criticism from opposition lawmakers and netizens, who accused the government of paying more attention to pleasing its own officials than taking care of the athletes who are actually competing in Tokyo.
Amid the criticism, Sports Administration head Chang Shao-hsi (張少熙) offered to resign Tuesday to take responsibility for the situation.
On Wednesday, Premier Su reiterated the government's apology for the poor flight arrangements, which violated its previous promise to take better care of Taiwanese athletes.
He said it was acceptable to change flight arrangements to prevent the spread of the coronavirus disease, but the government's major error was to not inform Olympic team members beforehand.
Su said the government will hold those responsible for making the flight arrangements at the conclusion of the Tokyo Games.
Team Taiwan, competing in the Olympic under the name Chinese Taipei, is sending 68 athletes to compete in 18 sports at the Games which conclude on Aug. 8.
The Sports Administration is targeting medals in weightlifting, badminton, artistic gymnastics, boxing, archery, javelin, and karate.
Hopes are high that Taiwan can do better than the one gold and two bronze medals won at the 2016 Summer Olympics in Rio de Janeiro.
View All