Asian Games: Taiwan wins silver in women's weightlifting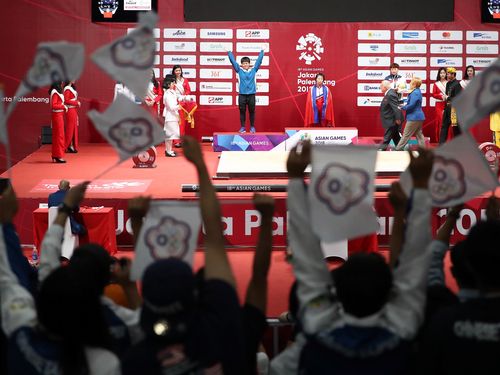 Taipei, Aug. 25 (CNA) Taiwan's Hung Wan-ting (洪萬庭) won the silver medal in the women's 69-kilogram weightlifting final at the 2018 Asian Games in Jakarta on Saturday.
Hung completed a 103 kg snatch and a 130 kg clean and jerk, finishing with a combined total of 233 kg, behind Rim Un-sim of North Korea, who won gold with 246 kg.
In archery, Taiwanese archers Tang Chih-chun (湯智鈞), Wei Chun-heng (魏均珩) and Luo Wei-min (羅偉旻) had an easy victory against Mongolia, winning 6-0 in the recurve men's team semifinals on Saturday. The team will now faces South Korea for the gold on Aug. 27.
Meanwhile, Taiwanese Lei Chien-ying (雷千瑩), Peng Chia-mao (彭家楙) and Tan Ya-ting (譚雅婷) beat the Chinese team 5-3 to reach the recurve women's team final.
This is the first time the Taiwan's women's team have reached the archery recurve finals at the Asian Games in 16 years.
They will also meet a team from South Korea in the final on Aug. 27.
As of press time, Taiwan was 8th in the medals table with six golds, 11 silvers and 13 bronzes since the games started on Aug. 18.