ROAD SAFETY
/
Taiwan government proposes 'action plan' to improve pedestrian safety
Taipei, May 25 (CNA) The Cabinet on Thursday put forth an "action plan" that it said will help make the streets of Taiwan safer for pedestrians, in the wake of a recent deadly accident in the south of the country.
Under the "pedestrian first" plan, 19 measures will be implemented to improve Taiwan's infrastructure, promote road safety education, tighten law enforcement, and crack down on recidivist traffic offenders, Cabinet members said at a press briefing.
The plan was released about two weeks after a fatal accident occurred on a pedestrian crossing in Tainan, triggering protests across the country, as the public called on the government to make the roads safer for pedestrians.
In the accident, a 3-year-old girl was killed and her mother injured when they were struck by a car on a pedestrian crossing in the city's North District.
At Thursday's press briefing, Wu Hsin-hsou (吳欣修), director general of the central government's Construction and Planning Agency, said NT$5 billion (US$162.32 million) was allocated last year to fund a two-year project aimed at improving pedestrian safety in areas near schools.
For the new "action plan," the government will allocate an additional NT$24.48 billion over a three-year period, from 2023-2025, to expand the program, he said.
For example, work will be carried out to remove roadside obstacles and improve the design of crosswalks and sidewalks in areas near public facilities such as parks, hospitals, and government buildings, Wu said.
In addition, the government plans to create 25 new "pedestrian-friendly areas" across the country, where the vehicle speed limit will be set at 30 kilometers per hour, he said.
The additional NT$24.48 billion will be drawn from the special budget of the government's "Forward-looking Infrastructure Development Program," Wu said
Meanwhile, chief of the National Police Agency Huang Ming-chao (黃明昭) said at the press conference that it is a "serious" traffic violation for drivers not to yield to pedestrians on crosswalks and also to park illegally on sidewalks.
With that in mind, Huang said, all police stations will be instructed to step up patrols of intersections deemed as high risk for road accidents, especially those in the country's six municipalities -- Taipei, New Taipei, Taoyuan, Taichung, Tainan, and Kaohsiung.
The ultimate goal is to get all drivers into the habit of giving priority to pedestrians on the road, he said.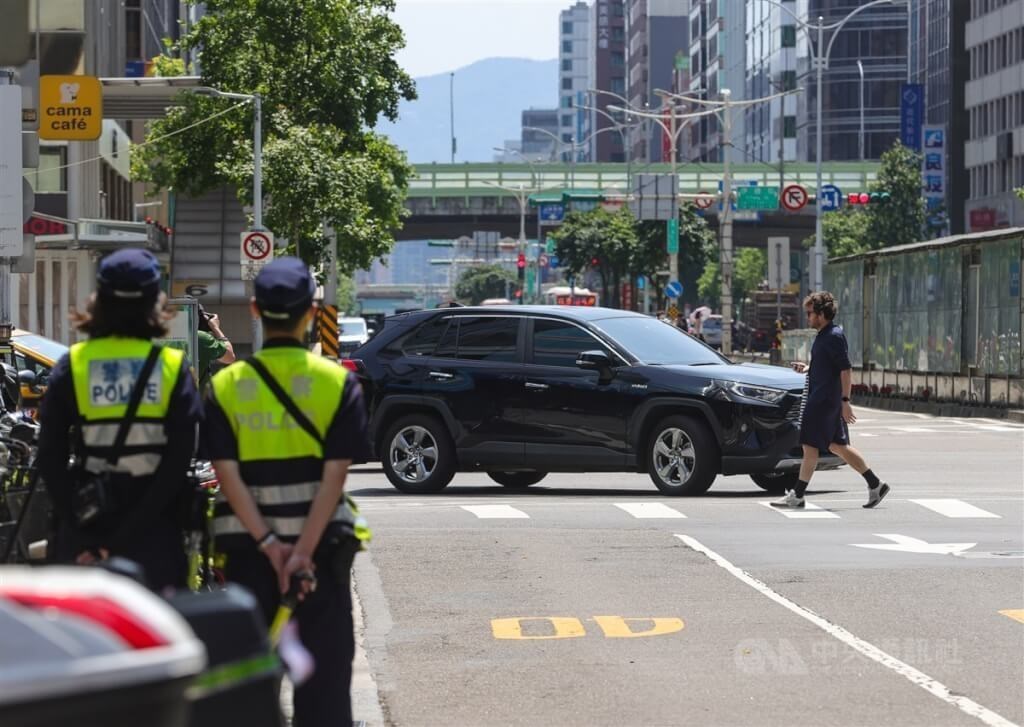 Also speaking at the press conference, head of the Directorate General of Highways Chen Wen-juei (陳文瑞) said the agency will crack down harder on repeat traffic offenders, for example, by requiring frequent renewals of their drivers' licenses.
Currently, drivers in Taiwan are not required to renew their licenses, unless they are over the age of 75, in which case their licenses must be renewed every three years.
As part of the government's plan to improve the environment for pedestrians, the Ministry of Education (MOE) will launch a public education program, holding workshops in district and village centers for people at the community level, according to Peng Fu-yuan (彭富源), head of the MOE's K-12 Education Administration.
The ministry will also continue its road safety programs for children from kindergarten to high-school level, Peng said at the press briefing.
According to Cabinet spokesman Alan Lin (林子倫), the central government is fully committed to making Taiwan's roads safe for pedestrians.
Citing Premier Chen Chien-jen (陳建仁), Lin said local government leaders, nonetheless, are crucial to the success of those efforts and are urged to work closely with the central government agencies to implement the latest action plan.
View All