Sightings of non-native baboon reported in Taoyuan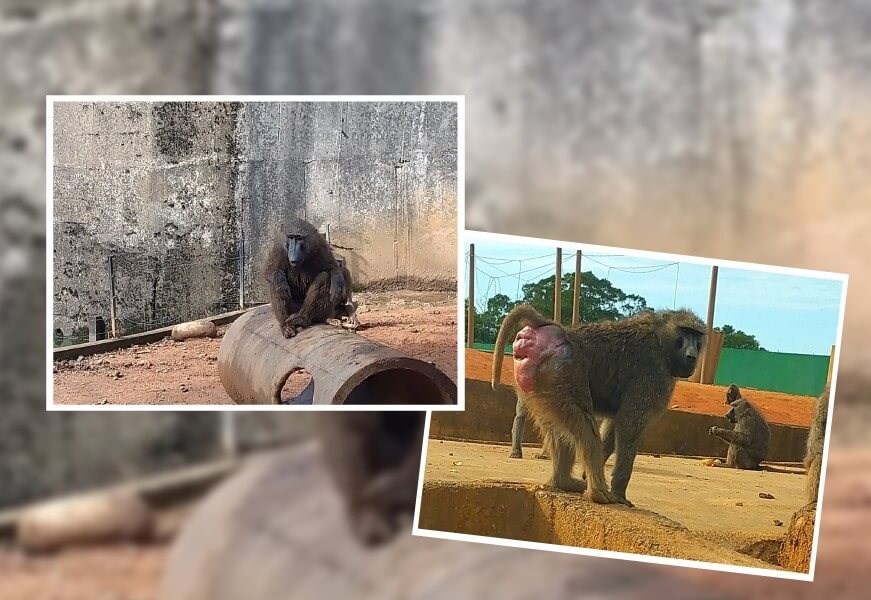 Taipei, March 23 (CNA) Authorities in Taoyuan are searching for a non-native baboon, possibly a chacma baboon, which has been spotted several times in the city's Pingzhen District over the past 12 days and was most recently seen in the coastal district of Xinwu.
Huang Chih-chieh (黃志杰), chief of Pingzhen District's Zhenxing ward, told CNA that the baboon was first spotted near a local factory on March 10 in the central Taoyuan area.
After a second sighting on March 18, Huang said, he notified the nearby Leofoo Village Theme Park and asked for help to capture the animal.
In other sightings, Huang said, the baboon has mainly been seen raiding people's fruit and vegetable gardens, and it has evaded one attempt to capture it with the use of a tranquilizer dart.
While there have been speculations in the local media that the animal may have escaped from Leofoo Village, which is about 12 kilometers from Pingzhen District, representatives of the park said that is not the case.
A Leofoo Village spokesperson told CNA that after learning of the sightings on March 18, the park immediately took an inventory of its baboons and confirmed that none were missing.
Still, "on the basis of friendship" with the local community, the park has sent staff members to help locate and trap the baboon, the spokesperson said, adding that those efforts are still ongoing.
Update: Baboon on the loose in Taoyuan captured, dies of injuries (March 27)
Meanwhile, Taoyuan's Animal Protection Office said Thursday that it has no record of baboons registered to owners in Taoyuan, which means the animal may have been kept there illegally or had been abandoned by owners from another city or county.
The office said it had already set a number of baited traps and would also consider capturing the baboon with the use of a tranquilizer gun.
Based on the sightings reported by the public, it appears that the baboon left the Zhenxing area on Monday and has been moving in a northwesterly direction.
In the latest sighting Wednesday, it was spotted near Meigao Rd. Section 3, in the rural northwest coastal district of Xinwu in Taoyuan.
A Leofoo Village employee who spotted the baboon estimated that it weighed around 20 kilograms and was about 110 centimeters tall on its hind legs, according to local media reports. By comparison, native Formosan rock macaques weigh 5-12 kg.
While initial reporting identified the animal as an olive baboon, the Forestry Bureau said Thursday that it was most likely a chacma baboon. Both species are native to Africa.
Under the Wildlife Conservation Act, people found illegally keeping protected animals as pets can be fined NT$10,000 (US$330) to NT$50,000.