CORONAVIRUS
/
Taipei to roll out second-generation Moderna vaccine Sept. 24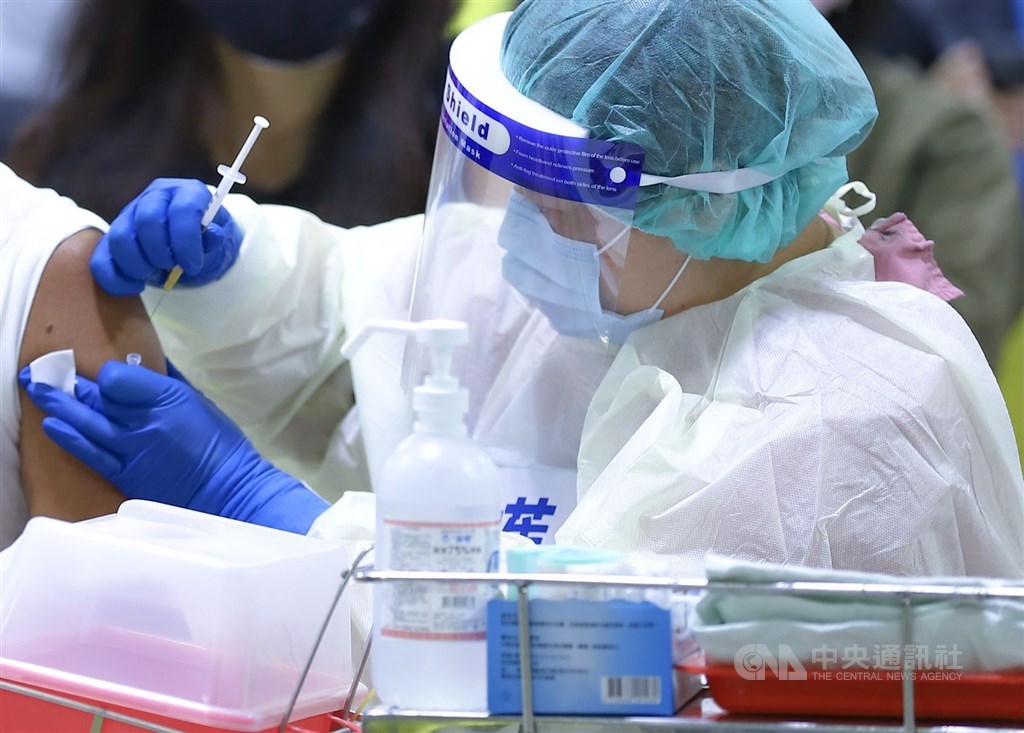 Taipei, Sept. 19 (CNA) Taipei will begin offering Moderna's second-generation Spikevax COVID-19 vaccine to eligible recipients on Sept. 24, the city's Department of Health said Monday.
In a virtual press conference, the department said that from 9 a.m. on Tuesday, Taipei's "COVID-19 vaccination booking system" will be offering appointment slots for 40,000 doses of the updated vaccine between Sept. 24 and Oct. 2.
Meanwhile, another 10,000 doses of the jab will be available from Sept. 26 to Oct. 2 by booking directly through the COVID-19 outpatient clinics in major Taipei City hospitals, according to the health department.
Currently, eligibility for the vaccine is limited to people aged 65 and over, residents of long-term care facilities, and immunocompromised adults who received their previous vaccine dose at least 3 months ago, the department added.
Last weekend, Taiwan took delivery of a total of 1.607 million doses of the updated Moderna vaccine, which targets both the original virus from 2020 and the Omicron subvariant BA.1.
The Central Epidemic Command Center (CECC) has said the vaccine is also effective against the BA.5 variant of Omicron, which currently accounts for around 60 percent of COVID-19 infections in the country.
Aside from the second-generation vaccines, Taipei's vaccination booking system can also be used to reserve appointments to get shots of the Moderna, Pfizer-BioNTech, and Medigen COVID-19 vaccines, as well as the Pfizer vaccine for young children, the health department said.
Note: Moderna's second-generation Spikevax vaccine is also avaialable through Kaohsiung's COVID-19 vaccination booking system.
Related News
Sept. 19: Taiwan's latest COVID-19 wave forecast to peak in late September
Sept. 18: Taiwan to receive 2nd shipment of updated COVID-19 vaccine
Sept. 2: Taiwan grants EUA for 2nd-generation Moderna COVID-19 vaccine
Aug. 28: Taiwan begins rollout of Pfizer-BNT vaccines for young children
Aug. 24: Omicron subvariant-induced outbreak forecast to peak earlier: CECC
New COVID-19 rules
Sept. 8: Taiwan to ease COVID-19 in-person class suspension rules
Sept. 5: Taiwan to resume visa-free entry for multiple countries from Sept. 12
Sept. 1: Taiwan's new COVID-19 protcols, '3+4' policy taking effect Sept. 1
Recent cases
Sept. 19: Taiwan reports 28,210 new COVID-19 cases, 31 deaths
Sept. 18: Taiwan reports 39,569 new COVID-19 cases, 39 deaths
Sept. 17: Taiwan reports 39,628 new COVID-19 cases, 40 deaths
Sept. 16: Taiwan reports 41,430 new COVID-19 cases, 46 deaths
Sept. 15: Taiwan reports 45,470 new COVID-19 cases, 57 deaths 
View All