CORONAVIRUS
/
Taiwan's latest COVID-19 wave forecast to peak in late September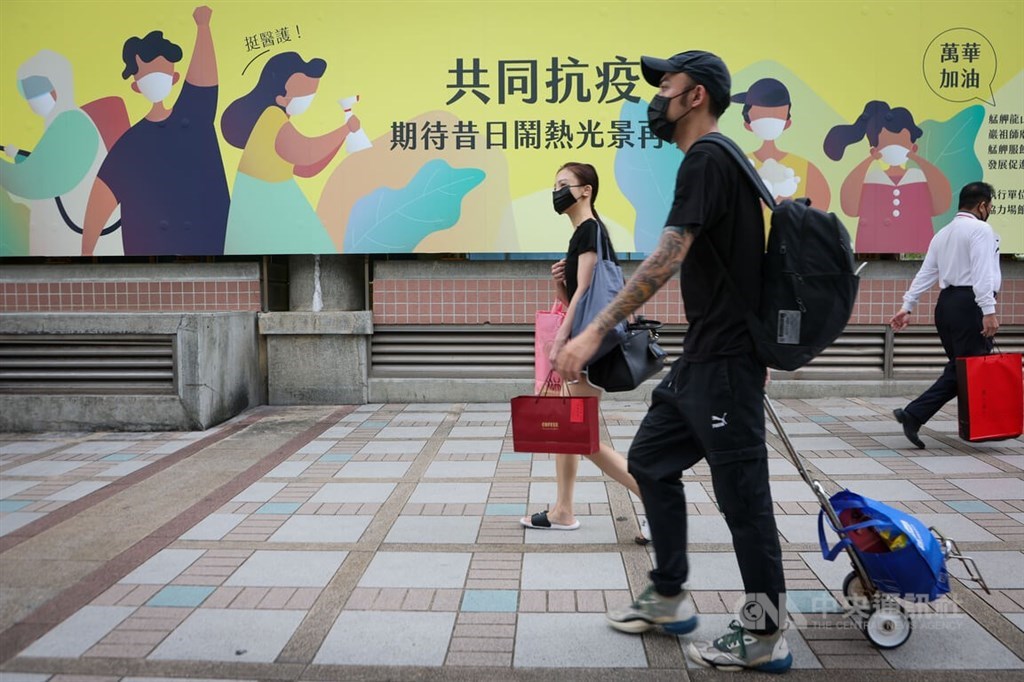 Taipei, Sept. 19 (CNA) Taiwan's current surge in COVID-19 cases, which is being driven by infections of the BA.5 subvariant of the virus, is expected to peak in late September at a daily number of around 50,000, the Central Epidemic Command Center (CECC) said Monday.
At a news conference in Taipei, CECC head Victor Wang (王必勝) said the cases might top out between Sept. 21 and 28, and the number is likely to be "over 50,000 but less than 60,000" per day.
DNA sequencing conducted in 149 domestic COVID-19 cases last week showed that 104 of them, or 59.2 percent, were caused by the BA.5 subvariant, and that proportion is expected to grow, CECC official Lo Yi-chun (羅一鈞) said.
At the press conference, Wang was also asked about a social media post by radio host Clara Chou (周玉蔻), in which she claimed that Taiwan was planning to lift its mandatory quarantine for arriving travelers on Oct. 25 or 31.
In response, Wang said Premier Su Tseng-chang (蘇貞昌) had asked the CECC earlier in the day to continue its preparations to end the quarantine, but a date has not yet been fixed for doing so.
Since June 15, Taiwan has been following a "3+4" policy, which requires arriving travelers to quarantine for three days, followed by four days of "self-initiated epidemic prevention."
The CECC had said earlier that Taiwan may drop its quarantine requirement sometime in late October, once the BA.5 outbreak has subsided. The proposed quarantine-free protocol is often referred to as a "0+7" policy that would mean no quarantine but seven days of "self-initiated epidemic prevention."
Related News
Sept. 19: Taipei, Kaohsiung to roll out second-generation Moderna vaccine Sept. 24
Sept. 13: Japan to relax entry rules for Taiwan citizens from Sept. 14
Sept. 2: Taiwan grants EUA for 2nd-generation Moderna COVID-19 vaccine
Aug. 28: Taiwan begins rollout of Pfizer-BNT vaccines for young children
Aug. 24: Omicron subvariant-induced outbreak forecast to peak earlier: CECC
Latest COVID-19 rules
Sept. 29: Taiwan's new COVID-19 protocols for arriving passengers
Sept. 8: Taiwan to ease COVID-19 in-person class suspension rules
Sept. 5: Taiwan to resume visa-free entry for multiple countries from Sept. 12
Sept. 1: Taiwan's new COVID-19 protcols, '3+4' policy taking effect Sept. 1
Recent cases
Sept. 19: Taiwan reports 28,210 new COVID-19 cases, 31 deaths
Sept. 18: Taiwan reports 39,569 new COVID-19 cases, 39 deaths
Sept. 17: Taiwan reports 39,628 new COVID-19 cases, 40 deaths
Sept. 16: Taiwan reports 41,430 new COVID-19 cases, 46 deaths
Sept. 15: Taiwan reports 45,470 new COVID-19 cases, 57 deaths 
Sept. 14: Daily number of new COVID-19 in Taiwan approaches 50,000
View All