CORONAVIRUS
/
Taiwan reports 21,069 new COVID-19 cases, 34 deaths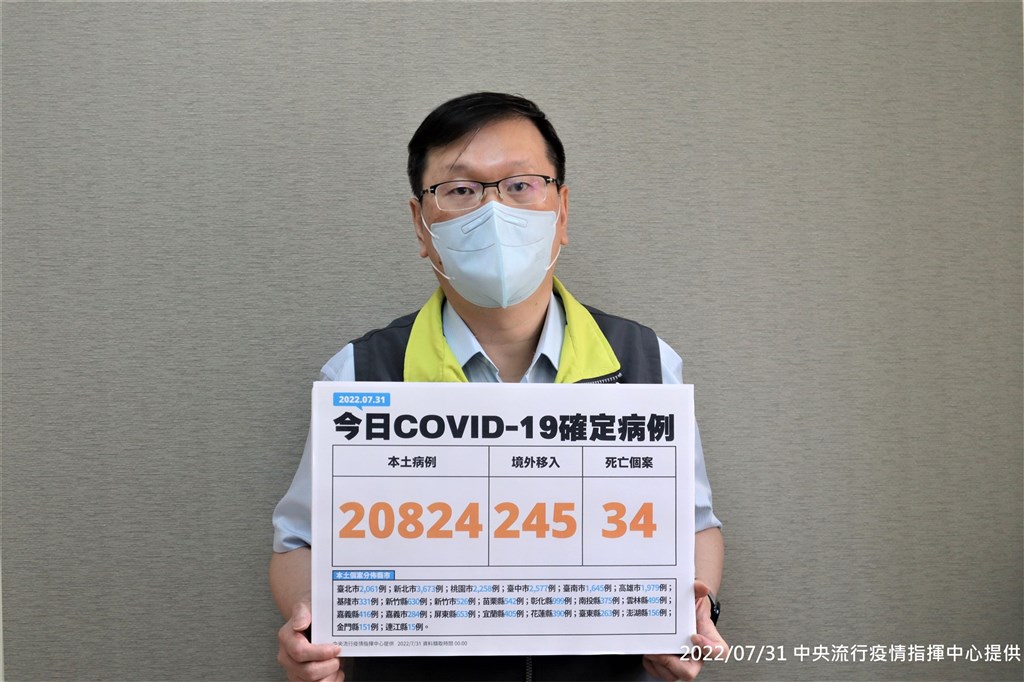 Taipei, July 31 (CNA) Taiwan recorded 21,069 new COVID-19 cases on Sunday, all but 245 of which were domestic infections, and 34 deaths from the disease, according to the Central Epidemic Command Center (CECC).
The deceased ranged in age from their 20s to over 90. Twelve of those who died were unvaccinated, while 33 had chronic illnesses or other severe diseases, the CECC said.
The sole patient who had no chronic illness or other severe diseases was unvaccinated, according to the CECC.
Also on Sunday, the CECC said that 33 previously reported COVID-19 cases had become severe, while 55 other individuals had developed moderate symptoms.
Severe cases involving children
Among the severe cases are three children, ages 1, 6, and 11 years old, who have been diagnosed with multisystem inflammatory syndrome in children (MIS-C), the CECC said.
The 1-year-old and 11-year-old had tested positive for COVID-19 on June 6 and July 15, respectively, and began to have symptoms of MIS-C two to four weeks later, the CECC said.
The 6-year-old, meanwhile, was admitted to hospital with a high fever, vomiting, and a rash, and his antibody tests showed that he had previously contracted COVID-19, the CECC said.
The three children are still being treated in hospital, the CECC said.
To date, 140 children under the age of 13 years have developed severe illnesses from COVID-19, and 25 of them have died, according to the CECC.
Of the 4,532,657 domestic cases reported in Taiwan this year, 9,379 have been classified as severe infections and 11,637 as moderate, accounting for 0.21 percent and 0.26 percent of the total, respectively, according to CECC data as of July 30.
In all other cases, the infected persons were either asymptomatic or had mild symptoms, the CECC said.
Regional breakdown
On Sunday, New Taipei recorded the highest number of domestic cases, with 3,673, followed by Taichung with 2,577, and Taoyuan with 2,258.
Taipei reported 2,061 cases, Kaohsiung 1,979, Tainan 1,645, Changhua County 999, Pingtung County 653, Hsinchu County 630, Miaoli County 542, Hsinchu City 526, Yunlin County 495, and Chiayi County 416.
Yilan County recorded 405 cases, Hualien County 390, Nantou County 375, Keelung 331, Chiayi City 284, Taitung County 263, Penghu County 156, Kinmen County 151, and the Matsu Islands 15.
To date, Taiwan has recorded 4,588,185 COVID-19 cases since the pandemic began in early 2020, including 4,568,077 domestic infections.
With the 34 deaths reported Sunday, the number of confirmed COVID-19 fatalities in the country rose to 8,927.
Related News
July 26: Revision of border rules depends on vaccination rate among kids: CECC
July 25: Taiwan records two new domestic BA.5 subvariant cases
July 22: Taiwan reports first COVID-19 BA.2.75 sublineage case
July 19: Taiwan to allow entry of 6 groups of foreign nationals
July 15: Taiwan records first community spread of BA.5: CECC
July 7: Taiwan raises weekly arrivals cap, loosens pre-entry PCR requirement
Recent cases
July 30: Taiwan reports 21,501 new COVID-19 cases, 60 deaths
July 29: Taiwan reports 23,289 new COVID-19 cases, 57 deaths
July 28: Taiwan reports 23,971 new COVID-19 cases, 62 deaths
July 27: Taiwan reports 25,692 new COVID-19 cases, 28 deaths
July 26: Taiwan reports 25,071 new COVID-19 cases, 37 deaths
View All