CORONAVIRUS
/
Taiwan reports 38,942 new COVID-19 cases, 118 deaths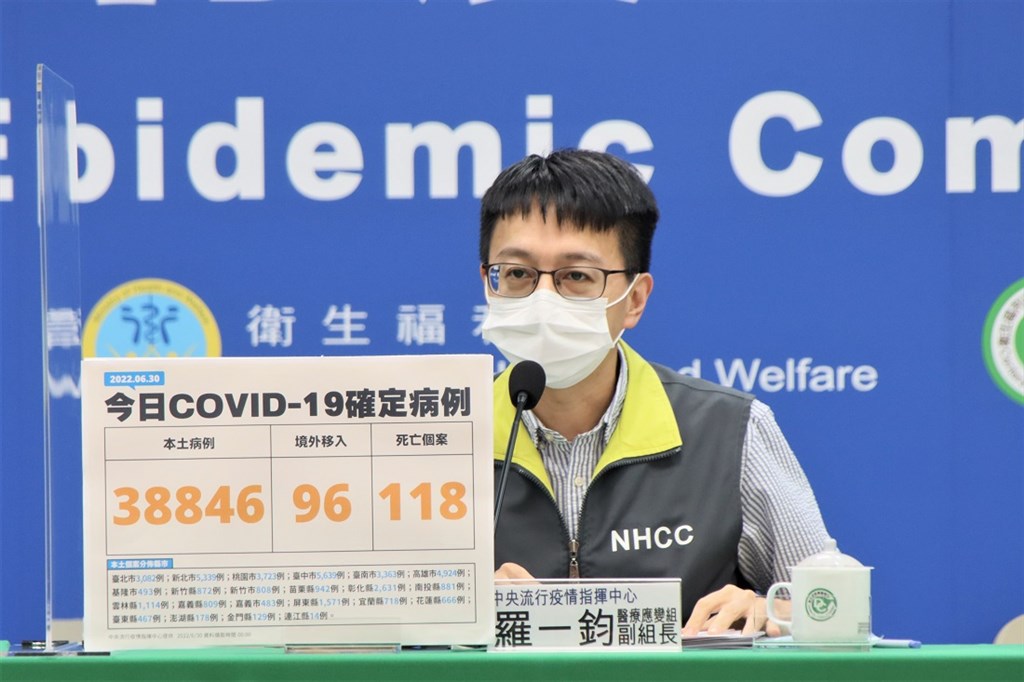 Taipei, June 30 (CNA) Taiwan reported 38,942 new COVID-19 cases on Thursday, all but 96 of which were domestic infections, and 118 deaths from the disease, according to the Central Epidemic Command Center (CECC).
The patients whose deaths were reported Thursday ranged in age from their 20s to 90s. They included 115 individuals who had chronic illnesses or other severe diseases and 53 who were unvaccinated, the CECC said.
The CECC also said that 105 previously reported COVID-19 cases had become severe, while 186 other individuals had developed moderate symptoms.
Among the severe cases are eight children who have been diagnosed with multisystem inflammatory syndrome in children (MIS-C), the CECC said.
Of the 3,699,185 domestic cases reported in Taiwan this year, 6,781 have been classified as severe infections and 9,002 as moderate, accounting for 0.18 percent and 0.24 percent of the total, respectively, according to CECC data as of June 29.
In all other cases, the infected individuals were either asymptomatic or had mild symptoms, the CECC said.
On Thursday, Taichung reported the highest number of domestic cases, with 5,639, followed by New Taipei with 5,339, and Kaohsiung with 4,924.
Taoyuan recorded 3,723 cases, Tainan 3,363, Taipei 3,082, Changhua County 2,631, Pingtung County 1,571, Yunlin County 1,114, Miaoli County 942, Nantou County 881, Hsinchu County 872, Chiayi County 809, and Hsinchu City 808.
Yilan County reported 718 cases, Hualien County 666, Keelung 493, Chiayi City 483, Taitung County 467, Penghu County 178, Kinmen County 129, and the Matsu Islands 14.
To date, Taiwan has recorded 3,767,283 COVID-19 cases since the pandemic began in early 2020, including 3,752,611 domestic infections.
With the 118 deaths reported Thursday, the number of confirmed COVID-19 fatalities in the country rose to 6,651.
View All