CORONAVIRUS
/
Third round of rapid test rationing plan to start July 1
Taipei, June 24 (CNA) The Central Epidemic Command Center (CECC) on Friday announced that the third round of the government's COVID-19 rapid test kits rationing scheme will start July 1, with each National Health Insurance (NHI)-contracted vendor stocked with 117 NT$500 (US$17) five-test kits daily.
In keeping with a change to the rules implemented during the second round of the scheme on June 13, there will be no restrictions on what days an individual can buy tests.
However, each NHI card or Alien Resident Certificate (ARC) holder is still only entitled to one five-test kit during the third round, according to the CECC.
Additionally, the CECC said all 4,753 NHI-contracted pharmacies (map) and 79 public health centers that sell the kits will have their daily stocks increased from 78 kits to 117.
The gap between the implementation of rollouts has also been shortened, the CECC added, with the first round lasting 39 days between April 28 and June 5 and the current second round lasting 25 days between June 6 and June 30.
The CECC said its statistics indicated that the first round of the rollout sold a total of 9,965,689 kits at an average of 255,000 kits per day, while the second round of the rollout is selling approximately 1.7 million kits at an average of 68,000 kits per day.
Related News
Q&A / Taiwan's '3+4' quarantine policy for arriving travelers
June 24: Taiwan reports 45,767 new COVID-19 cases, 152 deaths
June 12: Health Minister Chen Shih-chung tests positive for COVID-19
June 11: Taiwan to simplify rapid test rationing plan starting June 13
June 4: Taiwan expands free rapid COVID tests to more children age 6 or below
June 3: Students to be given 4 free COVID rapid tests from June 6
June 2: New round of COVID-19 rapid test rationing program to start June 6
May 26: Economically disadvantaged groups to receive free COVID rapid tests: official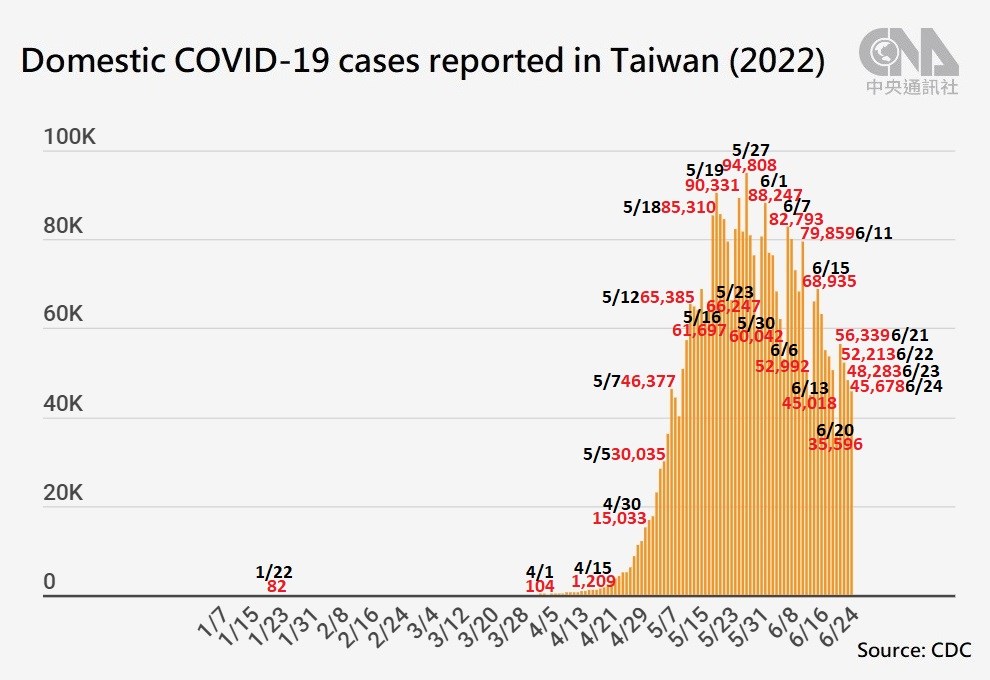 View All