Taiwan freedivers compete under 'Taiwan' at Caribbean Cup after protesting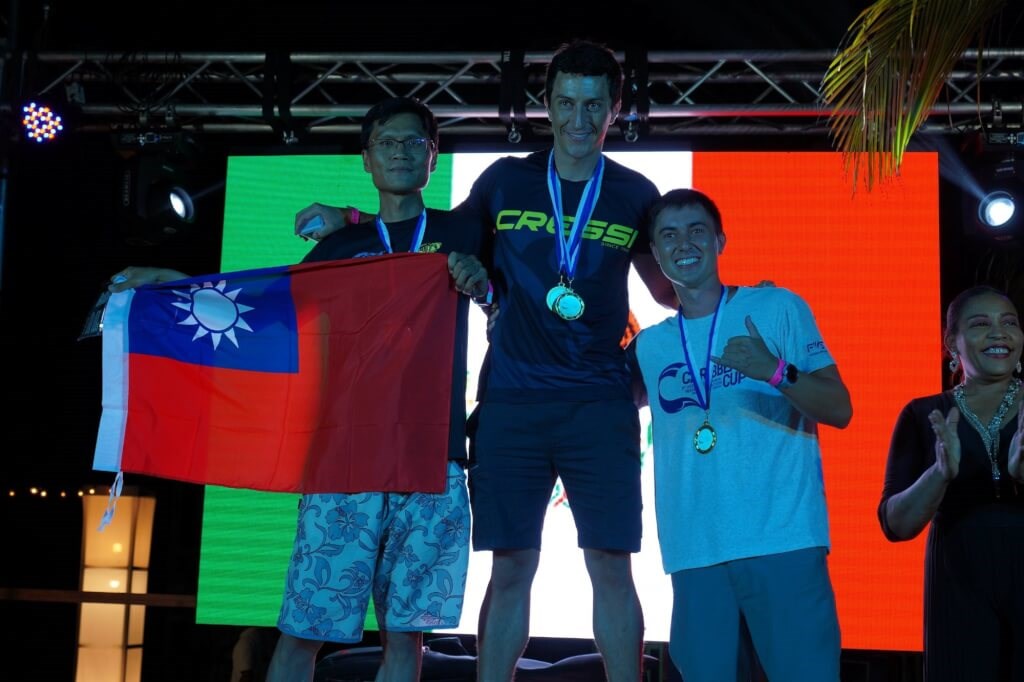 Taipei, May 26 (CNA) Two Taiwanese athletes at a recent international freediving competition in Honduras managed to register as representing "Taiwan," after they protested the use of the term "Chinese Taipei, Taiwan."
In a Facebook post early Thursday, Huang Ming-chun (黃明峻) said that when he and his compatriot Lien Lin-lan (連林嵐) arrived in Honduras for the annual Caribbean Cup freediving world series May 17-24, they were listed as representing "Taiwan," but a few hours before the start of the competition, a change was made.
Huang said he subsequently wrote a note on the bulletin board where the athletes' schedules were posted, saying "We are Taiwan, not Chinese Taipei Taiwan. Thank you."
After discussions with Lien the next morning, Huang said they decided to protest by staging a DNS (Did Not Start), just hours before the competition began, and they made it clear that "Taiwan is not a part of China."
After that first day, they were called to a meeting with a games official and told that if they insisted on competing under the name "Taiwan," their results would not be registered with the International Association for the Development of Apnea (AIDA), the world's largest promoter of free-diving competitions.
Huang said they were told that if instead they decided to compete with a blank reference regarding the nation they were representing, there was a chance that their results would be recognized by AIDA after the conclusion of the Caribbean Cup, which was held by the Roatan Freediving School and Training Center of Honduras, under the auspices of the AIDA.
The two Taiwanese divers decided, however, to stick with "Taiwan," saying they did not care whether or not AIDA recorded their results, according to Huang.
During the international freediving competitions that included more than 30 athletes from various countries, Huang said, he placed second in the 63-meter Constant Weight Without Fins (CNF) event, breaking Taiwan's national record.
He said Lien also broke national records in three events - the Free Immersion, the Constant Weight with Mono Fins, and the Constant Weight with Bi Fins.
Citing a competition judge, Huang said the AIDA chief had commented that the use of the term "Chinese Taipei, Taiwan" had resulted from an agreement between AIDA, AIDA Taiwan, and China.
"This was totally untrue," the freediver wrote, saying Taiwan never agreed to the use of that term for the Caribbean Cup.
Huang alleged that AIDA had been told by China that if it did not comply with Beijing's wishes, the activities of the association's 700 freediving instructors in China would be deemed illegal.
In a phone interview with CNA Thursday, Huang said he almost quit the 2022 Caribbean Cup during the back-and-forth with the organizers over the country name issue.
"In the 10 years I've been competing in this sport, it was the first time I had encountered such a situation," he said, adding that he thought it was linked to the fact that a Chinese sportswear brand was one of the sponsors of the Caribbean Cup.
Lien, meanwhile, who also spoke to CNA by phone, said there should be no concessions on competing under the right name.
Commenting Thursday on the controversy, Taiwan's Ministry of Foreign Affairs (MOFA) said it was aware of the situation and would maintain contact with the relevant members of Taiwan's freediving association and provide any necessary assistance.
MOFA also called on AIDA to uphold justice and not to allow "China's inappropriate political suppression" to interfere in the international freediving community.
AIDA Taiwan, a branch of the international Apnea association, said in a Facebook post on May 22 that it was clear that the athletes and AIDA freediving instructors from Taiwan would rather be recognized as representing "Taiwan".
"The name 'Chinese Taipei, Taiwan, is not a satisfactory compromise, and we do not support it," AIDA Taiwan said.
"We demand that every athlete participate in freediving competitions without being treated unfairly and without being influenced by oppressive external forces," it wrote.
"We believe it is very important for the continued progress and development of freediving as a sport. Please stand with Taiwan and its freedom."