CORONAVIRUS
/
Taiwan records first severe COVID-19 infection of child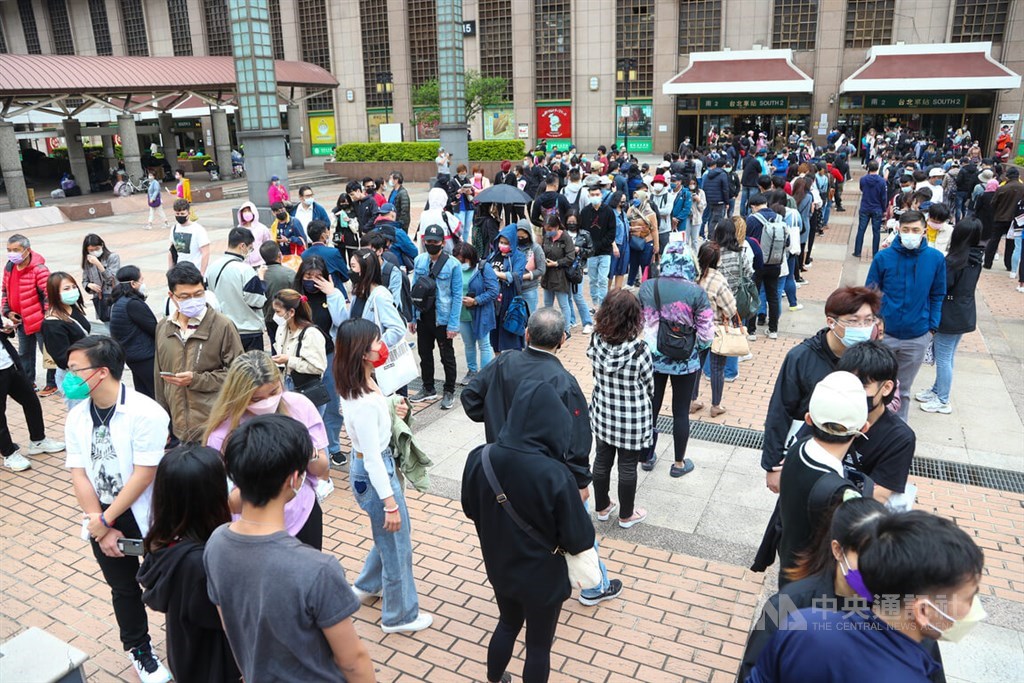 Taipei, April 16 (CNA) A 2-year-old boy has developed a severe infection of COVID-19 and has been in intensive care since Thursday, marking Taiwan's first serious case of the disease in a child under the age of 10 years, Minister of Health and Welfare Chen Shih-chung (陳時中) said Saturday.
The child was tested in New Taipei Thursday morning, along with his mother and sister, and was hospitalized later in the day, Chen said, during the Central Epidemic Command Center (CECC) daily press briefing.
Now in intensive care, the boy has been diagnosed with acute encephalitis, a central nervous system complication sometimes associated with COVID-19, and he is also being treated for organ problems, according Lo Yi-chun (羅一鈞), CECC official and Centers for Disease Control (CDC) deputy director-general.
He has been intubated and put on a ventilator, Lo said at the CECC press briefing, after the child's parents complained in the media the previous day that the government's response to their son's illness had been slow.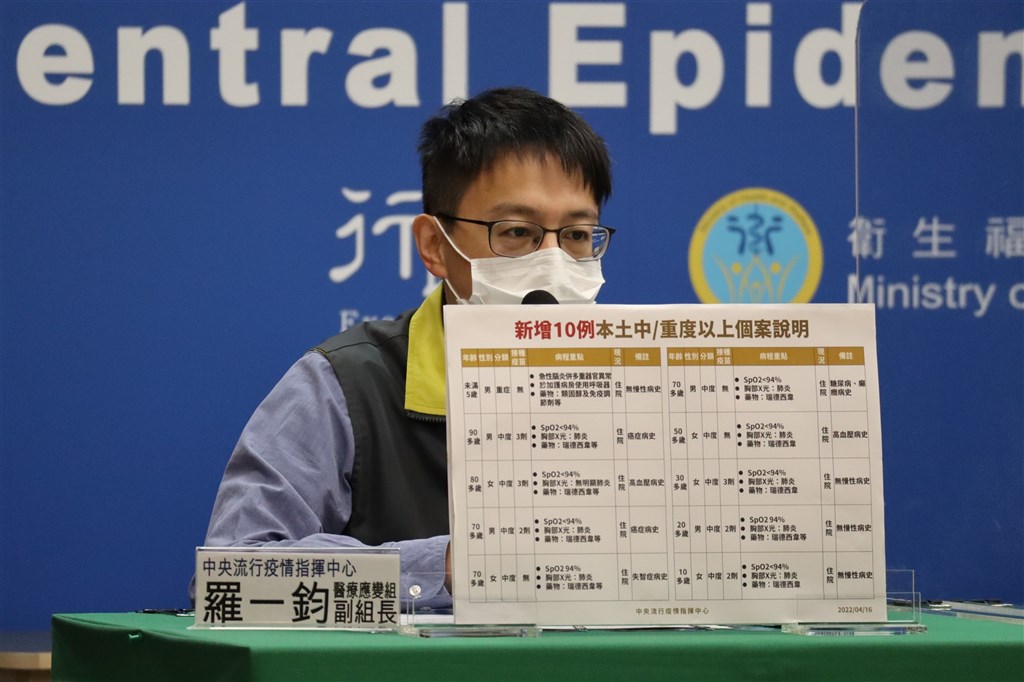 In the news reports, the mother was cited as saying that she was left on her own to get her son to hospital, even after she reported to health authorities Thursday that he had fallen unconscious.
Commenting on the reports, Chen said the mother had made two calls to the CDC's 1922 hotline Thursday, at 5:42 p.m. and 6:09 p.m., and the New Taipei City Department of Health subsequently contacted her at 6:30 p.m. to check on the child's condition and arrange for an ambulance, which brought him into the hospital at 7:31 p.m.
Chen said the hospital was doing everything it could to treat the boy, including consulting with highly experienced pediatricians at National Taiwan University Hospital.
While there might be some lessons to be learned from that case, Chen said, he did not think health authorities had been slow to respond.
On Saturday, the CECC reported one new severe COVID-19 case -- that of the boy -- and nine new moderate cases, bringing the total number of such infections to three and 36, respectively, among the 7,752 domestic cases recorded between Jan. 1 and April 15.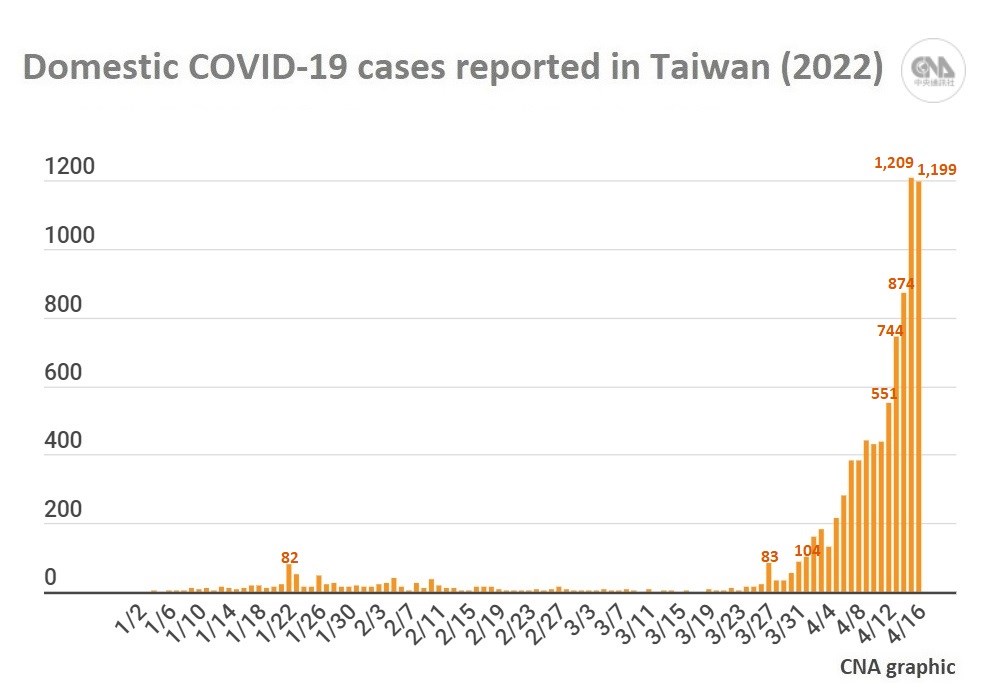 Meanwhile, the CECC confirmed 1,351 new COVID-19 cases Saturday, including 1,199 domestic infections, the second highest single-day figure since the pandemic began in early 2020.
New Taipei had the highest number of new domestic cases Saturday, with 434, followed by Taipei with 206, Taoyuan with 159, Keelung with 92, and Kaohsiung with 60, the CECC said.
Hualien County recorded 55 cases, Taichung 40, Yilan County 39, Tainan 29, Changhua County 16, Hsinchu County 15, and Miaoli and Pingtung counties 12 each, according to the CECC.
Hsinchu City had 10 cases, Taitung County seven, Yunlin and Nantou counties five each, Chiayi City two, and Chiayi County one, the CECC said.
It said 672 of the new cases were asymptomatic infections.
On Saturday, the CECC also reported 152 new imported cases, 143 of them travelers who had tested positive on arrival in Taiwan.
To date, Taiwan has confirmed 33,205 COVID-19 cases since the pandemic began, including 23,551 domestic infections, according to CECC data.
With no deaths reported Saturday, the number of confirmed COVID-19 fatalities in the country remained at 854, the data showed.
Update
May 7: Quarantine cut to 7 days for mild, asymptomatic COVID-19 cases: CECC
May 7: Taiwan rolls back quarantine rules for contacts of COVID-19 patients
May 5: Rapid test positives to be counted as confirmed COVID cases from May 12
May 4: Taiwan adjusts hospital policy for COVID-19 patients 
May 3: Taiwan to shorten quarantine for arriving travelers from 10 to 7 days
April 19: Taiwan sees first death of young child due to COVID-19
Related News
April 15: Taiwan mandates 3 COVID shots for high-risk groups, venues
April 15: CECC adds Kaohsiung, Hualien to high-risk COVID-19 areas
April 15: 4,100 courses of COVID-19 drug Paxlovid arrive in Taiwan
April 14: High COVID transmission rates could last to September: health expert
Recent cases
April 16: Taiwan reports 1,351 new COVID-19 cases, including 1,199 domestic transmissions
April 15: Taiwan sets single-day high with 1,209 new domestic COVID-19 cases
April 14: Taiwan breaks record for 2nd day with 874 new domestic COVID-19 cases
April 13: Taiwan reports record single-day high of 744 domestic COVID-19 cases
April 12: Taiwan reports 551 new domestic COVID-19 cases, highest this year
View All