CORONAVIRUS
/
Taiwan reports 12 imported COVID-19 cases, no deaths
Taipei, Nov. 27 (CNA) Taiwan reported 12 new imported cases of COVID-19 and no new deaths from the disease on Saturday, according to the Central Epidemic Command Center (CECC).
The new cases are three Taiwanese and nine foreign nationals from Ethiopia, Indonesia, the Philippines and Indonesia. They arrived in Taiwan between Nov. 12 and Nov. 25, the CECC said.
They were confirmed as having caught the disease either upon arrival or before the end of their mandatory 14-day quarantine in Taiwan, it said.
The CECC said four of the 12 cases involved people who were fully vaccinated and were therefore classified as breakthrough infections.
To date, Taiwan has confirmed a total of 16,578 COVID-19 cases, of which 14,426 were domestic infections reported since May 15, when the country first recorded more than 100 cases in a single day.
There have only been 123 domestic cases since Aug. 15, as daily domestic case numbers have fallen to mostly single digits or zero since then, and in November, only one domestic case has been reported -- on Nov. 4 -- according to CECC data.
With no new deaths reported Saturday, the number of confirmed COVID-19 fatalities in the country remains at 848, with all but 12 recorded since May 15.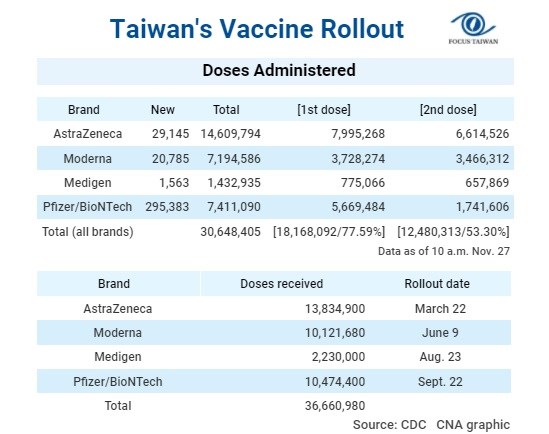 Recent cases
Nov. 26: Taiwan reports 12 new imported COVID-19 cases, no deaths
Nov. 25: Taiwan reports 10 new imported COVID-19 cases, no deaths
Nov. 24: Taiwan reports 5 new imported COVID-19 cases, no deaths
Nov. 23: Taiwan reports seven new imported COVID-19 cases, zero deaths
Nov. 22: Taiwan reports three new COVID-19 cases, zero deaths
View All