CORONAVIRUS
/
Taiwan reports 4 new imported COVID-19 cases, zero deaths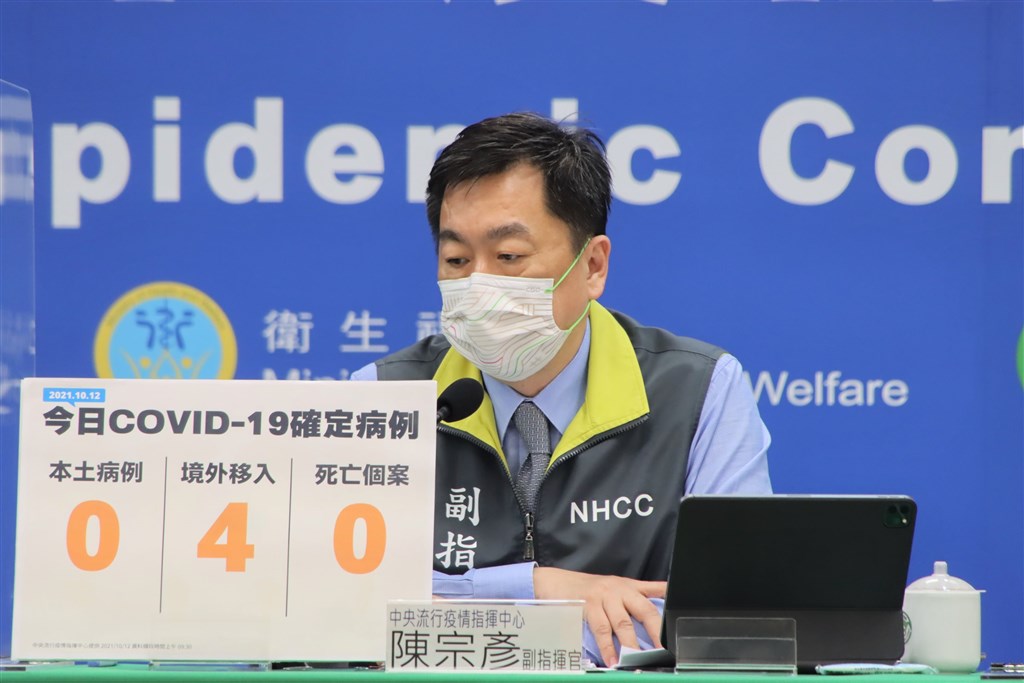 Taipei, Oct. 12 (CNA) Taiwan recorded four new COVID-19 cases on Tuesday, all of which were imported, with no new deaths from the disease, according to the Central Epidemic Command Center (CECC).
The four imported cases involved two men and two women between the ages of 20 and 30, who arrived in Taiwan on Sept. 28. Two of the arrivals were from the United States, with one each from Malaysia and Bulgaria, according to the CECC.
Among the four imported cases, one can be classified as a breakthrough infection, as the patient tested positive more than 14 days after getting the second dose of the Pfizer-BioNTech vaccine in July, CECC official Lo Yi-chun (羅一鈞) said.
The person had no symptoms and was found to have a high cycle threshold value (indicating a relatively low viral load), posing a low risk of spreading the virus in the community, according to Lo.
With the confirmation of the four new COVID-19 cases, the total number of confirmed COVID-19 cases in Taiwan to date stands at 16,309. Of these, 14,419 are domestic infections reported since May 15, when the country first recorded more than 100 cases in a single day.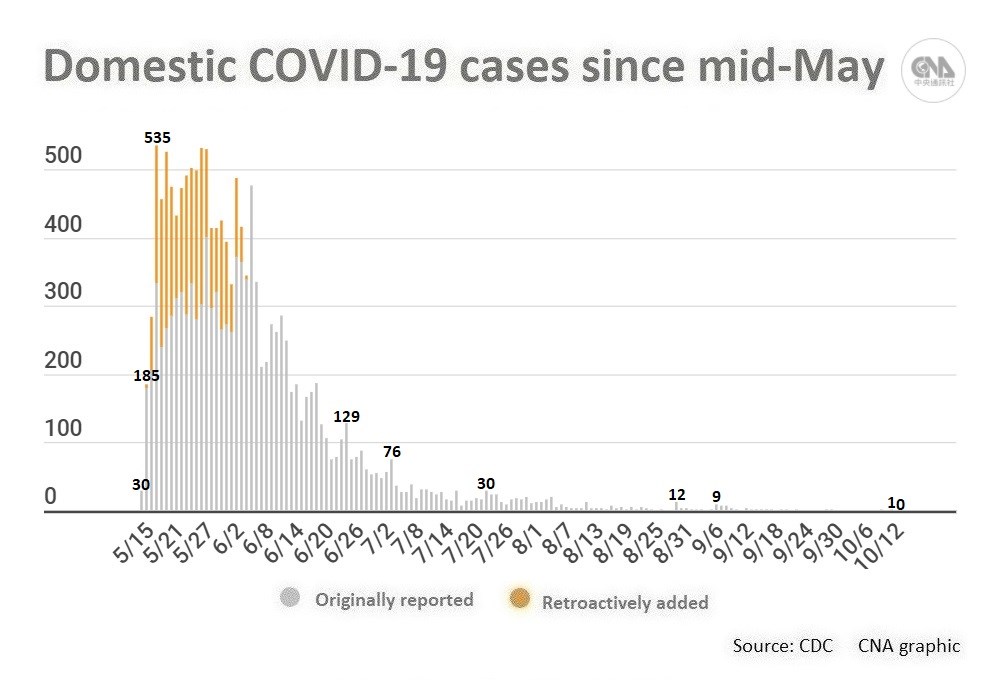 However, the daily number of domestic cases has fallen to mostly single digits from Aug. 15, totaling 116 since then. Only two domestically transmitted cases have been reported in Taiwan in October so far, according to CECC data.
With no new deaths reported Tuesday, the confirmed COVID-19 death toll in Taiwan remains at 846 since the beginning of the pandemic in early 2020, CECC data showed.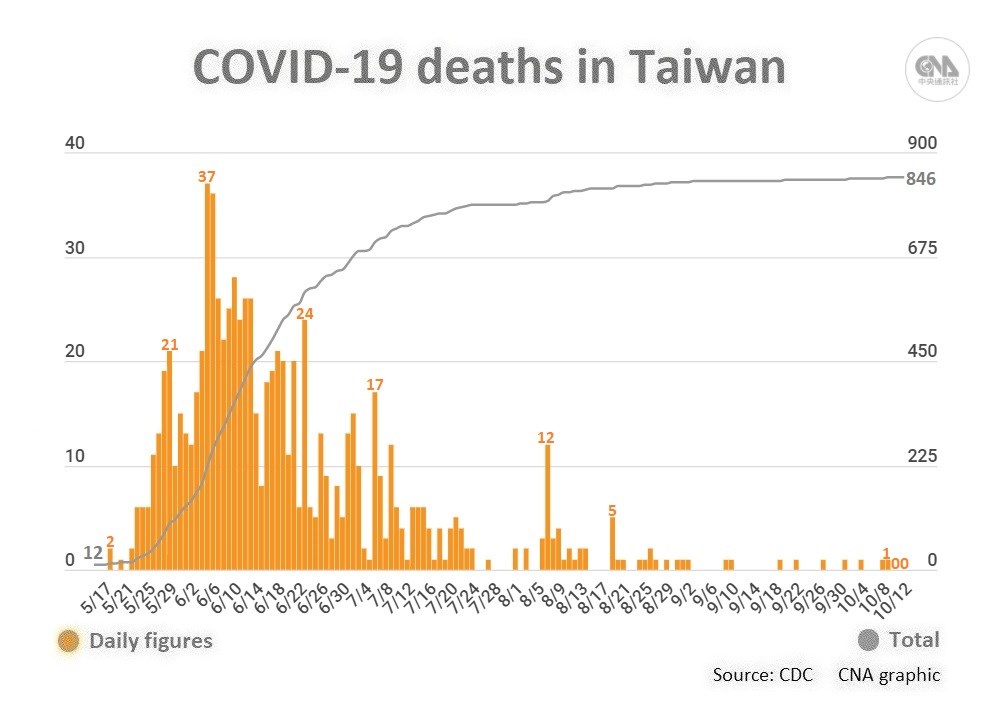 In addition, the local health department had arranged polymerase chain reaction (PCR) testing for 113 out of a total of 118 close contacts of the locally transmitted COVID-19 case reported on Monday, according to Deputy Interior Minister Chen Tsung-yen (陳宗彥), the deputy head of the CECC.
Of the 113, 106 tested negative for COVID-19, while the remaining seven are still waiting for their test results.
The local case of COVID-19 reported Monday is a woman in her 40s who lives in New Taipei City and is a teacher at a preschool in Taipei's Neihu District, according to the CECC.
The woman tested positive for COVID-19 at a hospital on Saturday when seeking medical attention for other reasons. The test had a high Ct value, the CECC said.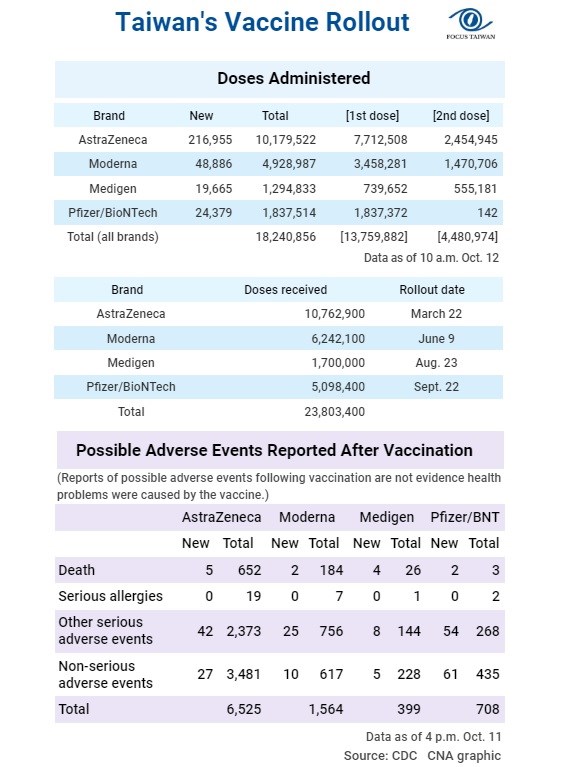 To date, 58.7 percent of people in Taiwan have received the first dose of a COVID-19 vaccine, six months after the rollout began on March 22, according to CECC data.
Recent cases
Oct. 11: Taiwan reports 11 new COVID-19 cases, zero deaths
Oct. 10: Taiwan reports 11 new COVID-19 cases, zero deaths
Oct. 9: Taiwan reports 4 new COVID-19 cases, one death
Oct. 8: Taiwan reports 12 new imported COVID-19 cases, one death
View All