Taiwan steps up checks after detection of ASF-infected meats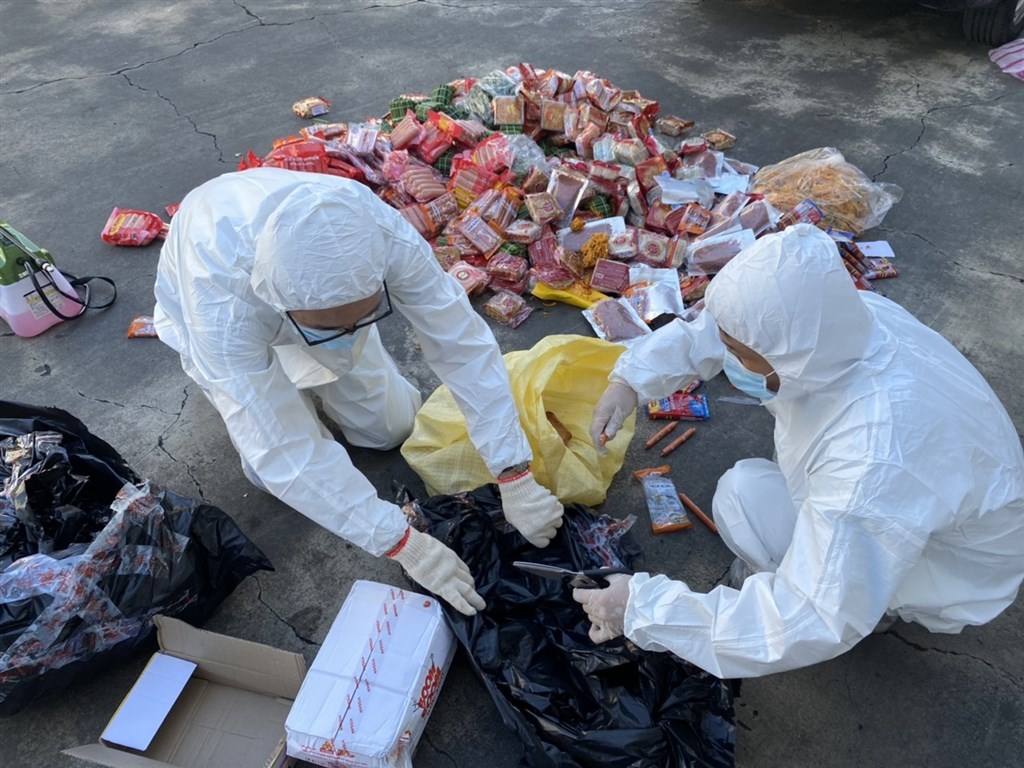 Taipei, Aug. 23 (CNA) Taiwan's authorities have tracked down more meat products suspected of being infected with the African swine fever (ASF) virus around Taiwan after uncovering suspect pork from Vietnam in mid-August.
A first batch of 71 kilograms of meat items was seized in a warehouse in Xinzhuang in New Taipei in a joint operation by New Taipei prosecutors and police and Yunlin County police on Aug. 18, said Criminal Investigation Bureau (CIB) deputy head Teng Hsueh-hsin (鄧學鑫) on Monday.
Those meat products were originally tracked down because of suspicions they were smuggled into Taiwan from Vietnam and stored at the warehouse.
It was only after samples of the seized meat items were tested that they were found to have ASF.
After looking into the case, investigators suspected that other shipments of smuggled meats had been stored in the warehouse and made their way to 1,338 locations around Taiwan, according to data compiled by the National Police Agency (NPA), under which the CIB falls.
The NPA directed the CIB and police agencies in various cities and counties Sunday to investigate the whereabouts of other items, according to Teng.
As of Sunday midnight, six cases of suspect meat products from Vietnam were uncovered after the authorities checked 374 locations, and they were sent for ASF testing in accordance with relevant regulations, Teng said.
The six cases included two mooncakes with a meat filling confiscated in Keelung, 8 kg. of meat floss in Nantou, an item weighing 0.3 kg. and five packs of fresh meat weighing a total of 2.5 kg. in Hualien.
The discovery of the 71 kg. of meat products included 60.275 kg. of pork, along with 5.81 kg of chicken and 5.701 kg of beef products, the Central Emergency Operation Center for ASF reported Sunday.
It was the first case of meat with ASF reported in Taiwan since an ASF outbreak three years ago, according to Council of Agriculture chief Chen Chi-chung (陳吉仲), who also heads the ASF Center, set up to track and prevent ASF cases.
Taiwan has remained on high alert against ASF out of concern that the virus could cripple its high-value pig farming industry.
ASF is a deadly disease that threatens pig populations, as it cannot be cured and there is no vaccine against it, but it is not harmful to humans.
The seized meat will be destroyed and government agencies will step up inspections of all possible destinations of the products to ensure meat items sold in Vietnamese food shops are produced in Taiwan, Chen said.
The central government provided few details of how the meat items came into Taiwan, how many shipments there might have been, how much suspect meat is involved, or who might be behind the operation.
Prosecutors with the New Taipei District Prosecutors Office, however, filed a motion to detain two Vietnamese women who are suspected of smuggling meat products from Vietnam, and it was approved by a district court Monday.
Also Monday, the Ministry of Health and Welfare said it will start inspections of more than 500 shops or restaurants that sell food products from Southeast Asia to see any suspect meat products have reached them.