Longshan Temple to ban candle burning starting May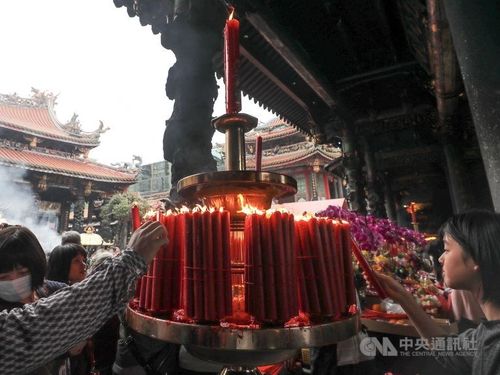 Taipei, April 25 (CNA) Longshan Temple, one of Taipei's oldest and most popular temples with worshippers, announced Thursday that candles will no longer be sold and their use at the religious site banned beginning May.
In an effort to improve air quality, and after considering the fire that devastated Notre-Dame Cathedral in Paris last week, Longshan will prohibit the use of candles effective May 1, according to the temple announcement.
The temple's candle burner will also be removed, it said, while reminding worshippers not to bring their own candles.
Fan Tien-cheng (范添成), a community chief in Wanhua District, said the temple wanted to do something meaningful after 280 years of service, hence the decision to adopt a more eco-friendly practice.
In the future, it does not rule out introducing electronic candles to replace the real thing, but for now, Longshan's famed candle burner will soon be consigned to history, Fan said.
There are currently no plans to ban the use of incense at Longshan, he added.
However, in 2017 the temple did adopt a measure that limits the number of incense sticks worshippers can burn to one stick each, in an effort to curb PM2.5 particulates.
Another famous temple, Xingtian Temple, led the way by ending incense burning and removing all incense burners in August 2014.