On-site first aid stations set up, casualties up to 205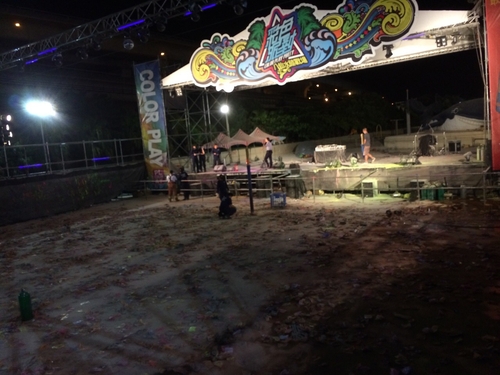 Taipei, June 27 (CNA) On-site emergency medical stations were set up late Saturday at Formosa Water Park (八仙樂園), where 205 people were injured in a fire probably caused by a dust explosion.
Of the 205 injured people, 82 were in serious condition.
Most of the injured were sent to the Mackay Memorial Hospital in Tamsui, the Chang Kung Memorial Hospital in Linkou and the Taipei Veterans General Hospital in Tienmu for emergency treatment.
As there were still many injured waiting to be rushed to hospitals by ambulance, the Ministry of Heath and Social Welfare mobilized medical personnel from Taipei, New Taipei, Keelung and Taoyuan to open the on-site first aid stations to provide emergency treatment.
The ministry said it was also coordinating medical centers in northern Taiwan to prepare to accept more burn victims.
The accident at the recreational water park in New Taipei's Bali District occurred at about 8:30 p.m. when a main stage at the park caught fire and an unknown flammable powder exploded in the air.
Although the fire was quickly brought under control, it still left many serious casualties. The cause of the fire had yet to be determined.
President Ma Yng-jeou (馬英九)and Premier Mao Chi-kuo (毛治國), upon learning about the accident, instructed relevant government agencies to make every effort to help the victims.
(By Wang Hung-kuo, Su Lung-chi and Bear Lee)ENDITEM/J