Nvidia CEO expects AI to create 'golden opportunities' for Taiwan
Taipei, May 27 (CNA) Jensen Huang (黃仁勳), founder and CEO of American graphics processing unit (GPU) designer Nvidia Corp., said on Saturday that he expects artificial intelligence to create "golden opportunities" for Taiwan's industries.
Addressing a commencement ceremony at National Taiwan University (NTU) in Taipei, Huang, who recently suggested Nvidia will ride the wave of booming AI technologies, said AI is far more fundamental because every computing layer has already been invented.
"AI will create new jobs that didn't exist before, like data engineering, prompt engineering, AI factory operations and AI safety engineers," he told NTU's new graduates.
AI has reinvented computing from the ground up in every way, Huang said, likening this to a rebirth of the computer industry that will create "golden opportunities" for companies in Taiwan.
Citing accelerating AI applications, Nvidia projected on Wednesday that its sales for the current quarter will hit US$11 billion, soaring 64 percent from a year earlier and beating an early market estimate of US$7.2 billion, which caught many market analysts off guard.
Also on the back of AI technology development, the American GPU designer posted more than US$2 billion in net profit and US$7 billion in sales for the first quarter, both topping Wall Street expectations.
After shares in the company surged 24.4 percent on U.S. markets amid optimism toward AI applications on Thursday, Nvidia shares gained an additional 2.54 percent on Friday.
Nvidia's upbeat assessments on AI also prompted investors to pick up shares of Taiwan Semiconductor Manufacturing Co. (TSMC), the world's largest contract chipmaker, which is viewed as the only supplier able to provide chips to meet demand from the American client, due to the Taiwanese pure-play wafer foundry operator's unparalleled advanced processes.
As a result, the chipmaker's share price soared 7.81 percent on Thursday and Friday, pushing up the Taiex, the weighted index on the Taiwan Stock Exchange, by 2.14 percent.
Market analysts said AI applications are expected to offset the impact resulting from the current weakness of the consumer electronics business which faces inventory adjustments.
Huang said when he graduated from Oregon State University in 1984, there were no flat screens, cable TV or mobile phones.
However, with IBM's PCs and Apple Inc.'s Macintosh, the computer revolution kicked off, placing people in a far more complex world, he added.
On the back of this tech evolution, "we are now perpetually connected and immersed in a digital world that parallels our real world," with cars starting to drive by themselves, Huang said.
"Forty years after the computer industry created the home PC, we invented artificial intelligence," Huang said. "AI software has opened the door for computers to automate tasks for the world's largest multi trillion dollar industries" such as healthcare, financial services, transportation and manufacturing.
"AI has opened immense opportunities," he added.
Huang encouraged NTU graduates to learn AI technologies. "You must learn to take advantage of AI and do amazing things with an AI co-pilot by your side."
Huang also urged them to stay humble enough to learn the hard lessons ahead, and not be afraid of admitting mistakes and asking for help.
He said the class of 2023 is at the start line of AI development which will revolutionize every industry in the same way he graduated about 40 years ago in the PC and chip era.
"Whatever it is, run after it like we did. Run. Don't walk," Huang said. "Remember, either you are running for food, or you are running from becoming food. And often times, you can't tell which. Either way, run."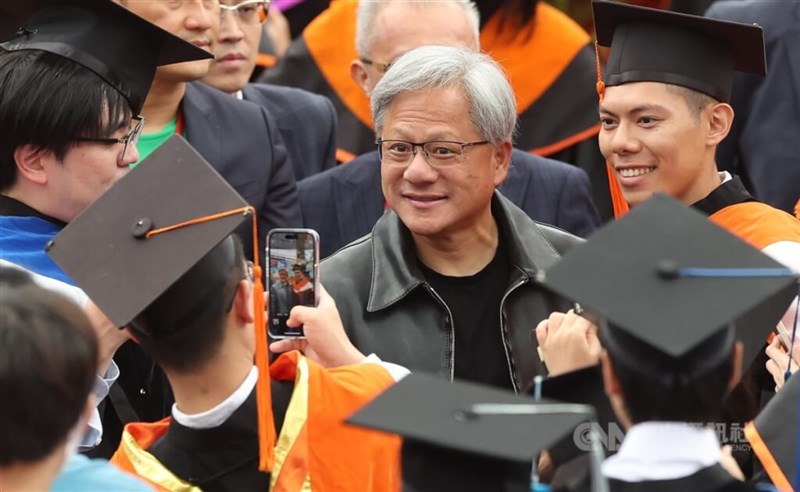 Huang is scheduled to deliver an opening keynote speech on Monday at Computex 2023 in Taipei, one of the world's largest computer trade fairs.
This year the event will feature around 1,000 exhibitors and 3,000 booths, according to the government-sponsored trade group Taiwan External Trade Development Council (TAITRA), which co-organizes the high tech exhibition with the Taipei Computer Association.
At Nvidia's annual GPU Technology Conference in March 2023, Huang unveiled new products and partnerships, which TAITRA said were expected to accelerate the adoption of generative AI.
The conference also saw the launch of Nvidia's "cuLitho," a computational lithography library, which will help semiconductor pure-play wafer foundry operators, such as TSMC, roll out next-generation chips, TAITRA added.