CORONAVIRUS
/
Taiwan-developed drug to be tested on severe COVID-19 cases in U.S.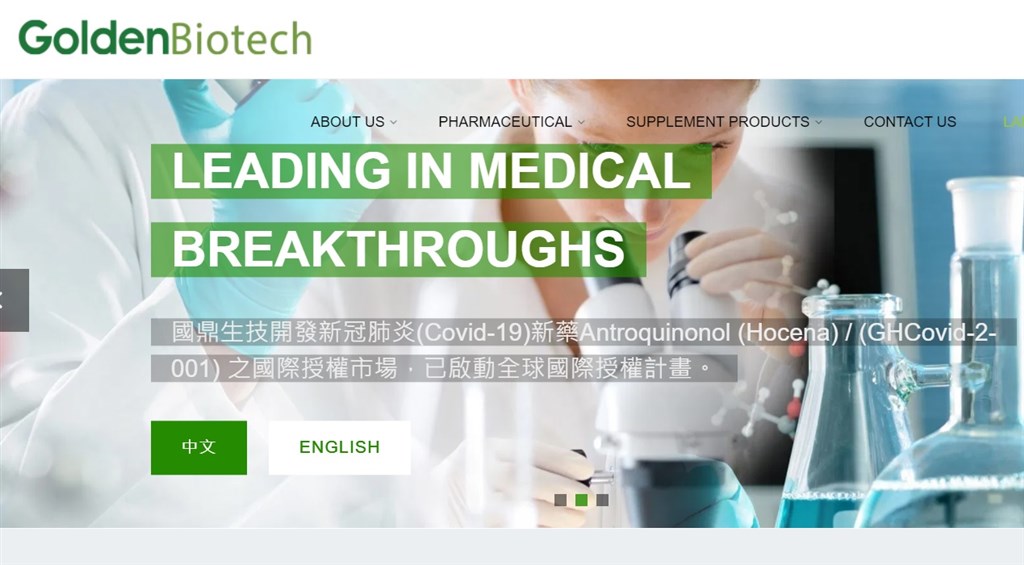 Taipei, June 4 (CNA) A drug candidate developed by a Taiwanese company for the treatment of COVID-19 will be administered to seriously ill patients in its Phase II clinical trials in the United States, pending authorization by the relevant authorities, according to the developer Golden Biotechnology Corp.
The drug Antroquinonol (HOCENA) is already in Phase II clinical trials in the United States, Peru and Argentina, where a total of 174 hospitalized patients with mild to moderate COVID-19 symptoms are enrolled in a double-blind placebo study, the company said in statement released late Wednesday.
After a review in the U.S., the Phase II trials there received a positive response from the Data Monitoring Committee (DMC), an independent body approved by the U.S. Food and Drug Administration (FDA), GoldenBiotech said.
The DMC also suggested that the HOCENA study be expanded to severely ill hospitalized COVID-19 patients on non-invasive ventilation or high-flow oxygen, according to GoldenBiotech, one of Taiwan's leading biopharmaceutical companies.
GoldenBiotech CEO Today Su (蘇經天) said the company will present the DMC's recommendation to the U.S. FDA and seek approval to proceed with the inclusion of severely ill patients.
If all goes well, Su said, GoldenBiotech will complete the Phase II clinical trials for the drug in the third quarter of the year and will seek Emergency Use Authorization (EUA) from the U.S. FDA.
Su said the drug was independently developed by his company, which owns 100 percent of its patent rights, therefore it can apply for market licenses after all phases of the trials are completed.
In 2015, HOCENA was granted orphan drug designation (ODD) approval by the U.S. FDA for the treatment of leukemia and liver and pancreatic cancer. Two years later, it obtained ODD approval from the European Medicines Agency for the treatment of pancreatic cancer.
Last October, GoldenBiotech received the U.S. FDA's approval to conduct Phase II clinical trials of the drug on COVID-19 patients in the U.S.
View All