Acer debuts Liquid E3, Z4 phones ahead of Mobile World Congress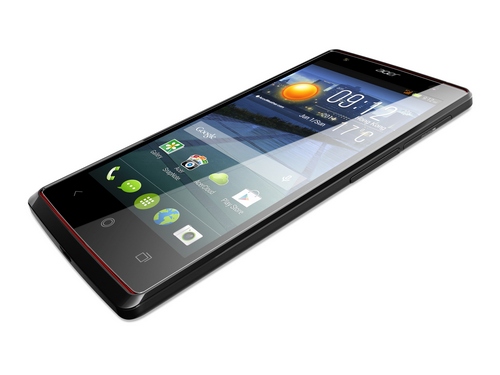 Taipei, Feb. 20 (CNA) Taiwan's Acer Inc. did not wait for next week's Mobile Word Congress (MWC) in Barcelona to out two new Liquid-series smartphones, choosing instead to unveil its new entry-level Z4 and mid-range E3 through a press release Thursday.
The lower-end Liquid Z4 comes with a 4-inch display, a dual-core 1.3GHz processor, a 5-megapixel main camera and Android 4.2.2, specs that the company hopes appeal to entry-level consumers who enjoy taking photos, browsing the Internet and using social media.
The mid-tier Liquid E3, meanwhile, has a larger 4.7-inch high-definition IPS screen, a quad-core 1.2GHz processor, 4GB internal storage, and a 13-megapixel rear camera, and it is set to receive a software upgrade to Android KitKat 4.4 later this year.
The E3 is set to hit the European market in April at a suggested price of 199 euros (US$272), while the Z4 will be released around the same time at 99 euros, according to the company.
Acer, better known for its computers than smartphones, is pushing hard to take more of the mobile market as PC sales slump. CEO Jason Chen said in late January that his company is maintaining a smartphone shipment target of 5 million units for this year, more than triple the estimated 1 million to 1.5 million shipped in 2013.
The hardware maker saw a net loss of NT$7.63 billion (US$252.6 million) in the fourth quarter, including an unexpected NT$1.3 billion write-off of raw materials inventory.
Acer's products look promising, as rising interest in mobile devices -- especially those with large screens and low costs -- are forecast to keep rising, according to Ryan Reith of research firm IDC.
Ryan Reith, program director of IDC's quarterly mobile phone tracker, wrote in a Jan. 27 report that cheap devices in particular are driving growth in the smartphone business, with the majority of shipments in markets like China and India consisting of smartphones under US$150.
(By Jeffrey Wu) ENDITEM/WH
Mobile World Congress 2014:●HTC issues warning to Samsung phone buyers of possible remorse●HTC unveils mid-range Desire phones, supercomputer initiative●Sony introduces new smartphone in Spain, Taiwan●Samsung's first 4G phone using 700 MHz to hit Taiwan in Q2●MediaTek reveals 64-bit LTE chip at 'mainstream price'●LG said to sell new G Pro 2 phablet in Taiwan in April