Special bill for post-pandemic economic recovery clears legislative floor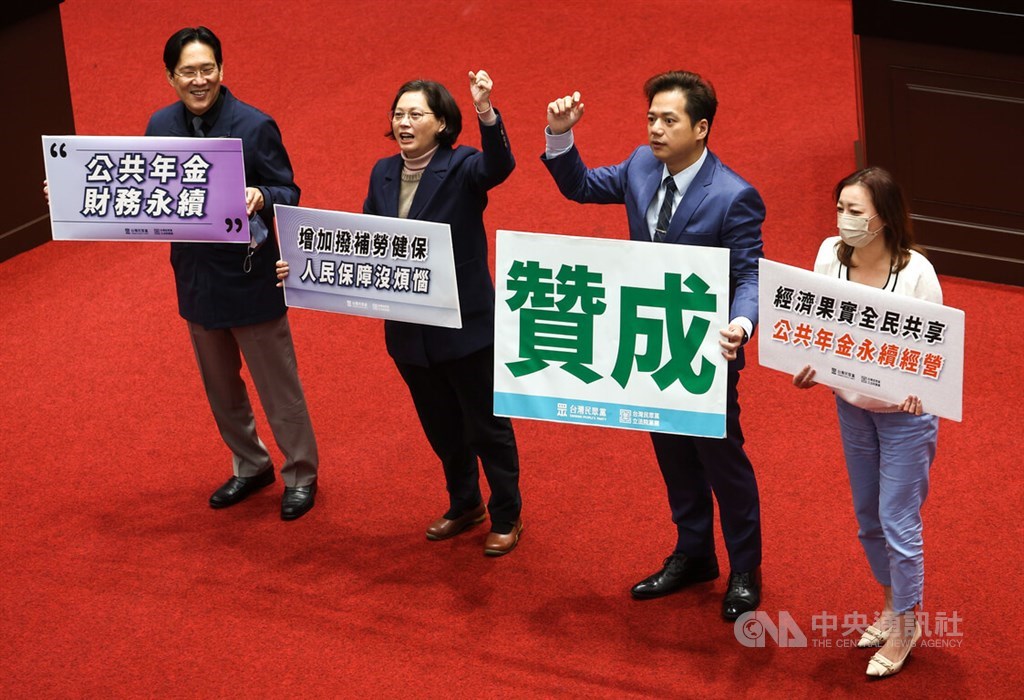 Taipei, Feb. 21 (CNA) The Legislature passed a special bill on Tuesday to allocate NT$380 billion (US$12.5 billion) from last year's tax surplus for post-COVID-19 economy recovery, which includes a provision to issue NT$6,000 cash handouts to all nationals and tax-paying permanent residents.
Apart from tax rebates, the surplus may fund an array of services and public welfare, including replenishing the National Health Insurance fund and the Labor Insurance Fund and subsidizing the operations of the state-run Taiwan Power Co. (Taipower), according to the special bill that cleared the legislative floor.
It may also be tapped to subsidize housing-related policies, public transportation costs, social welfare policies targeting disadvantaged groups, and policies to help upgrade and reinvent small and medium-sized enterprises, the act stipulates.
In addition, it may be drawn on to support policies to attract international tourists, improve agriculture-related infrastructure and the rights and interests of fishers, and subsidize student loans and cultural sectors and activities, it stipulates.
The special act includes a sunset clause that sets the end date for the act and a matching special budget as Dec. 31, 2025.
The Cabinet must now submit a special budget request to the Legislature for review before the tax surplus can be appropriated.
Update: Cabinet approves proposed spending for post-COVID economic recovery (Feb. 23)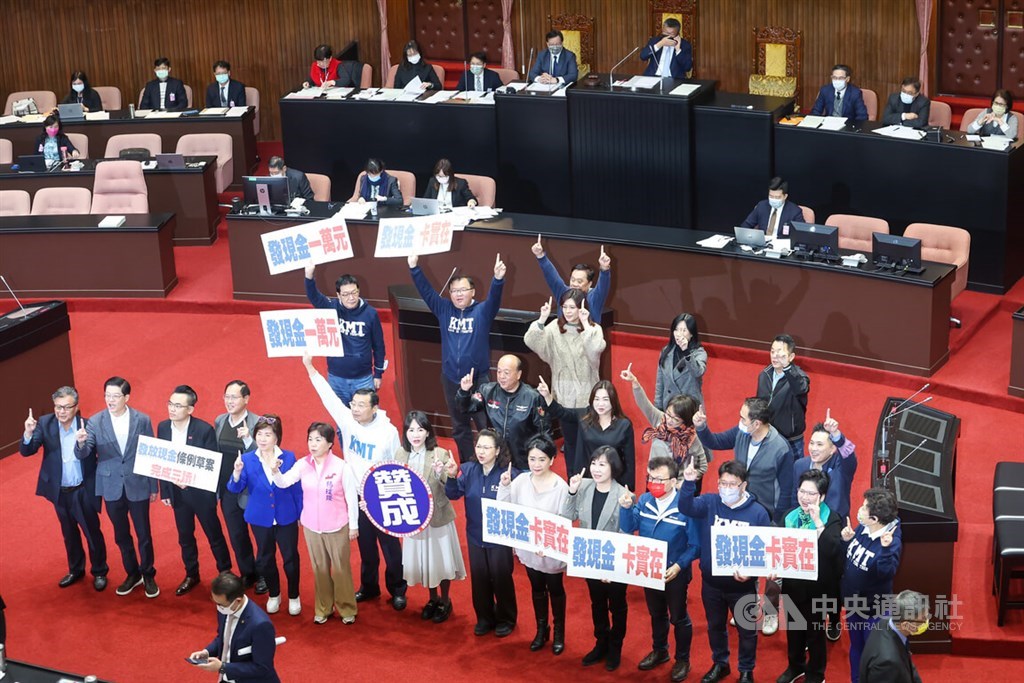 A motion tendered by the opposition Kuomintang (KMT) legislative caucus to issue NT$10,000 cash handouts instead of NT$6,000 was struck down during a vote by Democratic Progressive Party (DPP) lawmakers, who have a majority, during the all-member legislative hearing.
Speaking after the act's passage, KMT caucus convener Tseng Ming-chung (曾銘宗) expressed regret after the KMT's motion was voted down.
There is certainly enough capital to fund NT$10,000 handouts, as last year's tax surplus totaled NT$490 billion, and the surplus from 2021 can be added to the share allocated for cash handouts, Tseng said.
The Cabinet should propose plans to use the surplus in a way that will boost support for the disadvantaged, especially when people's real wages have been on the decline, he said.
President Tsai Ing-wen (蔡英文) said on Jan. 1, 2023 in her New Year's Day speech that a portion of last year's tax surplus would be reserved in case unexpected spending needs arose.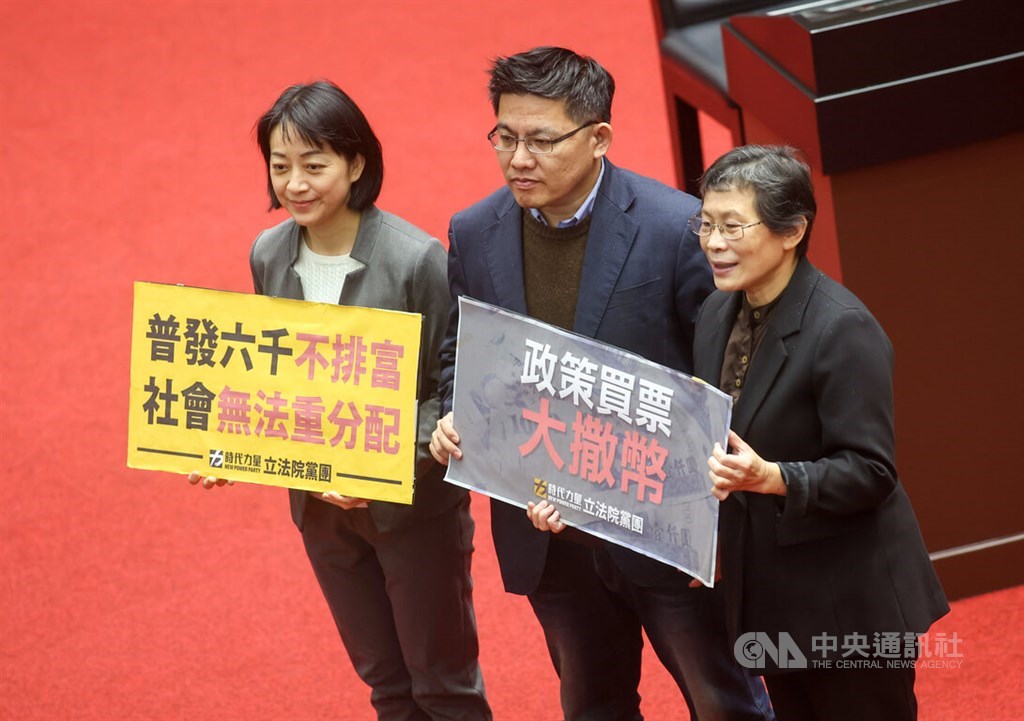 New Power Party (NPP) caucus deputy convener Chen Jiau-hua (陳椒華) expressed concern that the planning of special budgets could become a norm, which she said would result in breaches of fiscal discipline.
The Financial Ministry should be more precise in estimating its tax revenue to avoid overtaxing people rather than engaging in pork-barrel spending, she said.
Taiwan People's Party (TPP) caucus convener Chiu Chen-yuan criticized the ruling DPP for earmarking in a special budget what should have been general budgetary items.
This has given rise to some half-baked policies as a result of a desire to engage in pork-barrel spending ahead of next year's presidential and legislative elections, Chiu said.
Minister Without Portfolio Lo Ping-cheng (羅秉成) said the Cabinet intended to address the special budget proposal on Thursday and deliver it to the Legislature.
DPP caucus Director-General Cheng Yun-peng (鄭運鵬) said that the public could receive the cash handouts in April at the earliest.
The four legislative caucuses had agreed during cross-caucus negotiations to ask Premier Chen Chien-jen (陳建仁) to give a report at the Legislature on March 3, after which the special budget request will undergo committee review, Cheng said.
Seeing as the caucuses have yet to reach a consensus on how to allocate the tax surplus, the budget request is likely to be given one month for cross-caucus negotiations before it is reviewed during an April 10 all-member hearing, he said.
In a social media post, Chen Chien-jen thanked lawmakers for passing the first bill since he took office on Jan. 31 and for showing bipartisan support in prioritizing public welfare.