ELECTIONS 2022
/
Major parties' chairs campaign for candidates ahead of elections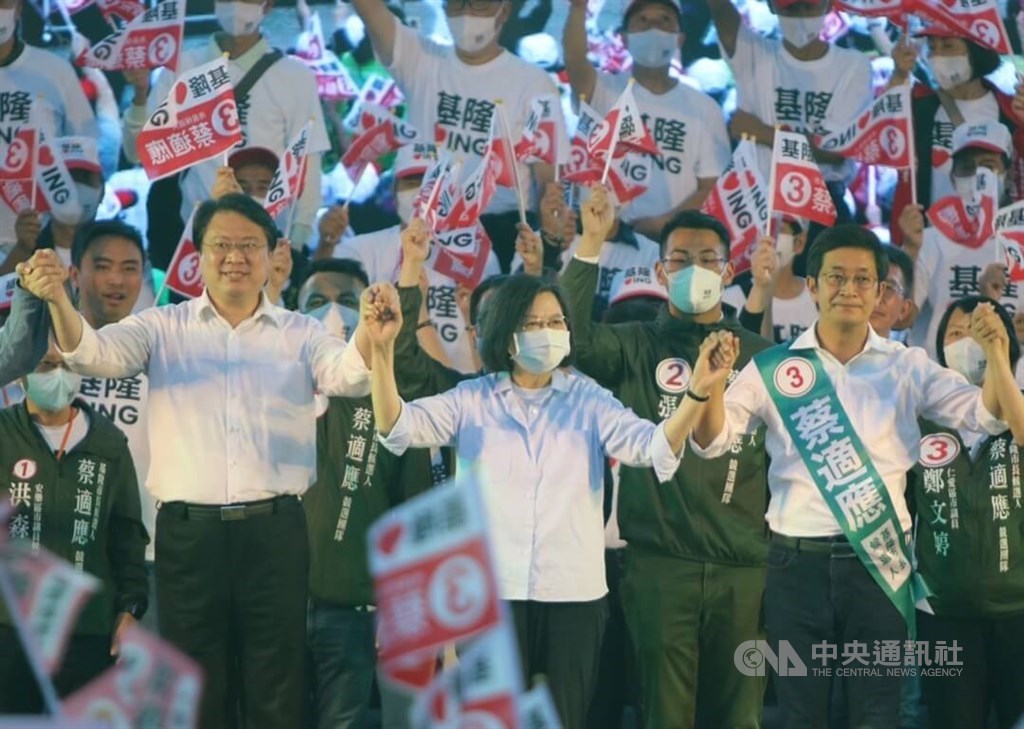 Taipei, Nov. 20 (CNA) The heads of three political parties in Taiwan again tried to rally support Sunday night for their preferred candidates across the country with local government elections just one week away.
At a major gathering in Taipei on Sunday evening, President Tsai Ing-wen (蔡英文), who also heads the ruling Democratic Progressive Party (DPP), urged people to use their votes to support the DPP's candidate for Taipei mayor, Chen Shih-chung (陳時中).
Chen headed Taiwan's COVID-19 task force, the Central Epidemic Command Center (CECC), for 908 days to safeguard the health of Taiwan's people, Tsai said.
She urged voters to use their votes to show love and support toward Chen for what he had done for the country during the COVID-19 pandemic.
Chen, meanwhile, contended that both the Kuomintang (KMT) and Taiwan People's Party (TPP) had led the capital city but had failed to meet local residents' expectations.
He called on voters to give the DPP a chance, and that voting for him was synonymous with giving President Tsai a vote of confidence.
Chen is in a three-way-race with former Taipei Deputy Mayor Huang Shan-shan (黃珊珊), who has been endorsed by outgoing Mayor Ko Wen-je (柯文哲) of the TPP, and KMT candidate Chiang Wan-an (蔣萬安).
Tsai also stumped for her party's candidate for Keelung mayor, Tsai Shih-ying (蔡適應), and the DPP's candidate for New Taipei mayor, Lin Chia-lung (林佳龍).
Also Sunday, KMT Chairman Eric Chu (朱立倫) attended a major rally in Xinzhuang in New Taipei for its candidate there, incumbent Mayor Hou Yu-ih (侯友宜), who is seeking re-election.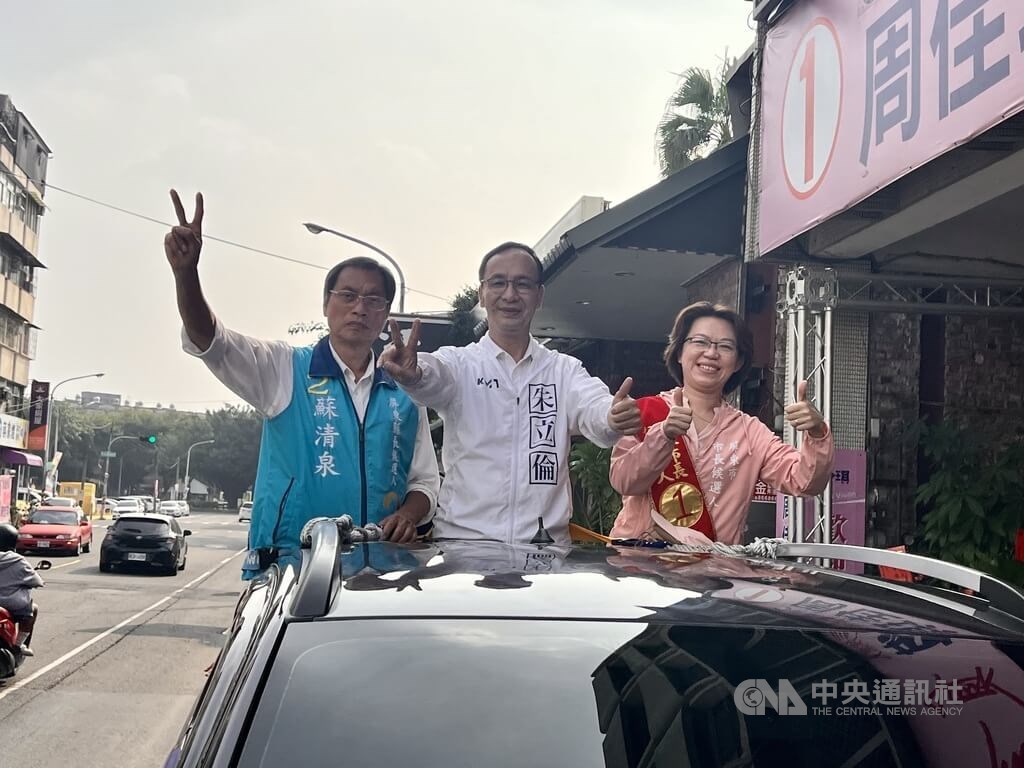 Chu urged people in New Taipei to continue to keep the city in the hands of Hou and the KMT, and said it was up to the people and not up to the DPP to call the shots on Taiwan's democracy.
He also asked voters in New Taipei to avoid getting complacent and not voting because they think Hou will win easily. Instead, he urged them to go vote for Hou, who Chu said has done a good job, and make sure he gets elected.
In a campaign characterized by heavy mudslinging, Hou said elections should not be about smearing others, and it is not something he has engaged in, and he hoped everyone would maintain a "healthy attitude" during election season.
Earlier in the day, Chu rode a motorcade through the island county of Penghu and Pingtung County to stump for the party's magistrate candidates in those two areas -- Lai Feng-wei (賴峰偉) and Su Ching-chuan (蘇清泉).
While in Pingtung, Chu took aim at the DPP government, accusing the party of presenting no policy platform but focusing only on a smear campaign targeting the KMT.
Chu said the only campaign strategy the DPP was using was to falsely accuse the KMT of being pro-China and engaging in corruption.
TPP Chairman Ko, meanwhile, stumped for the TPP's city councilor candidates in Taichung early Sunday where he accused both the DPP and KMT of giving voters nothing but disappointment over the past decades.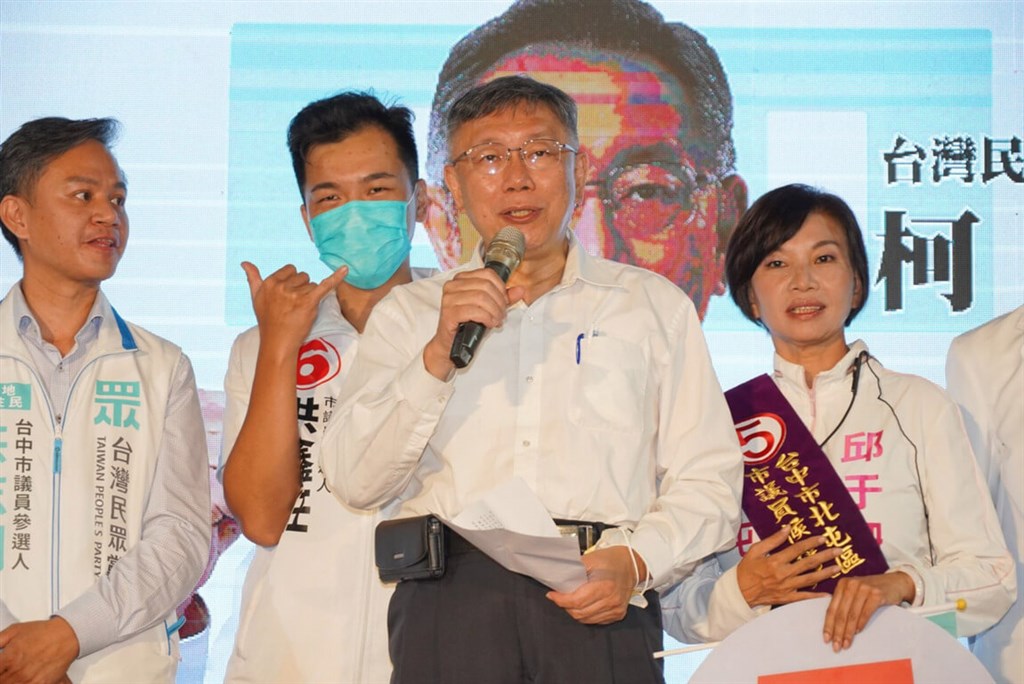 That is why people should vote for his TPP, which he promised will bring new hope to Taiwan's political circles in the years to come.
He later joined his former deputy Huang at a rally in Taipei.
The 52-year-old Huang is running as an independent endorsed by Ko. She was named by Ko to serve as his deputy in the Taipei City government in 2019.
The local government elections scheduled for Nov. 26 will see voters in Taiwan's 22 cities and counties cast ballots for their respective city mayors or county magistrates, city or county councilmen, and other local officials.
The ruling DPP is hoping to achieve better results than in the 2018 elections, in which it secured only six mayoral and county magistrate seats while losing seven others to the main opposition KMT.
The KMT, meanwhile, is aiming to add more cities and counties to the 14 it already controls, with the upstart TPP stepping up its campaigning for two of the mayoral candidates it has backed.
Related News
● Election campaigns around Taiwan, Nov. 20
● Election campaigns around Taiwan, Nov. 19
● Election campaigns around Taiwan, Nov. 18
● Election campaigns around Taiwan, Nov. 17
● Election campaigns around Taiwan, Nov. 16
● Election campaigns around Taiwan, Nov. 15
● Election campaigns around Taiwan, Nov. 14
Nov. 17: People should not wear masks with campaign signs to vote: official
Nov. 17: Tainan mayoral candidates spar over crime in televised forum
Nov. 16: Hsinchu mayor hopefuls tout policies for city development
Nov. 16: Taichung mayoral candidates underscore air pollution at forum
Nov. 15: Taoyuan mayoral candidates address traffic, housing at televised forum
Nov. 14: New Taipei mayor dodges question about presidential run in TV forum
Nov. 14: DPP candidates unveil joint semiconductor development platform
Nov. 12: 12 Taipei mayoral candidates outline visions at televised hustings
Nov. 12: Kaohsiung mayoral candidates highlight population loss, high-tech plans
View All