Lithuania shares G7 concern over Taiwan Strait stability: visiting official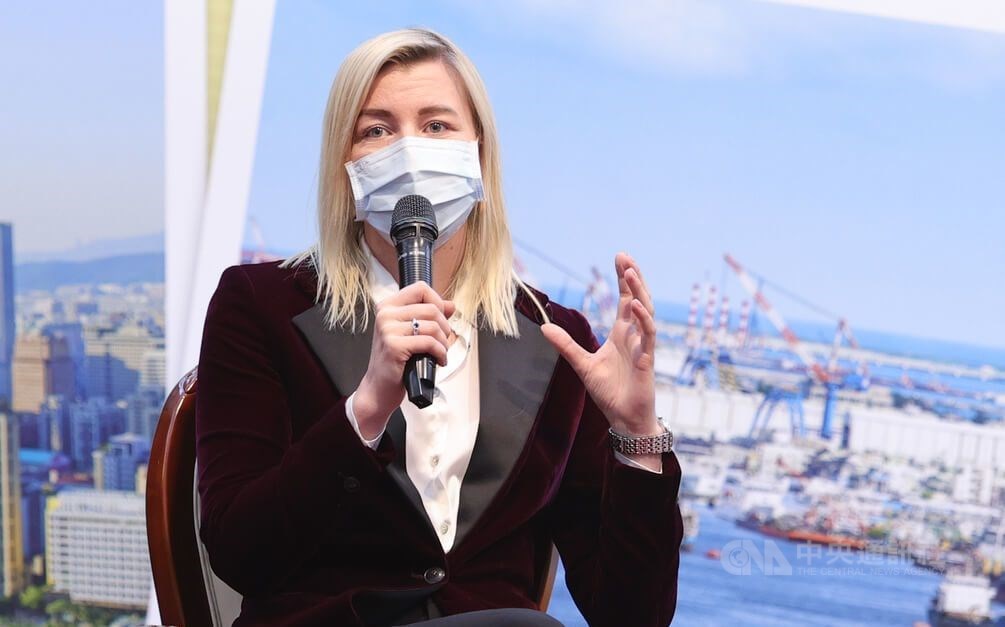 Taipei, Aug. 11 (CNA) Visiting Lithuanian Deputy Minister of Transport and Communications Agnė Vaiciukevičiūtė said Thursday in Taipei that the Baltic nation supports the G7 leading industrial nations statement on peace and stability in the Taiwan Strait.
"Lithuania supported the G7 statement which was announced last week," Vaiciukevičiūtė, who arrived in Taiwan on Sunday for a five-day visit, said in response to media questions at a press conference about China's increasing pressure on Taiwan in the wake of the visit to Taipei by United States House of Representatives Speaker Nancy Pelosi last week.
The deputy minister was referring to a joint statement issued by the G7 foreign ministers and the European Union's high representative for foreign and security policy one day before China began days of live-fire military exercises around Taiwan.
The statement called on China "not to unilaterally change the status quo by force in the region" while reaffirming a "shared and steadfast commitment to maintaining peace and stability across the Taiwan Strait."
Describing Taiwan as a "very close friend" and "reliable partner," Vaiciukevičiūtė said Lithuania would continue to seek opportunities to strengthen economic cooperation with Taiwan as part of efforts to diversify its economy and expand export markets.
"Democracies need to support each other and to find common ground for further cooperation," she said, adding that her visit to Taiwan -- the third Lithuanian delegation led by a deputy-ministerial official this year -- would be followed by more exchanges between the two sides.
Lithuania is set to open a trade representative office in Taipei at the end of September, Vaiciukevičiūtė said. "We keep up with the same plan."
Setting up the trade office is part of a deal signed in July 2021 between Taipei and Vilnius, under which both sides agreed to further bilateral ties and open reciprocal de facto embassies in each other's capital.
The Baltic state has come under heavy political and economic pressure from Beijing over the naming of Taiwan's office there, the Taiwanese Representative Office in Lithuania, which opened in Vilnius on Nov. 18, 2021.
Taiwan typically names its overseas representative offices "Taipei Economic and Cultural Office" or "Taipei Representative Office," in keeping with the host countries' preference to avoid any references that would imply Taiwan is a separate country from China.
Source: Ministry of Foreign Affairs
Meanwhile, Joanne Ou (歐江安), spokeswoman for Taiwan's Ministry of Foreign Affairs (MOFA), on Thursday described the visits by Vaiciukevičiūtė and other Lithuanian deputy-ministerial officials to Taiwan as a testament to Vilnius' strong support for deeper ties with Taipei regardless of Beijing's pressure on the Baltic nation.
Both Taiwan and Lithuania are independent and sovereign countries with the right to engage in exchanges with other nations that no other country is in a position to interfere with, Ou said at a MOFA press briefing.
According to MOFA, Vaiciukevičiūtė arrived in Taiwan with a delegation comprising Lithuanian officials and representatives from its electric bus industry.
Vaiciukevičiūtė told the press conference that the delegation had met with representatives from Taiwan's transportation agencies and leading electric bus manufacturers over the past five days to discuss potential ways to collaborate in the field of electric buses and smart and green transportation technologies.