INTERVIEW
/
Kharkiv mayor thanks 'true friend' Taiwan for aid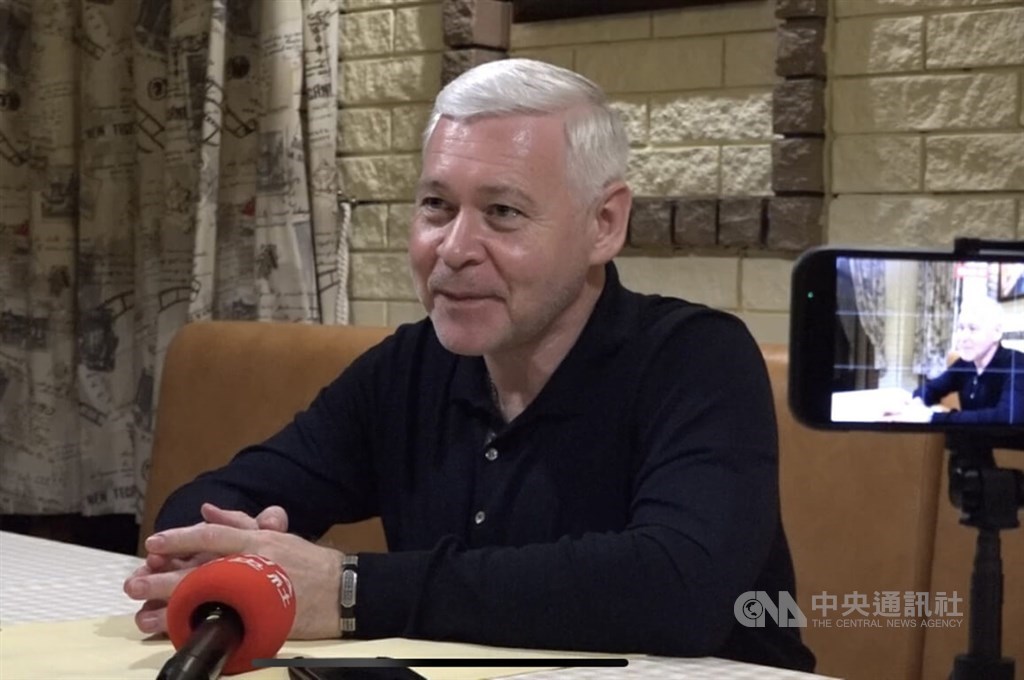 Kharkiv, June 3 (CNA) Kharkiv Mayor Ihor Terekhov thanked Taiwan on Wednesday for its humanitarian aid to his country as it continues to defend itself against Russia's invasion, and called Taiwan a "true friend."
In a video call Terekhov held with Foreign Minister Joseph Wu (吳釗燮) of Taiwan on Tuesday, Wu donated US$2 million to Terekhov for his city.
The donation will be used to rebuild schools and make shelters, said the mayor of Ukraine's second-biggest city, which was pounded by Russian troops before they were pushed back by Ukrainian forces in mid-May.
"We need to build more bomb shelters in kindergartens and many schools for children to seek safety," Terekhov said in an interview with CNA on Wednesday.
Wu also said during the call that Taiwan will donate US$500,000 each to the local governments of Chernihiv, Mykolaiev, Sumy and Zaporizhzhia in other regions of Ukraine, the latest donation made by Taiwan to Ukraine since Russia's invasion began on Feb. 24.
All of the financial assistance pledged by Wu on Tuesday came from government funds.
For subtitles in other languages, click on the "Settings" icon, select "Subtitles/CC," and then click "Auto-translate."
Terekhov said the donation and Taiwan's continuous support for Ukraine in this difficult time has demonstrated the "goodwill" and "warmest friendship" of Taiwan's people toward his country.
Like many other countries that have extended help to Ukraine, Taiwan is a true friend of Ukraine, Terekhov said.
Though Russian forces continue to shell parts of the city in northeastern Ukraine, Kharkiv City Hall has begun to devise a reconstruction plan and try to rebuild its reputation as one of the country's academic hubs, Terekhov said.
During the relentless bombardment by Russia before the city was reclaimed by Ukrainian's forces in mid-May, hundreds of people were killed and about 30 percent of its population of 1.43 million people fled, Terekhov said.
Since the withdrawal of Russian troops, however, an average of 2,000 people have returned per day to rebuild their hometown, Terekhov said.
The mayor said he invited Wu to visit Kharkiv during Tuesday's call and was also invited by Wu to visit Taiwan after the hostilities ease up, which he said would be of great significance to both sides.
Related News
June 3: Publishers from war-torn Ukraine seeking collaborators at Taipei book fair
May 30: Last batch of aid for Ukraine delivered on May 27
May 19: Taiwan donates US$1.5 million to help Ukrainian refugees in Hungary
April 22: Taiwan donates US$8 million to Ukraine
View All