Azar backs Taiwan's participation in global health forums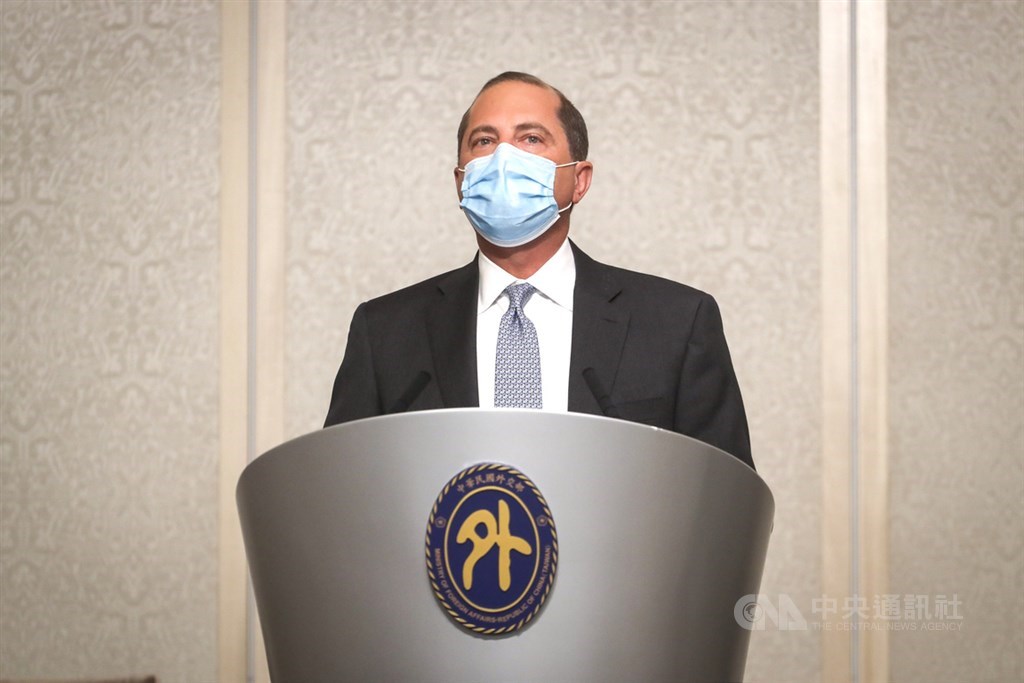 Taipei, Aug. 11 (CNA) United States Secretary of Health and Human Services Alex Azar reiterated U.S. support for Taiwan's inclusion in international health forums in a meeting with Taiwan Foreign Minister Joseph Wu (吳釗燮) on Tuesday.
On the third day of his official visit to Taiwan, Azar met Wu at a hotel where they issued short statements and let the media take photos before meeting privately behind closed doors.
"The United States believes that Taiwan's accomplishments should be recognized on the world stage, and that Taiwan should be able to share these lessons and its world-class expertise in international forums," Azar said.
The U.S. health minister said he had made that point repeatedly at the World Health Organization (WHO).
Taiwan has been excluded from the annual meeting of the WHO's policymaking body, the World Health Assembly (WHA), since 2017, largely due to China's objections, after having attended as an observer from 2009 to 2016 when relations with Beijing were better.
But since May 2016, when President Tsai Ing-wen (蔡英文) and her Democratic Progressive Party (DPP), which sees Taiwan as independent from China, took power, Beijing has intensified its campaign to suppress and marginalize Taiwan in the international community.
The United States has supported Taiwan's "meaningful participation" in international forums, including the WHA, in recent years but with little success.
"I have been a witness to the harmful and counterproductive results of excluding Taiwan from these international settings," Azar said, citing the WHO's rejection of Taiwan's donation of US$1 million for the Democratic Republic of the Congo to fight an Ebola outbreak in 2019.
Azar said international organizations should not be places to play politics at any time, and especially during a pandemic.
"We will continue advocating for the contributions Taiwan can make to the world on important issues like health," he said.
Wu spoke of Taiwan's relatively successful containment of the COVID-19 outbreak to date and attributed it to the early deployment of resources, quick responses by all related agencies, lessons learned from the 2003 SARS outbreak, and transparency.
Taiwan has donated 51 million surgical masks worldwide during the COVID-19 pandemic, including more than 10 million masks and other personal protective equipment to the U.S., he said, but he noted that some help had to be given "quietly" due to Beijing's obstruction.
"The truth is, we even had to deliver these supplies quietly on some occasions to keep the recipients from getting into trouble with Beijing," Wu said.
He thanked "good friends like the U.S." for supporting Taiwan's international participation and described the battle as being not just about Taiwan's status, but about sustaining democracy in the face of authoritarian aggression.
"Taiwan must win these battles so democracy prevails," he said.