Public urged to be ready for Wan-an air-raid drills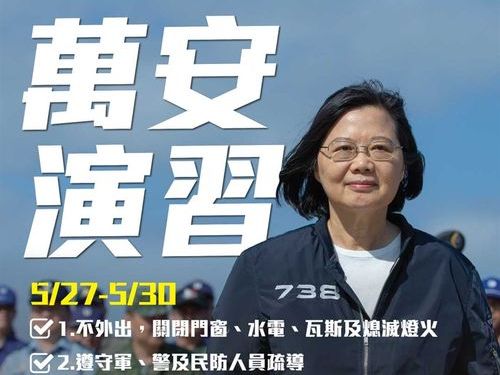 Taipei, May 27 (CNA) President Tsai Ing-wen (蔡英文) and Premier Su Tseng-chang (蘇貞昌) on Monday urged the public to follow the instructions of evacuation personnel and seek shelter during the annual Wan-an air-raid drill which is scheduled for 1:30 p.m. to 2:00 p.m. in northern Taiwan.
Through instant messaging app Line, Tsai reminded people that this year's Wan-an air-raid drills will be held from Monday to Thursday across the country, with the first one scheduled for 1:30 p.m. to 2:00 p.m. Monday in northern Taiwan.
She also called on people not to panic and pay attention to the words "test" and "drill" if they receive messages related to air raid warning sirens and the Wan-an air-raid drill.
Premier Su also posted a Line message, telling people not to worry if they receive air raid warnings because they are part of the Wan-an drills.
Su said that the annual Wan-an drills will be held from 1:30 p.m. to 2:00 p.m. from Monday through Thursday in regions around Taiwan and that everyone should follow evacuation regulations to avoid being fined for violations of the Civil Defense Act.
On Monday, the 30-minute drill will be held in Taipei City, New Taipei City, Taoyuan City, Hsinchu City and County, Keelung City, and Yilan County, according to the Ministry of National Defense (MND).
After the first drill in northern Taiwan, others will be conducted in Tainan, Kaohsiung and Pingtung in southern Taiwan and the offshore county of Kinmen on Tuesday, and in Hualien and Taitung in eastern Taiwan and the offshore county of Lienchiang (Matsu) on Wednesday.
On Thursday, a drill will be held on the island county of Penghu and in the central Taiwan areas of Taichung, Changhua, Nantou, and Yunlin, as well as in Chiayi.
During the drills, pedestrians will be required to get off the streets and seek shelter, while vehicles will have to pull to the side of the road and stop, in keeping with the instructions of police, military, and evacuation personnel, according to the MND.
The system for the air raid alert, which was developed last year and tested on a small scale during the Wan-an drills in central and southern Taiwan, has been expanded, the ministry said. As a result, text messages will be sent this year to all mobile phones nationwide, warning of an incoming missile attack.
The defense ministry has warned that failure to observe the evacuation regulations and other relevant procedures will result in a fine of NT$30,000 (US$952) to NT$150,000.
During the drills, high-speed trains, regular trains, mass rapid transit trains and buses will run as normal, as will plane arrivals and departures, but passengers getting off the trains, buses or airplanes are required to stay indoors for the remainder of the exercise.
In addition, shuttle buses at Taipei, Banqiao, Taoyuan and Hsinchu stations along the high speed rail system will be suspended during the 30-minute drill in northern parts of Taiwan Monday, according to Taiwan High Speed Rail Corp..