DPP loss not an appeal to move closer to China: ex-U.S. diplomats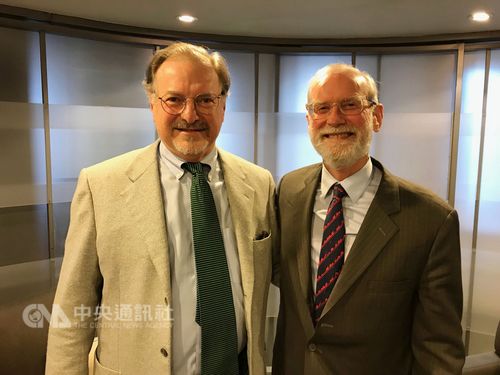 Taipei, Dec. 2 (CNA) The ruling Democratic Progressive Party's (DPP) major defeat in last Saturday's local government elections was the result of voter dissatisfaction with its performance rather than a desire to move closer to China, two former U.S. diplomats said Sunday in Taipei.
The DPP, which came into power in May 2016, won control of only six of Taiwan's 22 city and county governments in the Nov. 24 polls, down from the 13 it held previously, while the China-friendly opposition Kuomintang (KMT) won 15 seats, a net pickup of nine.
Some foreign media reports described the result as a major setback for the Tsai administration and a victory for Beijing.
During an exclusive interview with CNA on Sunday, however, former American Institute in Taiwan (AIT) Director Stephen Young said he saw the result as an "ordinary reaction" of Taiwanese voters who expressed discontent over the DPP's performance over the last two years.
He said he read some articles indicating that China was allegedly using money to interfere with Taiwan's democratic elections, "but I would not jump to the conclusion that was decisive (in the DPP's defeat)."
"Based on what I have seen, that is a natural checking action," said Young, who served as AIT Taipei head from March 18, 2006 through July 3, 2009.
That said, Young indicated that the Chinese government under President Xi Jinping (習近平) is undoubtedly trying to manipulate the democratic progress of ethnic Chinese systems, Taiwan and Hong Kong included.
"Taiwan must be patient. Taiwan must be vigilant," Young said, citing the fact that "China is stronger than ever before and Xi Jinping is a very dangerous man."
Taiwan should also remember that the U.S. will be supportive of Taiwan and will not tolerate attempts by China to bully or threaten the democratic island, he stressed.
John Tkacik, a retired U.S. foreign service officer, and policy commentator with over 40 years' experience in China, echoed Young's view in an interview with CNA.
He believed American officials will not interpret the DPP's loss on Nov. 24 "as indicators of Taiwan's foreign policy in the future."
Tkacik admitted that the major defeat of the DPP and the overwhelming support for the China-friendly KMT was surprising and somewhat "uneasy" for many people in Washington who hope Taiwan will not revert to warmer ties with China at the expense of its relations with the democratic West.
But Tkacik said the U.S. views Taiwan as the most vibrant democracy in the Indo-Pacific region and U.S. Secretary of State Mike Pompeo's tweet on Nov. 24 was concrete proof of that.
Pompeo congratulated Taiwan "on another successful round of free and fair elections" and said Taiwan's democracy served as an example for the entire Indo-Pacific.
"Just having an election (in Taiwan) is good for Taiwan-U.S. relations," Tkacik said.
Though he sees the election results as primarily local and related to mainly local issues, Tkacik has warned about Beijing's interference in Taiwan elections with its "fake news" attacks for many years.
"We are very conscious of how in the last 10 years both Russia and China have reawakened their propaganda instruments/apparatuses, to shape the information environment not just in the U.S. but in Europe and in other countries. And what is happening in Taiwan is an example of Chinese propaganda operations," he said.
Beijing has been able to generate a lot of anger and emotion on things related to politics in Taiwan, he said.
To counter this disinformation, reputable organizations need to do investigative reporting on the phenomenon so that more people will be aware of such efforts by Beijing so that they can make informed decisions.