Vice President Chen to attend canonization of Pope Paul VI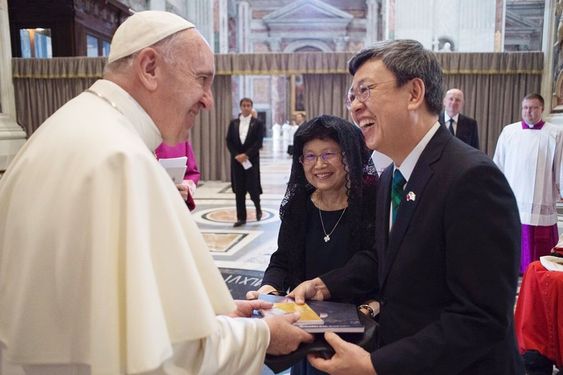 Taipei, Oct. 2 (CNA) Vice President Chen Chien-jen (陳建仁) will depart Taiwan on Oct. 11 for the Vatican, where he will attend a ceremony to canonize Pope Paul VI and six others on Oct. 14, the foreign ministry said Tuesday.
President Tsai Ing-wen (蔡英文) has designated Chen as her envoy to lead a Taiwan delegation to the ceremony in demonstration of the the high value Taiwan places on its 76-year diplomatic relationship with the Holy See, Deputy Foreign Minister Kelly Hsieh (謝武樵) said at a press conference.
The visit was scheduled amid close monitoring of the diplomatic ties between Taiwan and the Vatican in the wake of a landmark agreement the Vatican signed with Beijing late last month on the appointment of bishops in China, which signaled a warming of their once-frigid relations.
Pope Francis will canonize Pope Paul VI, along with El Salvador's Archbishop Oscar Arnulfo Romero and five others, on Oct. 14 during the 15th ordinary general assembly of the Synod of Bishops Oct. 3-28, according to Hsieh, who will be part of the Taiwan delegation.
In keeping with past practice, Pope Francis is expected to individually receive the heads of the delegations from more than 100 countries before or after the canonization ceremony, Hsieh said.
On behalf of the government, people and Catholic community in Taiwan, Chen will "convey our congratulations to the Vatican and our high esteem for Pope Francis" and invite him to visit Taiwan, Hsieh said.
During Chen's four-day stay in the Vatican, he will engage in other activities, including a visit to Castel Gandolfo, Pope Paul VI's summer residence and the place where he died in August 1978, Hsieh said.
The Taiwan delegation, comprising Chen, his wife Luo Feng-ping (羅鳳蘋) and Hsieh, will return to Taiwan on Oct. 16.
Chen was made a knight of the Equestrian Order of the Holy Sepulchre of Jerusalem in 2010 and a knight of the Order of St Gregory the Great in 2013 in recognition of his efforts in the fight against an outbreak of severe acute respiratory syndrome (SARS) in Taiwan in 2003 and his academic achievements.