Premier bashed for comments on low-paid caregiver jobs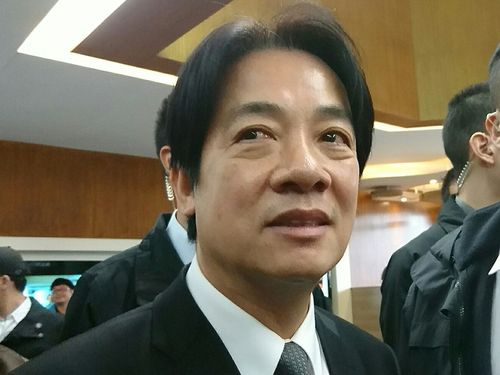 Taipei, Nov. 24 (CNA) Premier Lai Ching-te (賴清德) activated a "1966" long-term care hotline on Friday but drew criticism after he suggested that nursing aides look past their low salaries and treat their jobs as undertaking "good deeds."
Speaking at a ceremony to launch the hotline, Lai said many caregivers feel that a monthly salary of NT$30,000 (US$1,000) to take care of old people is not worth it but urged them to think of their jobs as "doing good" for Taiwan.
Opposition Kuomintang lawmaker Lee Yen-hsiu (李彥秀) blasted Lai and the government for being unable to resolve the serious problems of insufficient manpower and low wages in the long-term care system yet asking people on the front lines to show benevolence and generosity.
The lawmaker denounced Lai as Taiwan's "biggest guan lao ban (spoiled boss)," a reference to a boss who is very demanding but unwilling to pay employees for their efforts.
Asked about Lai's controversial remarks, Health Minister Chen Shih-chung (陳時中) explained that the premier was showing sympathy for nursing aides in the long-term care system and the hard work they put in, and said the Ministry of Health and Welfare (MOHW) plans to raise the wages of such caregivers next year.
Chen Su-chun (陳素春), deputy director-general of the Social and Family Affairs Administration under the MOHW, said the government currently provides long-term care institutions with a NT$200 per hour subsidy for each hour worked by certified nursing aides, with the aides receiving NT$170 per hour of that.
Thus, nursing aides earn wages of NT$25,000 to NT$29,000 a month, depending on how many hours they work, she said.
The hourly payment system will be changed to a monthly salary next year, Chen said, and nursing aides providing services in remote areas, at night or on holidays will be able to earn extra.
Chen contended that under the planned system, which will be phased in over time starting in January 2018, a certified nursing aide could earn as much as NT$32,000 to NT$35,000 a month.
Lai said earlier in the day that the government's long-term care budget was raised to NT$18 billion this year from just over NT$5 billion in 2016 and will be further increased to NT$35 billion next year, he said.
The 1966 hotline was set up by the MOHW as a single contact point for people looking for long-term care services.
At the ceremony marking the hotline's formal launch, the premier said Taiwan is already an "aged" country, meaning that at least 14 percent of the population is aged 65 and over.
Because of the aging trend, the government's long-term care 2.0 policy will not just expand the scope of people eligible for long-term care services but also increase the service types and locations, Lai said.
People will now only have to call the 1966 hotline to contact a care service center in their county or city, and the service personnel will evaluate the needs of the callers and their families and help them satisfy those needs, Lai said.
The government will also provide subsidies to improve household environments for the elderly, he pledged.