Indonesia seeks better treatment for migrant caregivers in Taiwan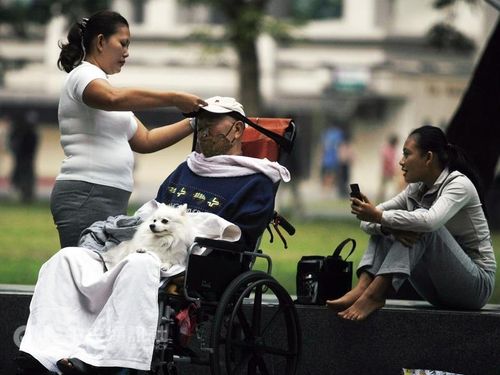 Jakarta, June 14 (CNA) Indonesia has plans in place to improve the treatment of its migrant caregivers in Taiwan, including exemption from brokerage fees, an Indonesian labor official has said.
Agusdin Subiantoro, deputy head of the Agency for the Placement and Protection of Indonesian Migrant Workers, said that his agency has drawn up three plans aimed at ensuring better treatment for its migrant caregivers in Taiwan.
The plans include exempting Indonesian migrant workers from paying brokerage fees for applying to work as domestic caregivers in Taiwan and instead, having their Taiwanese employers to make the payments, he told CNA in a recent interview.
The second plan is a one-day care system, under which Indonesian migrant caregivers do not have to live with the families they work for and instead can live in accommodation provided by the company that provides their domestic care services, he said.
For example, they can work for a family for a couple of hours per day and then move to another family to work for the rest of the day, he said.
The third plan, he said, is to exempt Indonesian caregivers working for care centers or related institutions from paying brokerage fees and instead having the institutions hiring them to pay the fees, Agusdin said.
Meanwhile, the Indonesian government is demanding that Taiwan raise the minimum wage for Indonesian domestic caregivers, he said.
Currently, Indonesian domestic caregivers in Taiwan earn NT$17,000 (US$562) per month, while migrant factory workers and workers at institutions for caregiving are paid around NT$21,009 in line with Taiwan's monthly minimum wage, which was increased this year from NT$20,008, Agusdin said.
He said the Indonesian government is seeking to narrow the gap in the monthly wages for Indonesian domestic caregivers and factory workers in Taiwan.
There are currently 187,281 Indonesian caregivers in Taiwan, accounting for about 77 percent of the total number of foreign caregivers in the country, according to government statistics.
(By Jay Chou and Elaine Hou)ENDITEM/J