Opposition party mobilizes members, mulling 'long-term' protest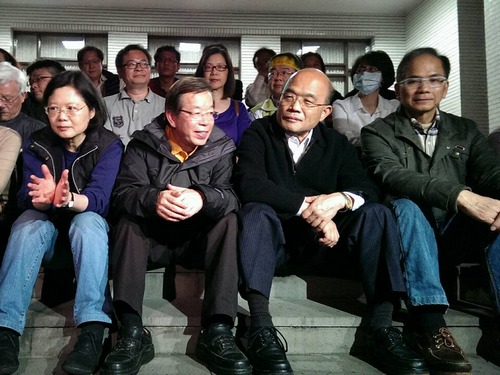 Taipei, March 19 (CNA) Opposition Democratic Progressive Party (DPP) Chairman Su Tseng-chang mobilized his party members Wednesday to show their support for protesters skeptical of the service trade pact with China who forced the Legislative Yuan to shut down the previous evening.
Su, his predecessor Tsai Ing-wen and other DPP heavyweights, as well as lawmakers, went to the Legislative Yuan to voice their support for the protesters early Wednesday.
Starting at noon that day, all party members who hold public office will take turns being stationed at the Legislature, DPP spokesman Lin Chun-hsien said, urging the public to gather at the complex to lend support to the demand that the government give the service trade pact an item-by-item review.
In addition to providing food and water, all such party members will keep a close eye on all gatherings and entrances near the Legislature, in the hope that the protest can be conducted peacefully, Su was quoted as saying.
If President Ma Ying-jeou fails to give a "friendly" response, the DPP is ready for a "long-term" protest and will "immediately increase the protest power," Lin said.
Huang Yu-fen, a spokeswoman for the student-led protest, told the media that occupying the main chamber of the Legislature was their original plan and that the protesters have vowed to stay there until March 21.
(By James Lee)ENDITEM/J
Related stories:●March 19: 38 policemen injured, 4 protesters arrested in clashes●March 19: President calls for approval of cross-strait pact before June●March 19: Cabinet to respect how Legislature deals with protest●March 19: Speaker calls for self-restraint in Legislative standoff●March 19: Student protesters repel police, hold Legislative chamber●March 19: DPP politicians try to protect students inside Legislature●March 18: Protesters break police line, storm Legislature●March 18: Talk of the Day -- Service trade pact pushed forward amid chaos
(For latest developments, please click here.)