Hon Hai showcases iPhone-compatible smartwatch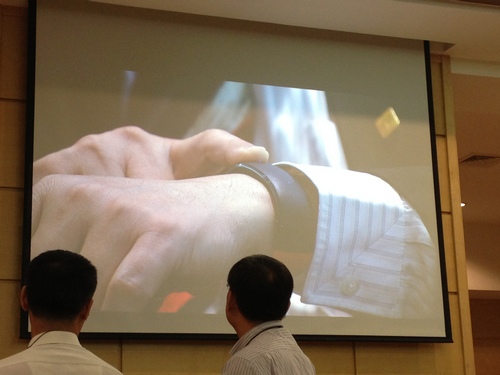 Taipei, June 26 (CNA) Taiwan's Hon Hai Precision Industry Co., the main manufacturer of Apple Inc.'s iPhones and iPads, showcased a smartwatch Wednesday that can be connected wirelessly to an iPhone, which the company hopes will be part of its next driver of revenue growth.
The wearable computing device can be used to measure the user's vital signs such as respiration and heartbeat, as well as to check phone calls and Facebook posts, Hon Hai executives said while showing the watch at a shareholders' meeting.
If the measuring results are not within optimal range, the device will automatically give suggestions to the user about how to improve them, the executives said.
Hon Hai Chairman Terry Gou said his company's wireless communications and medical research groups also plan to add new features such as fingerprint identification to the gadget in the future, to help record personal health data.
"With such a device, you can keep your phone in your pocket and simply check all kinds of messages on your watch," Gou told shareholders.
The Hon Hai smartwatch comes at a time when some market analysts have projected that Apple will launch a similar device, the iWatch, later this year as its next breakthrough product to intensify its battle with Google Inc. in the emerging wearable device sector.
In April 2012, Google announced a trial project for its Glass device, a cross between a mobile computer and a pair of spectacles that can record video and access emails and messages, as well as surf the Internet.
The eyeglass-shaped device is equipped with a camera capable of taking 5-megapixel pictures or recording 720p video, as well as a 12-gigabyte usable memory and Wi-Fi connectivity, according to Google.
(By Jeffrey Wu) ENDITEM/J