Parents of young kids don't want to replicate their own upbringing: Survey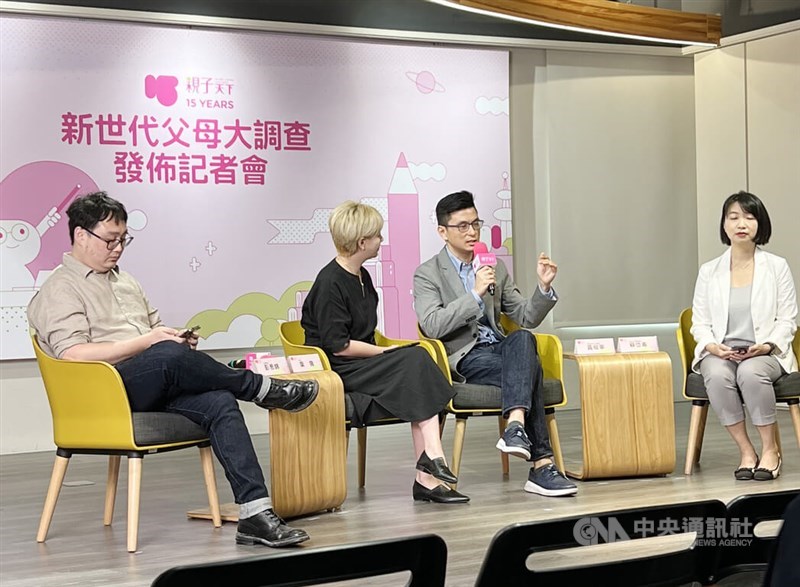 Taipei, June 1 (CNA) More than four in five parents of children aged under 6 in Taiwan said they were not planning to raise their kids the way their parents brought them up, according to the results of a survey released Thursday.
The survey, conducted by CommonWealth Education Media and Publishing, found that 81 percent of parents do not want to replicate the parenting techniques of the previous generation.
The vast majority, 98 percent, said they are willing to play together with their children and 93 percent said they respect their right to determine their own future, according to the survey. Half of respondents also said they had never hit their children.
At a press event for the survey's publication, writer Yeh Yang (葉揚) noted that parents of the last generation tended to avoid corporal punishment, spent time with their children and respected their choices "as much as possible."
While the current generation of parents has adopted more "absolutist" views on these topics, this style of parenting can also leave them feeling that it's their fault when their children aren't happy, Yeh said.
Huang Tsung-ning (黃瑽寧), a doctor at the Department of Pediatric Infectious Diseases at MacKay Children's Hospital, said that despite the shift away from corporal punishment, there are still challenges for parents with an "authoritarian mindset."
If a parent's attitude is, "I'll spare the rod, but I still want you to do as I say," they could be in for an even greater sense of frustration, Huang said.
The CommonWealth survey also asked parents about their children's use of screen-based devices, and found 62 percent started using them before the age of 3, and 22 percent started between the ages of 3 and 6.
Regarding daily screen time, 57 percent of parents said they limit their children to less than 30 minutes every day, 26 percent said their kids watch between 30 and 60 minutes and 17 percent said their children spend longer than an hour every day in front of a screen.
The survey was conducted online between March 15 and 31, and received a total of 1,934 valid responses from parents of children below 6. Around 80 percent of the respondents were female, CommonWealth said.