Former EU envoy in Taiwan lauds 'rebellious' Taiwanese in new book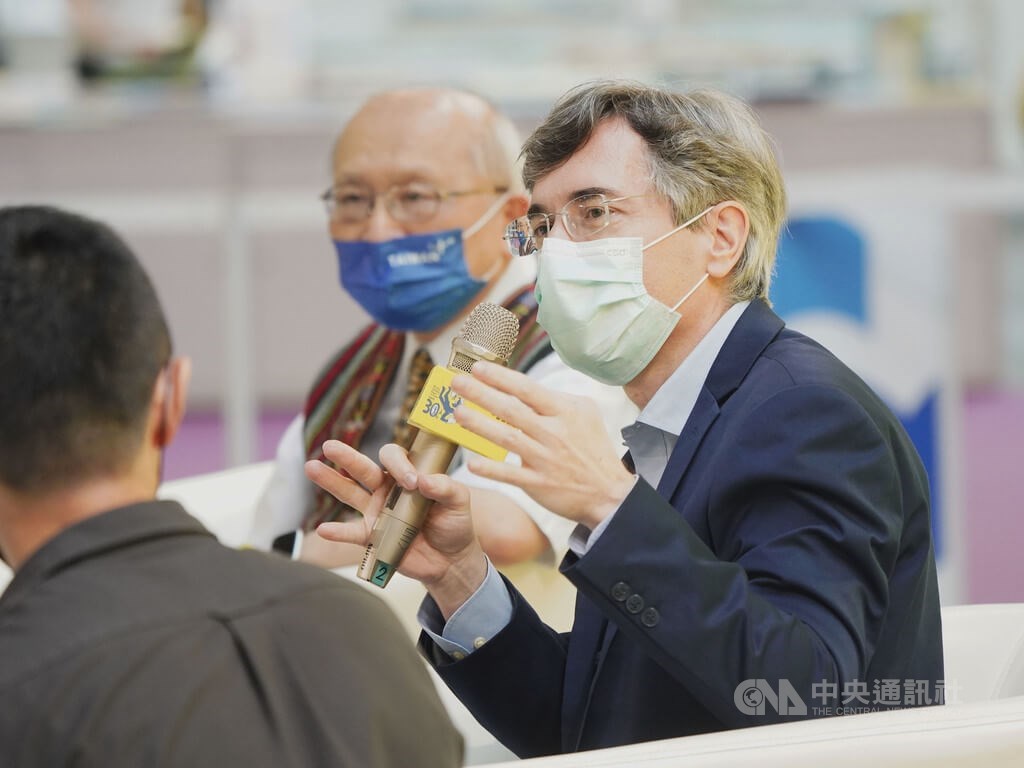 Taipei, June 5 (CNA) Frederic Laplanche, the former head of the European Economic and Trade Office in Taiwan (EETO), praised the tradition of rebellion in Taiwan in his new book, saying he believed it is an act of freedom and democracy.
Discussing his new book at the June 2-7 Taipei International Book Exhibition on Saturday, Laplanche said there's plenty of French historic materials showing Taiwanese people's disobedience to the ruling power that dated back as early as 300 years ago.
In the book, which is translated into Chinese, "Taiwan racontée par les Français," or Taiwan told by the French, Laplanche said he attempted to find out what Taiwan was like between 1630-1930 through accounts from French soldiers, missionaries and officials stationed on the island.
During this period, Taiwan was ruled by the Spanish, the Dutch, Ming Dynasty loyalist Zheng Chenggong (鄭成功) and later his son, the Qing Dynasty and finally the Republic of China.
Laplanche praised Taiwanese people's pursuit for their rights under foreign rule, as well as the democratic system eventually built in the modern society.
Not only Taiwanese, but also people around the world should cherish the fruits of democracy here, according to Laplanche, head of the EETO between 2011-2015.
Still, Laplanche cautioned that the tradition of rebellion had sometimes led to conflicts in Taiwan in the past, adding that he hoped those tragedies will not be repeated amid Taiwanese' efforts for a freer and more democratic future.
Laplanche said he also hoped to share with local readers in the book exchanges between the Taiwanese and French in the past, in addition to the more well-known Sino-French War in the 1880s and Charles Le Gendre, a French-born American officer and diplomat who negotiated with indigenous people in Taiwan in the 1860s.
"Many people, including myself, had little knowledge about what French people had done in Taiwan," he said.
It is hoped that through the French materials Laplanche had studied, readers could see a very different and globalized Taiwan from a foreign perspective, according to the publisher.
Laplanche was awarded a medal from the Taiwanese government in 2015 in recognition of his efforts to promote relations between Taiwan and the EU during his tenure.
Related News
June 3: Ex-culture minister, French senator discuss power of children's literature
June 3: Publishers from war-torn Ukraine seeking collaborators at Taipei book fair
June 2: Taipei book fair opens physically for first time in 3 years
May 27: France selected as theme country at Taipei book fair for the fourth time