Golden Horse Awards: 'The Falls' shines, takes best film and three other prizes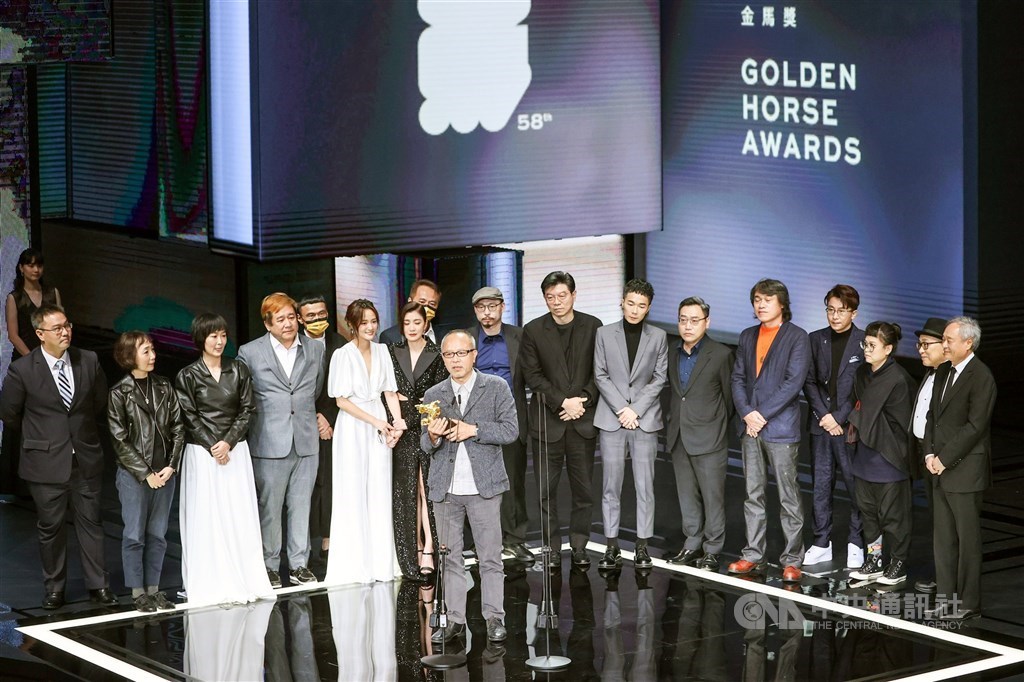 Taipei, Nov. 27 (CNA) "The Falls," a mother/daughter drama, claimed the best film award at the Golden Horse Awards on Saturday, giving it the biggest haul of any film on the night.
"The Falls," which went into the ceremony on Saturday with 11 nominations, took home four awards: best narrative feature, best leading actress, best original screenplay, and best original film score.
The movie is centered around a mother and her teenage daughter, and tells the story of how the mother's mental illness affects their relationship and their lives as they are quarantined during the COVID-19 outbreak.
It has been selected as Taiwan's entry in the best international feature film category at the 2022 Academy Awards.
From Sony Pictures' YouTube channel
Accepting the award, director Chung Mong-hong (鍾孟宏) said, "This award tells me that I can continue to make movies next year, the year after, and again the year after. I want to keep making movies each and every year."
Gingle Wang (王淨), who was nominated for best leading actress for her role in the film but lost to her on-screen mother Alyssa Chia (賈靜雯), jokingly said that she was happy for Chia, but was "a little bit sad."
"I want to say that I hope one day our society can treat people different from us with more compassion, more understanding, and more love. My niece was born five days ago, and I hope that when she grows up, she can find the goodness of our world," Wang said.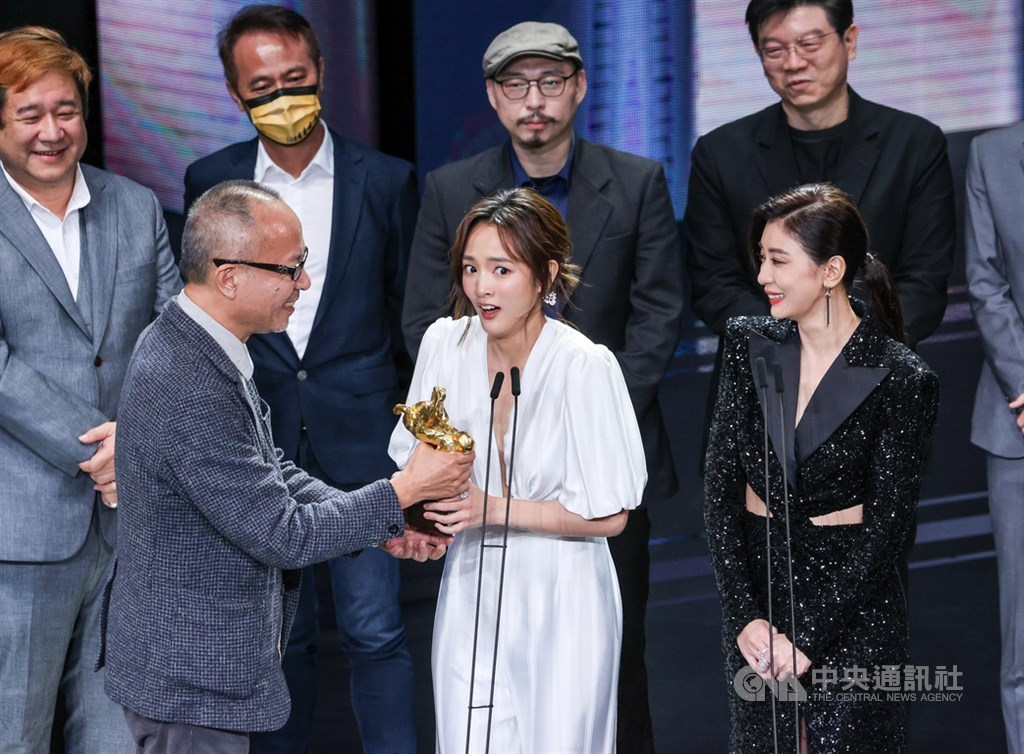 The other nominees for this year's Golden Horse best feature film award were sci-fi crime thriller "The Soul" directed by Taiwanese director Cheng Wei-hao (程偉豪), "Drifting" by Hong Kong filmmaker Jun Li (李駿碩), "American Girl" by Taiwanese-American director Fiona Roan Feng-i (阮鳳儀), and "Till We Meet Again" by Taiwanese director Giddens Ko (九把刀).
"American Girl," "The Soul," and "Till We Meet Again" also fared well, winning three awards each.
"American Girl," which received seven nominations, ended the night with the honors for best new director, best new performer, and best cinematography.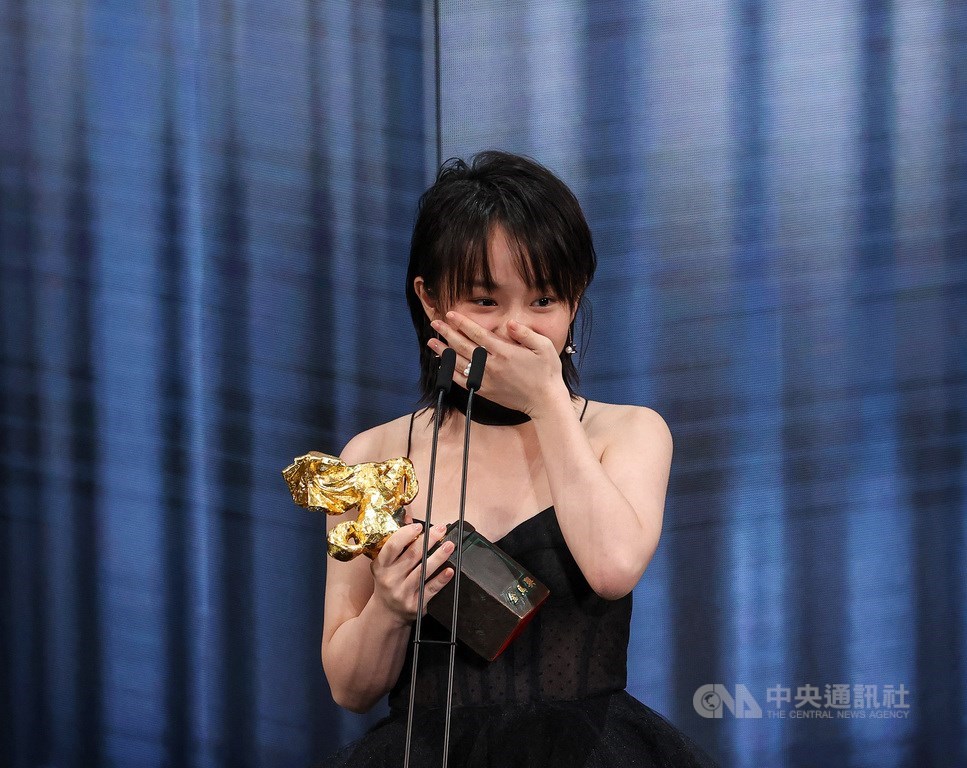 "The Soul" and "Till We Meet Again" also received three awards each from their respective 11 nominations.
"The Soul" took home best leading actor, best art direction, and best film editing, while "Till We Meet Again" won best visual effects, best sound effects, and best makeup and costume design.
"Drifting," directed by Li, went into Saturday's awards ceremony with 12 nominations, the most of any film, but only won best adapted screenplay.
The 58th Golden Horse Awards ceremony was held at the Sun Yat-sen Memorial Hall in Taipei on Saturday. The annual awards, established in 1962, are considered among the most prestigious and time-honored film awards in the world of Chinese-language cinema.
However, Beijing has boycotted the awards since 2019, resulting in many Chinese and Hong Kong filmmakers staying away.
Full list of the 2021 Golden Horse Award winners:
★ Best narrative feature: "The Falls" (瀑布)

★ Best documentary feature: "Revolution of Our Times" (時代革命) / By Kiwi Chow (周冠威) and HONGKONGERS (香港人)

★ Best live action short film: "Good Day" (詠晴) / Director: Zhang Zhi-teng (張誌騰)

★ Best documentary short film (new category): "In Their Teens" (度日) / Director: Lin Yu-en (林佑恩)

★ Best animated short film: "The Magical Tracing" (海角天涯) / Director: Wu De-chuen (吳德淳)

★ Best director: Clara Law (羅卓瑤) / "Drifting Petals" (花果飄零)
★ Best leading actor: Chang Chen (張震) / "The Soul" (緝魂)

★ Best leading actress: Alyssa Chia (賈靜雯) / "The Falls" (瀑布)

★ Best supporting actor: Liu Kuan-ting (劉冠廷) / "Treat or Trick" (詭扯)

★ Best supporting actress: Wang Yu-xuan (王渝萱) / "Goddamned Asura" (該死的阿修羅)

★ Best new director: Fiona Roan Feng-i (阮鳳儀) / "American Girl" (美國女孩)

★ Best new performer: Caitlin Fang (方郁婷) / "American Girl" (美國女孩)

★ Best original screenplay: Chung Mong-hong (鍾孟宏) and Chang Yaosheng (張耀升) / "The Falls" (瀑布)

★ Best adapted screenplay: Jun Li (李駿碩) / "Drifting" (濁水漂流)

★ Best cinematography: Giorgos Valsamis / "American Girl" (美國女孩)

★ Best visual effects: ArChin Yen (嚴振欽) / "Till We Meet Again" (月老)

★ Best art direction: Huang Mei-ching (黃美清), Liang Shuo-lin (梁碩麟) and Liao Huei-li (廖惠麗) / "The Soul" (緝魂)

★ Best makeup & costume design: Singing Lin (林欣宜), Hsiao Pai-chen (蕭百宸) and Liu Hsien-chia (劉顯嘉) / "Till We Meet Again" (月老)

★ Best action choreography: Chan Man-fai (陳文輝), Chu Ke-feng (朱科豐) and Feng Ren-zhi (馮仁稚) / "Nezha" (叱咤風雲)

★ Best original film score: Lu Luming (盧律銘) / "The Falls" (瀑布)

★ Best original film song: "I Missed You" (我這個人) / By Eve Ai (艾怡良) for "I Missed You" (我沒有談的那場戀愛)

★ Best film editing: Shieh Meng-ju (解孟儒) / "The Soul" (緝魂)

★ Best sound effects: R.T Kao (高偉晏) and Chu Shih-yi (朱仕宜) / "Till We Meet Again" (月老)

★ Outstanding Taiwanese Filmmaker of the Year: Texture artist Frank Chen (陳新發)

★ Lifetime achievement award: Cinematographer Lin Tsan-ting (林贊庭) and director Tsai Yang-ming (蔡揚名)