Chinese-American architect I.M. Pei dead at 102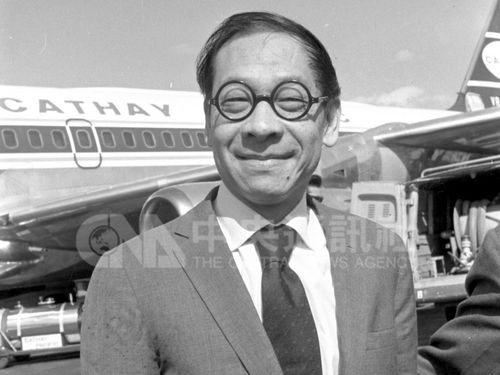 Taipei, May 17 (CNA) I.M. Pei (貝聿銘), the renowned Chinese-American architect who created the Louvre Museum's glass-and-steel pyramid and co-designed Luce Chapel at Tunghai University in Taichung, has died at 102, the New York Times reported on Thursday, citing his son Pei Chien-chung (貝建中).
Born in Guangzhou, China, on April 26, 1917, Pei left China in 1935, moving to the United States where he studied architecture at the Massachusetts Institute of Technology and Harvard University.
Pei worked for a New York developer in 1948 and teamed up with fellow architects he worked with at real estate developer Webb & Knapp to start their own firm I.M. Pei & Associates in 1955.
Pei's most notable projects, which often show graceful combinations of precision and modernity, can be seen around the world, including the National Gallery of Art East Building in Washington, D.C. and the Rock and Roll Hall of Fame in Cleveland in the United States, the Bank of China Tower in Hong Kong and the Museum of Islamic Art in Doha, Qatar.
Pei's works received many honors, among them the Pritzker Prize, an award often referred to as the Nobel Prize of architecture, in 1983.
(Luce Chapel at Tunghai University)
Completed on Nov. 2, 1963, the Luce Chapel at Tunghai University in Taiwan was designed by Pei and his fellow architects Chen Chi-kwan (陳其寬) and Chang Chao-kang (張肇康).
The unusual feature of the landmark is the curvature of the exterior, which allows its walls to function as both pillars and rafters at the same time.
In addition, the chapel has a tent-like conoid structure, with four warped leaves rising 19.2 meter high and has become a must-see site for tourists.
In September 2017, the Cultural Heritage Department of Taichung City listed the Luce Chapel as a cultural asset, along with the Bell Tower, old art center and Wesley House on Tunghai University campus.
The Ministry of Culture announced on April 25 this year that the chapel and Taichung Prefectural Hall were being upgraded from municipal level to national historic sites, bringing the total number of such sites across Taiwan to 105.
The Republic of China (Taiwan) Pavilion at the 1970 EXPO World's Fair in Osaka, the Bali Incineration Plant in New Taipei and Hsinchu incinerator are also Pei's projects.
Calling Pei a modest and energetic person, Huang Ming-wei (黃明威), an architecture who worked at I.M. Pei & Associates for nearly five years, praised Pei as "the best leader, architect and employer."
Huang, a graduate from the Department of Architecture at Tunghai University, said he was inspired by Pei to study architecture.
Pei became a U.S. citizen in 1955. He was married to Eileen Loo (蔣士雲) from 1942 until her death in 2014. They had four children, two of whom became architects and formed Pei Partnership Architects in 1992.