Groups demand action from Taiwan on anniversary of anti-China protests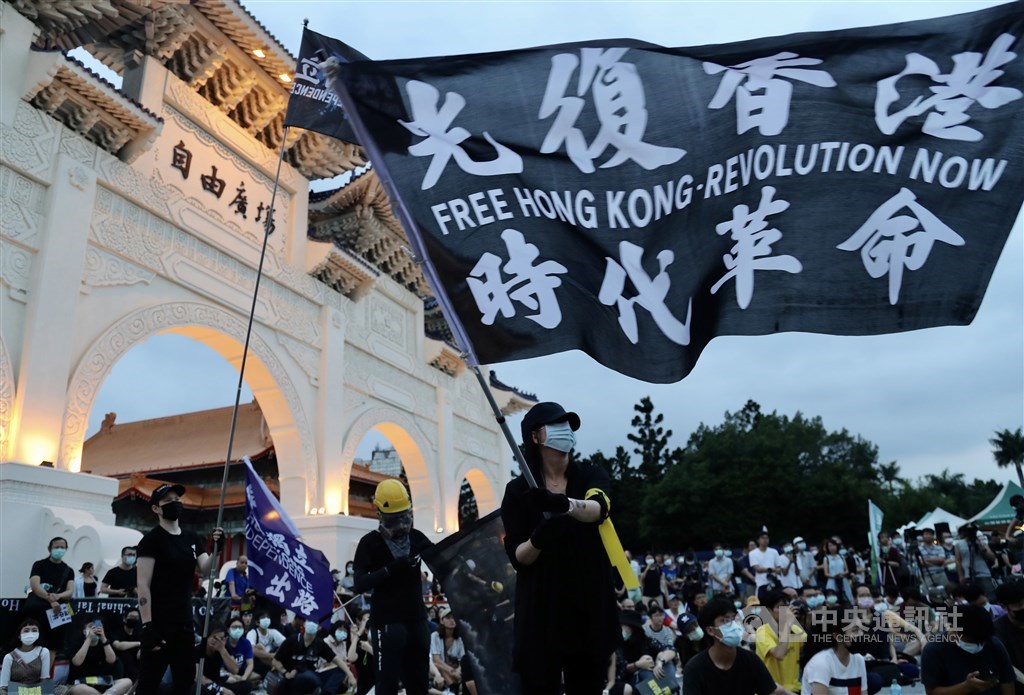 Taipei, June 13 (CNA) Groups rallying in Taipei to mark the one-year anniversary of the pro-democracy protests in Hong Kong called on China to leave Hong Kong to Hong Kongers and urged Taiwan's government to take tangible action to support the territory.
Representatives of over a dozen groups in Taiwan, several of them Hong Kong-related, participated in a full day of activities at Liberty Square on the occasion and started by holding a press event to announce their four objectives.
They called on people to oppose China's imperial expansion as Hong Kong belongs to Hong Kongers and urged Taiwan's government to put in place a plan for handling Hong Kong and Macau affairs following China's approval of a national security law to be imposed in Hong Kong.
They also called on Taiwan to ban Hong Kong policemen and Chinese capital from entering Taiwan and make preparations to handle immigrants from Hong Kong.
These demands were also read out in Cantonese, Mandarin and English at the start of a three-hour evening rally starting at 6 p.m., followed by speeches and songs and a short film chronicling the year of protests in Hong Kong.
The Hong Kong government's push to force through a highly controversial extradition bill through the Legislative Council in June 2019 triggered mass protests that eventually evolved into calls for broader democratic rights and freedoms.
The movement was further fueled this year in May by the Chinese National People's Congress approval of a national security law meant to be applied to the former British colony.
During the evening event, Wang Si (王曦), head of legal affairs at the Taiwan Association for Human Rights, cited media reports in late May that President Tsai Ing-wen (蔡英文) and Premier Su Tseng-chang (蘇貞昌) agreed to establish an action plan to respond to the situation in Hong Kong.
Yet there has not yet been any official announcement on such a plan, Wang said, arguing that the government's actions and assistance are important parts of its support to Hong Kongers.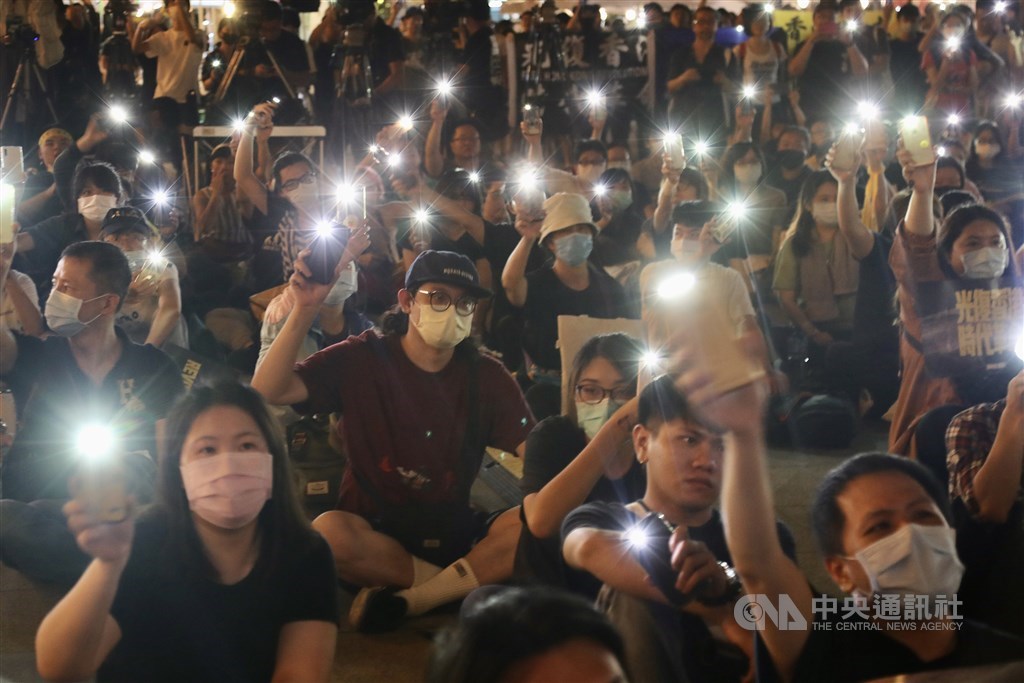 In a recorded video message, Hong Kong activist Joshua Wong (黃之鋒) thanked people for taking part in the event in Taipei.
He said the moves made by China's government over the past year, from the attempt to push through the extradition bill, which was eventually suspended by Hong Kong's government, to the recent approval of the national security law, show Beijing is getting more heavy-handed.
Wong hoped that people in Hong Kong and Taiwan can become more connected in the future and that Hong Kongers can one day enjoy the right to elect their government.
Roy Kwong Chun-yu (鄺俊宇), a member of Hong Kong's Legislative Council, also spoke in a recorded video message, saying that people in Hong Kong are still strong and will persist, despite police brutality and oppression.
Other speakers at the event in person included Lam Wing-kee (林榮基), a former Hong Kong bookstore owner who fled to Taiwan last year and recently reopened his Causeway Bay Books in Taipei.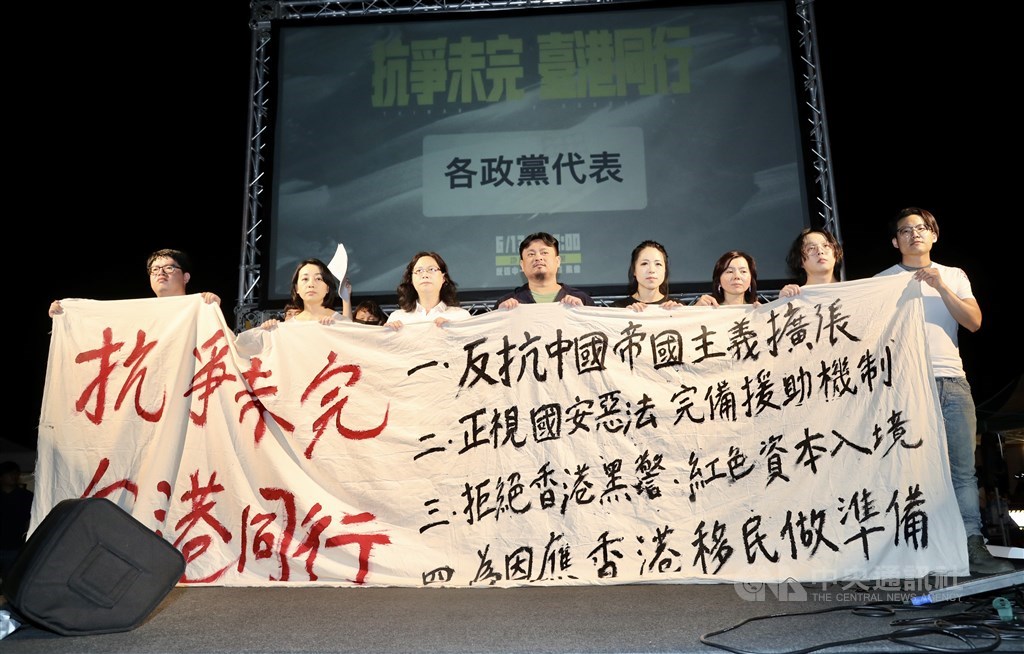 At the end of the event, Taiwanese lawmakers including Wang Wan-yu (王婉諭) of the New Power Party, Lai Hsiang-ling (賴香伶) of the Taiwan People's Party and Hung Sun-han (洪申翰) of the Democratic Progressive Party and representatives of other parties were invited to the stage to close the event by singing songs.
Kuomintang lawmaker Chen I-hsin (陳以信) also attended the event but left early, organizers said.
While the event at the Liberty Square was proceeding, Presidential Office spokesman Ting Yun-kung (丁允恭) told the press that the government remained consistent in its determination to back Hong Kong and supporting Hong Kongers.
The Cabinet is discussing an action plan on support Taiwan can offer to the people from Hong Kong, Ting said.
Among the groups represented at the event were the Taiwan Citizen Front, the Hong Kong Outlanders, the Taiwan Hong Kong Association and the Taiwan Association for Human Rights.
(By Wang Cheng-chung, Wen Kuei-hsiang and Kay Liu) enditem/ls