MAC chief vows to facilitate operations of 'three mini-links'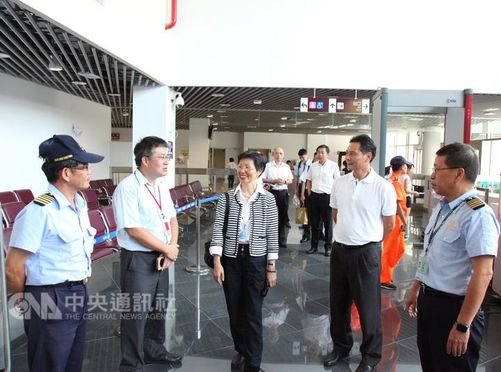 Taipei, Aug. 8 (CNA) The government will help the outlying counties of Lienchiang (Matsu) and Kinmen to resolve problems involving their direct transport links with China's Fujian Province -- commonly known as the "three mini-links," Mainland Affairs Council (MAC) Minister Chang Hsiao-yueh (張小月) said during a trip to Matsu.
Chang visited Matsu on Monday and Tuesday, during which she inspected the operations of the "three mini-links" and met with Lienchiang Magistrate Liu Tseng-ying (劉增應), Lienchiang-elected Legislator Chen Hsueh-sheng (陳雪生) and Lienchiang County Council Speaker Chang Yung-chiang (張永江) to discuss issues regarding cross-Taiwan Strait exchanges and tourism promotion, according to a statement released Tuesday by the MAC.
During the visit, the minister said that the "three mini-links" have played an important role in cross-strait relations and exchanges, and that the government will work to maintain the smooth operation of the links.
She said with cross-strait exchanges entering their 30th year this year, the "three mini-links" will continue to play a vital role in such exchanges in the future.
The "three mini-links" -- small scale direct trade, postal and transport links -- were launched Jan. 1, 2001 between Kinmen and Fujian, and later expanded to include Matsu.