Hon Hai expects triple-digit growth in AI server sales in H2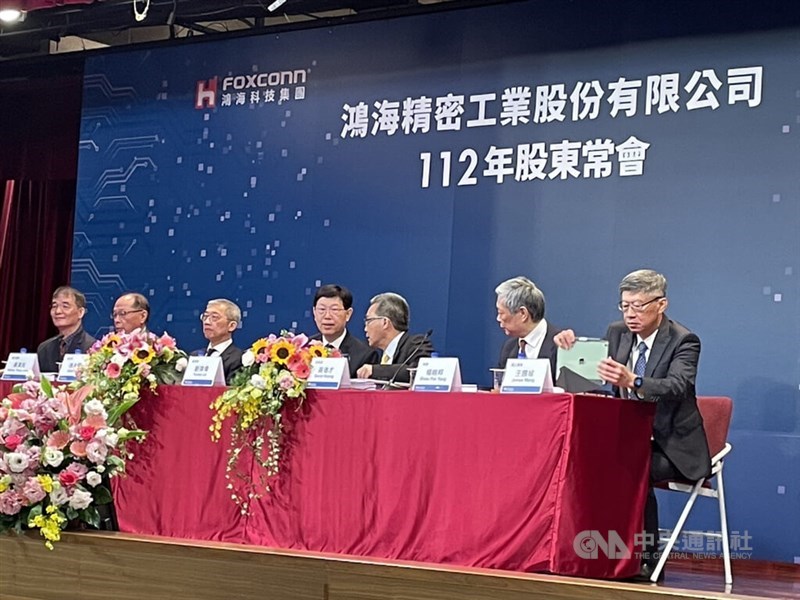 Taipei, May 31 (CNA) Taiwan-based manufacturing giant Hon Hai Precision Industry Co. said Wednesday that it expects triple-digit growth in its artificial intelligence (AI) server sales in the second half of this year.
Speaking during the company's annual general meeting (AGM) in New Taipei, Hon Hai Chairman Liu Young-way (劉揚偉) said that as long as applications such as ChatGPT continue to grow, so too will human dependency on AI and related servers.
According to Liu, Hon Hai's server division generated NT$1.1 trillion (US$35.83 billion) in sales in 2022, and AI server made up about 20 percent of the company's total server sales that year.
Liu said Hon Hai took a 40 percent share in the global server market in 2022, adding that the company was looking to increase this.
Hon Hai had taken advantage of solutions provided by Intel Corp., Advanced Micro Devices, Inc. and ARM Holdings plc. to roll out AI servers, he said.
Liu's assessment came after Jensen Huang (黃仁勳), founder and CEO of American graphics processing unit (GPU) designer Nvidia Corp., said in a keynote speech at Computex Taipei on Monday that Hon Hai had become one of the California-based firm's development partners.
According to Liu, Nvidia's GPUs are currently embedded in Hon Hai's AI servers.
Huang named Ingrasys Technology Inc., a subsidiary of Hon Hai's internet-focused Foxconn Industrial Internet Co. Ltd. (FII), as one of the American GPU designer's AI server partners.
In addition to Ingrasys, Taiwan's Quanta Cloud Technology Inc., Wistron Corp., Pegatron Corp., Inventec Corp., Asustek Computer Inc., and Wiwynn Corp. have also entered AI server partnerships with Nvidia.
In the electronic manufacturing services (EMS) market, Liu said Hon Hai made up 45.6 percent of the total sales in the global market in 2022, up from 42.9 percent in 2021.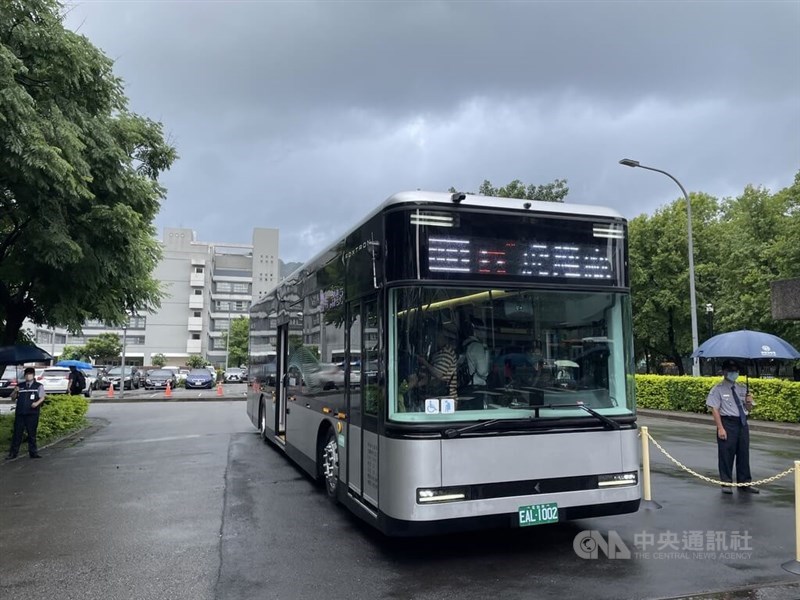 Commenting on the electric vehicles, which have become a focal point of Hon Hai's diversification efforts, Liu said the firm had used "contract design and manufacturing service" (CDMS) and "build operate localize" (BOL) business models to penetrate the Southeast Asian market.
Liu claimed Hon Hai was developing a diversified electric vehicle production line for small passenger cars, sport utility vehicles (SUV), luxury commercial vans, pick-up trucks and E-buses. The company was eyeing the global electric bus market through an under-construction E-bus plant in Indonesia, he said.
In Thailand, where Hon Hai has teamed up with Thai state-owned oil supplier PTT Public Co. through a joint venture Horizon Plus, Liu said the firm had ambitions to start producing cars from a planned plant in 2024, with the eventual aim of rolling out 150,000 vehicles a year by 2030.
In addition, Hon Hai has started trial production of a third-generation silicon carbide (SiC) semiconductor for use in EVs for five clients, Liu said, adding that a 6-inch SiC wafer plant in Hsinchu acquired from Taiwanese memory chip supplier Macronix International Co. in 2021 has begun commercial production.
According to Hon Young Semiconductor Corp., a Hon Hai subsidiary, the Hsinchu plant will be upgraded to an 8-inch wafer plant by 2025 with an ultimate annual production capacity of up to 200,000 units.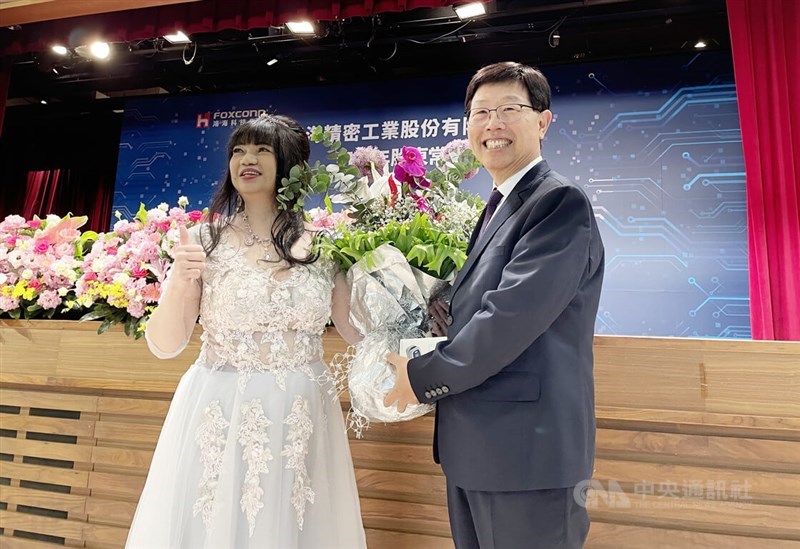 Meanwhile, Hon Hai shareholders at Wednesday's AGM also approved a proposal to issue NT$5.3 in cash dividend per share for its 2022 earnings per share of NT$10.21.
The cash dividend, the highest since the company launched an initial public offering in 1991, represents a payout ratio of 52 percent and is the fourth consecutive year Hon Hai has maintained a payout ratio above 50 percent.
In an announcement on the Taiwan Stock Exchange, where Hon Hai shares are traded, the company said it had invested about US$246 million to set up two new companies in Vietnam involved in the production of electric vehicle components and mechanical devices.
According to a supplier list released by Apple Inc. last week, Hon Hai's plant in Bac Giang state of Vietnam continued to serve as the U.S. electronics giant's supplier, with market analysts attributing the Taiwanese company's efforts in expanding production of MacBook and iPad.