Taiwan shares stage strong rebound after U.S. rally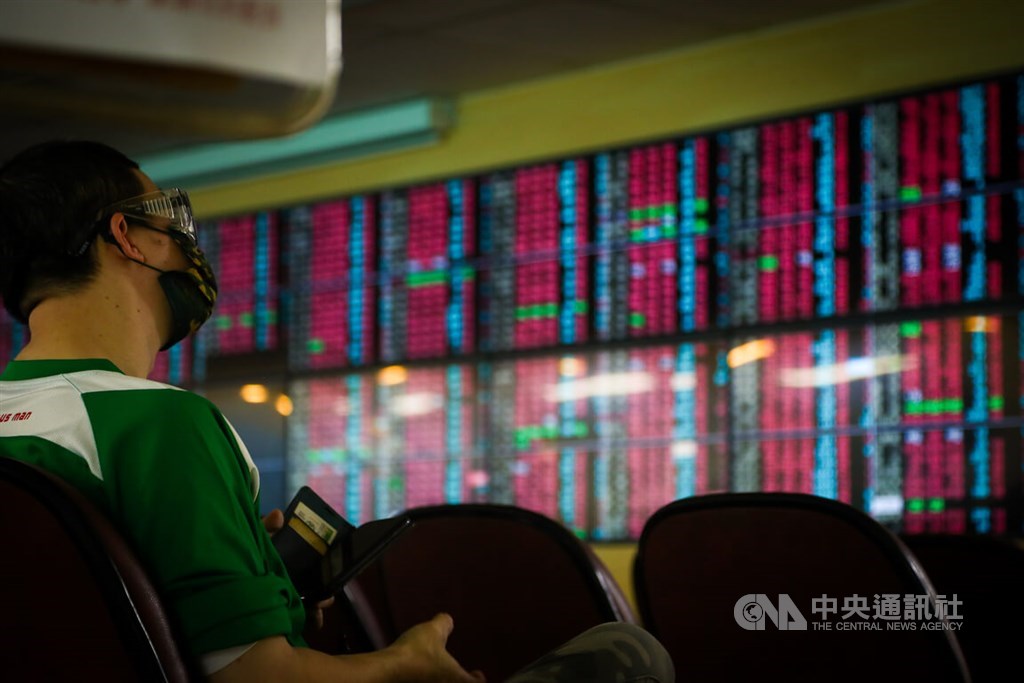 Taipei, Oct. 4 (CNA) Shares in Taiwan made a strong comeback Tuesday, as an overnight rally on the U.S. markets and expectations of a dovish turn by the Federal Reserve sparked buying on the local bourse.
With the dollar weakened amid anticipation the Fed will ease the pace of its rate hike cycle, investors in Taiwan rushed to pick up large-cap tech stocks with a focus on semiconductors, in turn driving the broader market up throughout the session.
The Taiex, the weighted index on the Taiwan Stock Exchange (TWSE), ended up 276.04 points, or 2.08 percent, at 13,576.52 after moving between 13,447.36 and 13,586.96. Turnover totaled NT$181.29 billion (US$5.71 billion).
The market reacted in a knee-jerk fashion to a 2.60 percent surge on the Dow Jones Industrial Average and a 2.27 percent rise on the tech-heavy Nasdaq overnight, opening up 1.10 percent.
U.S. PMI data
The latest Institute for Supply Management (ISM) manufacturing Purchasing Managers' Index (PMI) showed U.S. manufacturing output sinking to a nearly two-and-a-half-year low in September, prompting investors at home and abroad to think the Fed will slow down its rate hikes.
Investors initially focused on tech heavyweights, with buying spreading to biotech and petrochemical stocks and continuing steadily until the end of the session.
"The U.S. markets kept dictating the local main board as the latest U.S. PMI allayed fears over an aggressive Fed," Moore Securities Investment Consulting analyst Adam Lin said.
The U.S.' September PMI results fell short of earlier market predictions, triggering a 15-basis-point overnight dip for 10-year U.S. treasury yields and sending the U.S. dollar lower on the Taipei forex market Tuesday.
"In the wake of a weaker U.S. dollar, I suspect foreign institutional investors resumed their buying on the local market and tech heavyweights became their targets with contract chipmaker Taiwan Semiconductor Manufacturing Co. (TSMC) as the top pick," Lin said.
According to the TWSE, foreign institutional investors sold a net NT$6.17 billion worth of shares on the main board Tuesday.
Tech stocks
TSMC, the local market's most heavily weighted stock, rose 2.88 percent to close at NT$429.00, contributing around 100 points to the Taiex's gains and sweeping the electronics sector and semiconductor subindexes higher by 2.74 percent and 3.22 percent, respectively.
Buying was also seen among other semiconductor stocks, with United Microelectronics Corp. (UMC), a smaller contract chipmaker, rising 6.65 percent to end at NT$37.70. UMC's display IC design subsidiary Novatek Microelectronics Corp. grew 4.83 percent to close at NT$228.00, while smartphone IC designer MediaTek Inc. rose 4.56 percent to end at NT$573.00.
The optoelectronics industry was also boosted by bargain hunters, closing up 2.14 percent. Largan Precision Co., a supplier of smartphone camera lenses to Apple Inc., rose 4.59 percent to close at NT$17,10.00, while rival Genius Electronic Optical Co. added 5.54 percent to end at NT$352.50.
Also in the electronics sector, iPhone assembler Hon Hai Precision Industry Co. rose 1.49 percent to close at NT$102.50, and power management solutions provider Delta Electronics Inc. gained 2.58 percent to end at NT$258.50.
"As the electronics sector accounted for almost 60 percent of Tuesday's turnover, many nontech stocks attracted relatively low buying," Lin said. "However, the biotech industry stole part of the spotlight on bargain hunting." The biotech industry rose 2.93 percent Tuesday.
Test kit supplier Panion & BF Biotech Inc. closed up 10 percent, the maximum daily increase, at NT$149.00, while healthcare service provider All Cosmos Bio-Tech Holding Corp. gained 3.42 percent to end at NT$60.50, medical equipment brand Maxigen Biotech Inc. added 3.26 percent to close at NT$41.20, and vaccine developer Adimmune Corp. ended up 1.47 percent at NT$34.40.
Outside tech sector
Amid hopes that the Organization of the Petroleum Exporting Countries will cut output to stabilize crude oil prices, the petrochemical industry rose 1.15 percent, with Formosa Plastics Corp. up 1.50 percent to close at NT$87.80, Taita Chemical Co. up 1.41 percent to end at NT$21.55, but Formosa Chemicals & Fibre Corp. unchanged at NT$68.80.
In the financial sector, which underperformed the Taiex with a rise of only 0.63 percent, Cathay Financial Holding Co. rose 1.41 percent to end at NT$39.55, and Fubon Financial Holding Co. added 1.12 percent to close at NT$49.45, while E. Sun Financial Holding Co. lost 0.20 percent to end at NT$25.30.
"Today's gains helped the Taiex overcome the nearest technical resistance ahead of the five-day moving average of 13,460 points, which is expected to allow the main board to move higher," Lin said.
"I expect the government will come up with measures to boost the market, and if turnover expands to NT$200 billion or more, the Taiex is likely to challenge 13,773 points, the next technical hurdle of the 10-day moving average, soon," Lin added, referring to a regular meeting scheduled by the National Stabilization Fund's committee for Thursday.
The NT$500 billion stabilization fund was set up in 2000 by the government to serve as a buffer against unexpected external factors that might disrupt the local bourse.
Related News
Oct. 1: Taiwan's FSC tightens short selling rules amid market volatility
Sept. 28: U.S. dollar closes at new 68-month high on Taipei forex
Sept. 22: Central bank raises interest rates by 12.5 basis points
Sept. 10: Foreign institutional investors record net fund outflows for August
Sept. 6: Forex reserves continue to fall after central bank's intervention in market
Aug. 31: Average daily turnover on TWSE plunging, but fundamentals sound: FSC
July 13: Taiwan shares soar as stabilization fund's decision boosts sentiment